Written by
Lists

42 votes
Kid's Book Adaptations
(90 items)
list by ♥ CHANi
Published 13 years, 10 months ago

10 comments

26 votes
Most Frequently Challenged Books in the US
(167 items)
list by Lauren
Published 14 years, 4 months ago

4 comments

21 votes
The BBCs Big Read
(200 items)
list by tartan_skirt
Published 15 years, 11 months ago

1 comment

13 votes
My Favourite Angels, Vampires, Werewolves and More
(371 items)
list by Lisebell
Published 11 years, 10 months ago

5 comments

Pictures
Description:
This is not a fairy-tale. This is about REAL WITCHES. Real witches don't ride around on broomsticks. They don't even wear black cloaks and hats. They are vile, cunning, detestable creatures who disguise themselves as nice, ordinary ladies. So how can you tell when you're face to face with one? Well, if you don't know yet you'd better find out quickly-because there's nothing a witch loathes quite as much as children and she'll wield all kinds of terrifying powers to get rid of them. Ronald Dahl has done it again! Winner of the 1983 Whitbread Award, the judges' decision was unanimous: "funny, wise, deliciously disgusting, a r
... (more)
Manufacturer: Jonathan Cape
Release date: 27 October 1983
ISBN-10 : 0224021656 | ISBN-13: 9780224021654

Tags:
My tags:

Add tags
Update feed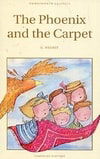 World's Best Known Books and Stories (476 books items)
"Written by: Roald Dahl Illustrations by: Quentin Blake Published: 1982 Publisher: Jonathan Cage Number of Pages: 208 "I am a mouse! You wait till my father hears about this! - He may think it's an improvement." "


Books Read in School (26 books items)
"One of my favorite children's books of all-time. Forgot the setting when the book was read, but can you blame me?"