Monsoon Love and Other Nepali Stories by Andrew James Pritchard — Reviews, Discussion, Bookclubs, Lists image
, view more pictures
Picture of Monsoon Love and Other Nepali Stories by Andrew James Pritchard — Reviews, Discussion, Bookclubs, Lists
0

vote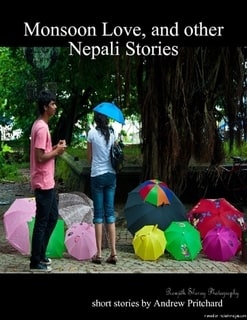 Added by
jim
7 years ago on 21 July 2015 12:49
Top voted Monsoon Love and Other Nepali Stories by Andrew James Pritchard — Reviews, Discussion, Bookclubs, Lists images
Added to
In Monsoon Love, Suresh having recently been transferred to Pokhara must choose between falling in love with a woman whose face is always hidden behind an umbrella, and the attractive Anu with her belly-aching love-sick buffalo.
Khadka and his friends embark on a wild coming of age adventure in the Himalayan village of Hemja on the eve of the MahaShivaRatri festival.
Tragedy and hardships follow in the marriage of Jeevan and Shivani when Jeevan's jealous mother takes out her revenge on the young bride.
Mahadev reminisces the important role which his Hero bicycle played in the meeting and winning-over of Mina, who eventually became his wife. This story also ties in with the novel "To Revolt Is a People's Right"
Part mythology, part folktale, an ancient demon tells a wandering tinker a story of underhandedness, betrayal and tragedy, and of how it will extract it's revenge.
The old Porter tells of the joy filled life and hardships of the men who carry goods and belongings to the isolated villages high in the Himalayas, and regardless of what bad turns life might suddenly take, life still goes on.
The Ploughman is a description of a day in the life of such an occupation, and how that world is slowly changing with modernization, and what the future implications for the ploughman might be.