I don't go to theaters to watch movies as much as most people. Not only because it is pretty costly to spend on a couple of movie tickets but I feel with this restriction, it allows the actual experience of watching the film on a large screen with surround sound to be much more impactful. I certainly had grand experiences enjoying films like "Spider-Man 3", "The Dark Knight Rises", and "The Hungry Games: Catching Fire". But there will probably be one cinematic experience that will stick out in my mind for the rest of my life: the first time watching Guardians of the Galaxy.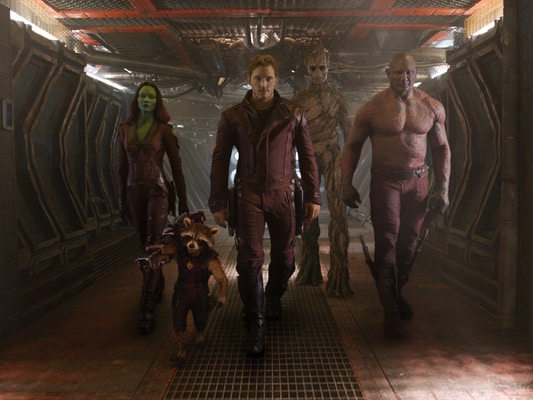 The love I have for this movie was established when the very first trailer came out. This trailer pretty much blow up as soon as it made impact, bringing interest to people whom were originally skeptical of Marvel backing up this strange concept. With clever humor, interesting characters, and the booming sounds of "Hooked in the Feeling" both playing up the comical moments and amping up the action, this trailer perfectly accomplished its goal of hyping up this movie as an unique and enjoyable experience. I had been excited for the film since seeing that trailer and was immediately anticipating the eventual release of this peculiar film.
However, I was on vacation in Puerto Rico during the beginning of August. The movie already reached theaters but I was aware there was no possible way I could see the film. Even if I did get the chance, I thought they would just dub the film in Spanish and leave me confused throughout. Then, I found out from my cousins visiting that they were going to see that film and were inviting my brother and I to see the Sunday showing. I was pessimistic but they claimed it was going to be the English version with Spanish subs. That's when I got excited, again. There was a part of my subconscious that was worried about this being a disappointment with the hype I build around it. Fortunately for me, it wasn't. It really wasn't. I adore and appreciate every aspect of that this film has to offer. This film beat "The Avengers" as my favorite MCU flick.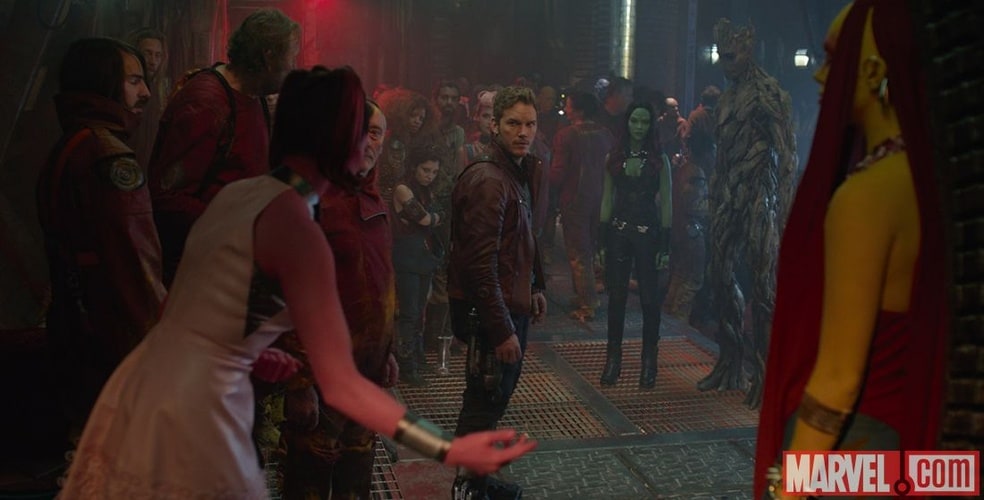 David Gunn did an unbelievable job directing this film. Every scene, every image, every frame is eye-grabbing with its bright colors and incredible scenery. He really does incredibly well in establishing its' expansive universe. Although, we all know this is meant to establish the eventual moment when
the Avengers go to space to fight off Thanos and his Infinity Gauntlet (I'm a total nerd)
. This film feels very self-contained and those seem to be blatantly trying to tie details into the lore like other films do
*ahem* Iron Man 2 *ahem*
. The story does better in establishing the five core characters than "The Avengers" did (although, they had films to establish their characters while the Guardians haven't) as such becomes more character-driven. And these are some great characters, boosted by some incredible performances.
In terms of the Guardians, each actor does splendid jobs in portraying their unique and interesting characters (along with making a talking raccoon and giant tree man who only speaks one phrase believable and not too cartoonish). Each character has their moments to shine and provide purpose to the plot. Even the supporting cast is memorable and significant with good performances from well-known actors like John C. Reilly, Glenn Close, Michael Rooker, and Benicio del Toro. The overall lighthearted and more comic-inspired tone does not prevent the emotional scenes, character development, occasional raunchy humor, and epic moments of action from making an impact. Seriously, I can't believe they got away with the "Jackson Pollock" joke while still retaining the PG-13 rating.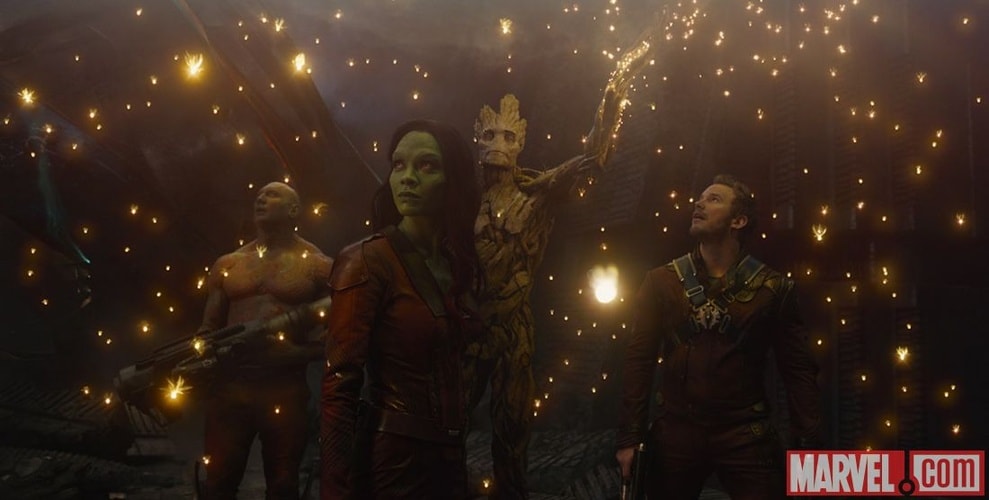 The interrogation of classic 70s-80s music into the plots and scenes gives Quentin Tarantino a run for his money. I mean "Guardians"'s use of this music has purpose in both story and tone while "Reservoir Dogs" has this kind of music because they just happen to be listening to a retro radio station. Plus, with the grand selection of jammy tunes and emotional ballads, this film got me listening to songs (and its incredible soundtrack) like "Come and Get Your Love", "O-o-h Child" and "Hooked on the Feeling" on repeat. Also, if I didn't make it obvious already, this movie is absolutely hilarious. I remember the audience watching this film and I were laughing severely during my first viewing. The dialogue is memorable and witty that both adults and children will probably bust a gut viewing this film (I don't know why but every single line Groot says is instantly quotable).
I know this film isn't perfect. The most common complaint is the main villain, Ronan the Accuser. While I feel he works as a powerful and threatening antagonist, he certainly is no "Loki" and certainly not the most interesting character in this film. But to be fair, Marvel films certainly has issues making memorable villains and at least he's not as bland and forgettable as whoever the hell was the villain in "Thor: The Dark World". I just feel that Ronan serves his purpose of being the dastardly forces that unites these band of criminals into the Guardians of the Galaxy. Even if he wasn't the most memorable antagonist, he certainly didn't hinder my enjoyment of this film. Heck, I don't think anything could hinder the massive amount of happiness this film provided me. After I left the theater, I still had that air of enthusiasm clinging to me for the next few days. I swear I was saying "I am Groot" so much that my brother wanted to choke me.
Overall, there is an admiration and passion that this film invoked into me that few films ever accomplish. There are films that I like. There are films that I love. Then, there are films that I will keep the experiences and images that they preserved to my subconscious for the rest of my life as a lover of cinema. "Guardians of the Galaxy" was the third one. I can't say no more, this film has made me speechless... I am mute.
10/10