''Dreams feel real while we're in them. It's only when we wake up that we realize something was actually strange.''

In a world where technology exists to enter the human mind through dream invasion, a single idea within one's mind can be the most dangerous weapon or the most valuable asset.
Leonardo DiCaprio
: Cobb
Inception
is a 2010 science fiction action film written, produced and directed by Christopher Nolan. The film stars Leonardo DiCaprio, with a supporting cast that includes Ken Watanabe, Joseph Gordon-Levitt, Marion Cotillard, Ellen Page, Cillian Murphy, Tom Hardy, Tom Berenger, Dileep Rao and Michael Caine.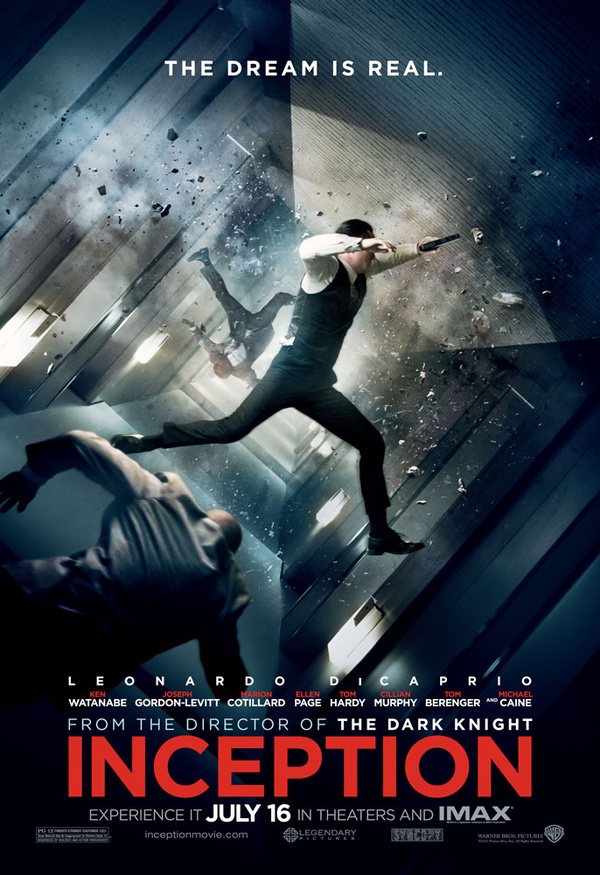 Dreams have always been brought forth via films, the subconscious mind has been a vocal point and inspiration for many master film makers. Akira Kurosawa's
Kagemusha
, Ingmar Bergman's
Wild Strawberries
, Alfred Hitchcock's
Vertigo
and presently Christopher Nolan has been inspired by the greatest and best masters before him.
So for his latest, Nolan brings to our attention
Inception
; A classy, thrilling sphere of complexity. Nolan has looked at memory, magic, deception and the human psyche and here again he delves even deeper into our imagination.
The story and film is beautifully complex; We have Leonardo DiCaprio as Cobb the Extractor - a man who specializes in subconscious security, but steals his clients' ideas. Supporting and members of his team:
Joseph Gordon-Levitt as Arthur, the Point Man - the person responsible for researching the team's targets.
Ellen Page as Ariadne, the Architect - a college graduate student who constructs the world of the dream.
Tom Hardy as Eames, the Forger - a sharp-tongued team member who impersonates the target within the dream world and forge an identity in a physical form.
Marion Cotillard as Mallorie "Mal" Cobb, the Shade - Cobb's deceased wife, who manifests in the dreamscape beyond Cobb's control.
Cillian Murphy as Robert Fischer, Jr., the Mark - the heir to a business empire and Dom's latest client and target.
Ken Watanabe as Saito, the Tourist - a businessman who employs Cobb.
Tom Berenger as Peter Browning, Robert's godfather.
Dileep Rao as Yusuf, the Chemist - the team member who formulates the drugs needed to enter the dream world.
Pete Postlethwaite as Maurice Fischer, Robert's dying father.
Lukas Haas as Nash, Dom's previous Architect.
Michael Caine as Miles, Cobb's mentor, teacher, and father-in-law, and Ariadne's college professor. Miles is also the guardian of Cobb's children.
Eames: They come here every day to sleep?
Elderly Bald Man: [towards Cobb] No. They come to be woken up. The dream has become their reality. Who are you to say otherwise, son?
Inception
shouldn't be classed as being a new age
Matrix
because it features and divulges intricate originality and ideas in it's own right. The dream within a dream within a dream and the sense of time in dreams becoming increasingly longer than the short span via conscious reality.
A few scenes, including the ending are truly clever in the way that captures ambiguity; Letting us the audience draw our own conclusion. When you finally finish the film your mind has plenty to feed upon.
Who can forget the scene where the unconscious team is in a van while within a 2nd dream?
While the van is in a state of spinning, the corridor is equally spinning in a dizzying array of awe inspiring deftness...This is simply unforgettable.
Inception
displays a genius spark not often seen in today's regurgitated film stream; Christopher Nolan has yet again proved he is one of the best Directors of this age as he sends forth his dreamy masterpiece.
Leonardo DiCaprio also replicates his success he had with Martin Scorsese's
Shutter Island
which also had an underlining dream/psychological context. With
Inception
Leo proves equally adept with Nolan, and undoubtedly has been churning out layered performances which have moulded him into a seasoned actor who retains resonance and poise.
Inception
was everything I expected it to be and in some circumstances exceeded expectations intricately.
Witty exchanges of dialogue between Joseph Gordon-Levitt and Tom Hardy produce sly grins -
''You mustn't be afraid to dream a little bigger, darling.''
- while the serious issues covered by Leo, Ellen Page and Marion Cotillard elevate the story and acting to higher spheres via implicity.
This is one of the best films this year and I can't see anything rivalling it later. This is one of those films where they will still be talking about it a hundred years later, where people will discuss and debate about what is real and what is dream.
The beauty of
Inception
is the deception and intelligence of how important an idea is yet the relevance of said idea is not. I could quite happily watch this over and over and still pick up new ideas and see new threads emerge from the puzzling maze that is presented to us.
What else makes
Inception
glorious as well as the imaginative visuals and story? Hans Zimmer's score. It is one of his best yet and it sends shivers up my spine everytime.
Christopher Nolan is the best at what he does,
Inception
proves it. The sharp suits, gravity defying antics and twists all combine in a sort of signature move regarding Nolan. This is his baby. No doubt about it.
This will have you pondering, wondering and thinking...Is this real? Is this a dream? Most importantly what is reality? The only answer I believe is one that is open to
interpretation
. Cleverly, Nolan leaves answers ambiguous while the theme of dreams is defined effortlessly. Our minds are spinning just like the spinning top that closes the film...Is this a dream or real? Be your own person and make your own choices.
''What's the most resilient parasite? An Idea. A single idea from the human mind can build cities. An idea can transform the world and rewrite all the rules. Which is why I have to steal it.''
10/10