"Throw one at me if you want, hash head. I've got all five senses and I slept last night, that puts me six up on the lot of you."
Brick
is an interesting little flick, a motion picture that you admire and appreciate for its ambitions rather than conventionally love or enjoy. Independently financed and produced on a paltry budget, the film is the directorial debut of Rian Johnson, who wrote the script in the mid-1990s and spent years trying to raise suitable financing. Ultimately amassing funds from friends and family, he set out to make the movie he wanted to make, and the result is a quality neo-noir thriller that has deservedly developed into a cult classic. In essence,
Brick
is a contemporary film noir inspired by old-timey detective stories as well as classic films like
Chinatown
and
Miller's Crossing
. There's plenty of ingenuity in Johnson's superlative script which took years to write, although the ambitiousness is somewhat betrayed by the lack of budget and filmmaking experience.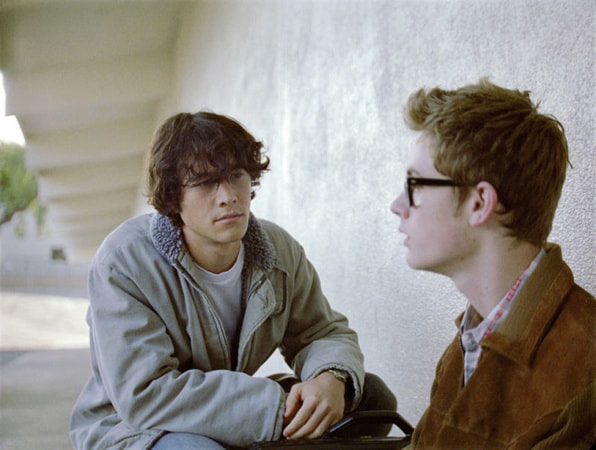 In California, high school student Brendan Frye (Joseph Gordon-Levitt) receives a distressed phone call from his ex-girlfriend Emily (Emilie de Ravin) asking him for help. Baffled by Emily's call, Brendan sets out to investigate, enlisting the help of his friend The Brain (Matt O'Leary) to find her. But her dead body is soon discovered, prompting Brendan to uncover the full story behind what happened to the only girl he has ever loved. Combing the underbelly of his high school, Brendan becomes entangled in a perilous world fraught with drugs, femme fatales, stoners and crime figures, all of whom want to prevent him from finding answers.

Johnson did his homework. Brick is an overt homage to film noir, hence the writer-director read a number of hardboiled noir novels, most notably the works of Dashiell Hammett (Red Harvest, The Maltese Falcon). In essence, the gimmick of Brick is that Johnson has transplanted the noir clichés of the 1940s to a contemporary high school setting. Despite murder seeming out of place in school, the transplantation is surprisingly effective, incorporating a loner hero, kingpin figure, a femme fatale with shady loyalties, and so on. Plus, the idea of drugs at school is not unheard of. Johnson's approach is very neo-noir, giving the characters stylised, anachronistic dialogue. Indeed, the high schoolers here speak in sophisticated, mannered bursts of verbiage, as if they've stepped right out of a noir from the 1940s or '50s. Some have compared Brick to Donnie Darko, which is a fair comparison. Like Richard Kelly's breakout feature, Brick is a small independent movie that's refreshing and original, with a conceptual framework smarter than 99% of Hollywood's output.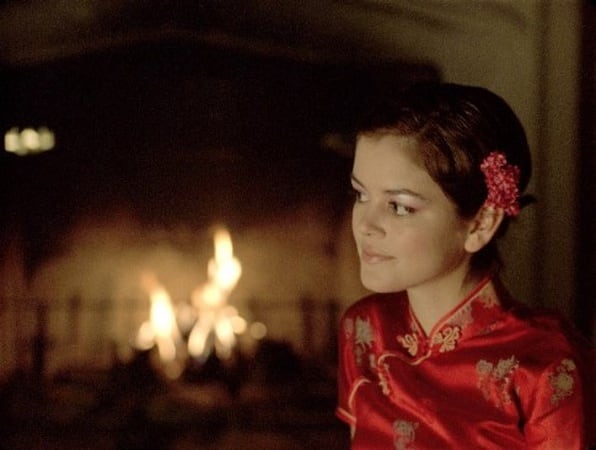 Holding Brick back from lofty brilliance is, alas, the filmmaking. Johnson went on to become a remarkable director, yet he was still finding his feet here, and it's obvious. Although the cinematography is often cleverly old-fashioned and evokes the noirs of yesteryear, pacing is too slow from time to time, and the film carries a rather amateurish glaze. One must imagine what Brick could have been like if it was as stylishly-crafted as something like Kiss Kiss Bang Bang. Still, there's a lot to admire about Brick, especially since it was made by a bunch of amateurs and reportedly edited on a home computer. Added to this, the music by Rian's brother Nathan is low-key but effective and stylish, adding a nice degree of atmosphere to the proceedings.

In 2005, Gordon-Levitt was predominantly recognised for his appearance on the television show 3rd Rock From the Sun, so Brick presented the rising star with the chance to stretch his acting range. And heavens me, Gordon-Levitt ran with the opportunity. He plays a much darker role here, and brings a lot of maturity and density to his performance. Plus, he sounds just right spouting Johnson's unique brand of dialogue. Alongside him is Lukas Haas, who's exceptional as The Pin. Haas plays the role as someone of authority, yet a degree of vulnerability shows through as well. Also excellent is Nora Zehetner playing Laura; she's an astoundingly beautiful presence who's a perfect fit for the material. She's a soft-spoken actress with limited range, yet she's always believable, and it's baffling that the actress has not yet catapulted to big-time stardom. Meanwhile, Aussie native Emilie de Ravin plays Emily here. The Lost actress is remarkable, handling the requirements of the role with impressive finesse.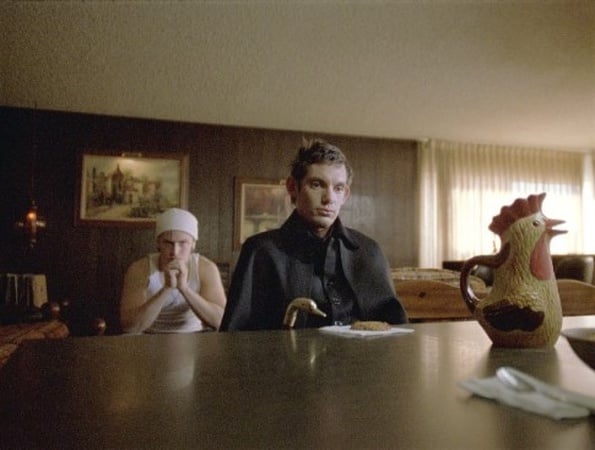 Although it won't have any sort of mainstream appeal, Brick is a gritty, creative twist on film noir conventions that's enthralling more often than not. Despite its somewhat amateurish construction, it's a must-see for fans of indie films, noir classics and hardboiled detective tales. It's 110 minutes of strange characters, distinctively poetic dialogue, and an unusual, offbeat flavour. As long as you have the patience to stick with it, the film is well worth checking out.

7.7/10