''It's all for nothing if you don't have freedom.''

William Wallace, a commoner, unites the 13th Century Scots in their battle to overthrow English rule.
Mel Gibson
: William Wallace
Braveheart
is a story blessed with many endearing nobilities and notions, but more than anything a dual sense of honour and liberty: on the one side William Wallace, a legendary figure who accomplished the impossible by leading the Scots when no one else would; and on the other hand Mel Gibson, who demonstrated with this movie a directorial talent that many of us doubted. Previously, I had Mel labeled as a likable albeit type-cast action hero from series such as
Mad Max
or
Lethal Weapon
. His dual personality never indicated a passion for directing, an intensely romantic and dramatic epic.
The Man Without a Face
proved that Gibson could direct a good film,
Braveheart
proved that he could direct a great one.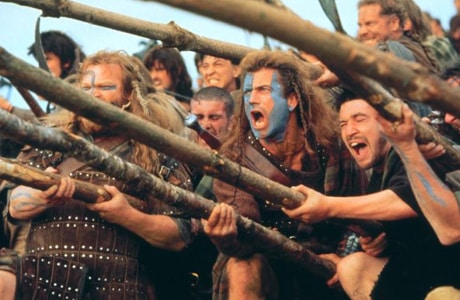 Gibson's greatest achievement in
Braveheart
(besides the mesmerising battle sequences) is that he invoked excellent performances from the entire cast: every actor and actress (even those who appear for only a few moments) hits exactly the right mark. In fact, I'm outraged that
Braveheart
received no Oscar nominations for its acting: Why honour Gibson as Best Director of 1995, yet ignore the performances which are the fruits of his labours? I'm not saying that any particular person in Braveheart (Mel Gibson, Patrick McGoohan, Angus McFadyen) should have won an acting Oscar, it's the fact that nobody was even nominated that bothers me.
I am aware that this film is at times historically inaccurate: Even in 1995, when I first saw
Braveheart
, I knew enough military history to know that the battles of Sterling and Falkirk were not being accurately presented. But this awareness did not and does not interfere with my enjoyment of the movie, because
Braveheart
exists outside the borders of history: mirroring the same artistic license as
Dances With Wolves, Robin Hood, The Last of the Mohicans, Gladiator
and
The Three Musketeers
, it is an emotionally rich epic inspired by history yet not confined to it's chains, less concerned with accuracy to every detail than with the eternal struggles of good and evil, love and hatred, freedom and oppression. And isn't that enough?
Braveheart
is one of the most stirring films of storytelling: If you can't reconcile yourself to its inaccuracies and simply enjoy it on its own terms, then maybe you are missing the point.
Patrick McGoohan's performance as Longshanks has, in my opinion, not received nearly enough praise: He masterfully plays the king as a man who embodies the phrase 'absolute power corrupts absolutely'; he commands an entire nation, yet covets what he does not or cannot have. He answers to no one, and can barely restrain himself: he does not even try to conceal his contempt for his homosexual son, his lust for his daughter-in-law, his rage against any obstacle to his will. The performance is also physically impressive. We see the king gradually consumed by tuberculosis through the movie, and McGoohan makes the ordeal so believable that, though Longshanks is unrepentant to the end, we are moved to feel remorse for him in spite of everything.
Besides McGoohan, Angus McFadyen (as Robert the Bruce) gives the most impressive performance in
Braveheart
. When I first saw the movie, I identified with William Wallace; but now I identify with Robert the Bruce, who is in fact the key figure of the story. He is not a great man like Wallace, but he wants to be great, and he idolizes Wallace so much that he is almost overwhelmed to hear Wallace tell him "If you would lead us, I would follow you." But the Bruce is warned by his sly, leperous father (played unforgettably by the late Ian Bannen beneath Oscar-winning makeup) to not live a life of action, but rather a life of calculation. As he wrestles with the dual influences of Wallace and his father, he embodies a theme at the movie's heart: the eternal conflict between youth and age, idealism and cynicism, uncompromising heroism and craven opportunistic nature.
When I first saw
Braveheart
, I was most impressed by the power of its battle sequences; after seven years, I am most impressed by the enduring power of its story. It is a great movie because it seriously argues that one man's lifelong personal experiences and struggle can make a difference, if not in the world then at least in the lives of others, it is a great movie because it is ultimately an inspiring story of perseverance in the face of considerable brutality and heartbreak, greatness because a thousand words are not adequate to express all of its emotional power and impact. I do not have the heart to give
Braveheart
less than a perfect score, even if I wished, because it is much more to me than mere entertainment...It is a constant reminder to me that I must never lose heart, to stand up for what one believes in, to be true to ones self.
"You have bled with Wallace...now bleed with me!"
10/10