"That's right, keep running. There are no boundaries to dreams. The spirit will be freed from the constraints of the body... and gain limitless freedom. Including me! I will also be free!"

When a machine that allows therapists to enter their patient's dreams is stolen, all hell breaks loose. Only a young female therapist can stop it: Paprika.
Megumi Hayashibara
: Paprika / Chiba Atsuko (voice)
There comes these rare moments and times when life throws at you a film or artwork which screams freshness, overwhelms the senses and stimulates on an intellectual level which is complete and utter fun. The kind of craziness which maintains a high quality and visual sweetness laden with imagination.
Director Satoshi Kon's
Paprika
, adapted from Yasutaka Tsutsui's novel and combined with a killer screenplay by Seishi Minakami.
When a masterpiece like
Paprika
can inspire someone like Christopher Nolan to create a concept and film such as
Inception
, you know you've found the source and inspiration from where those roots originated.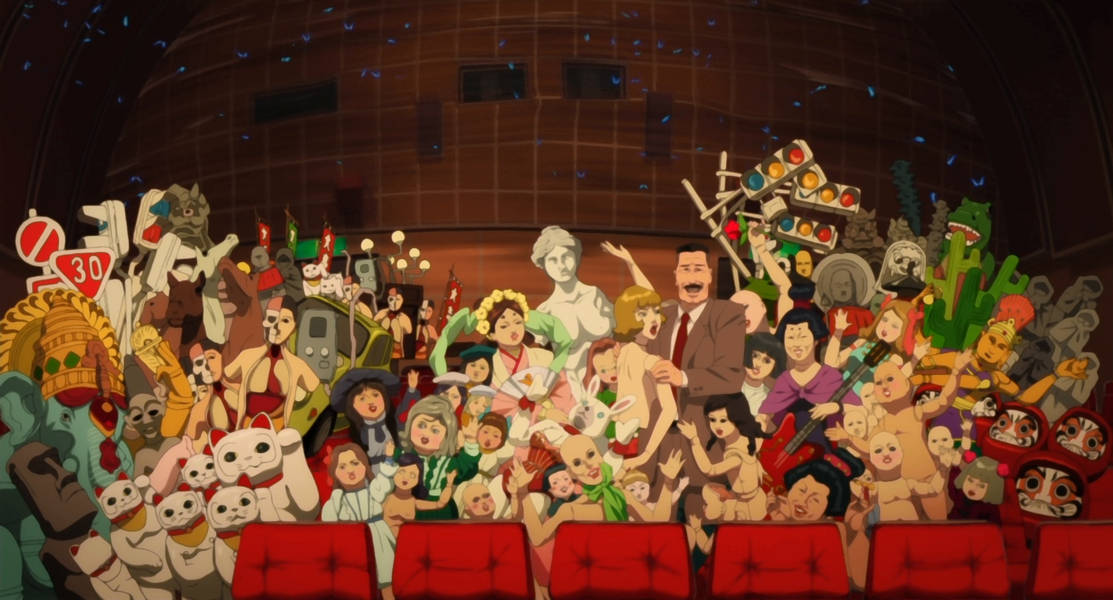 Paprika
is a Japanese anime film via subtitles which retains a plot and soundtrack which in my experience instantaneously ends up being addictive and likeable as soon as it begins. The music was written by Susumu Hirasawa: Beautiful yet quirky.
The storytelling and the infused artwork make this a treasure for audiences time and time again. How many films can boast a story which involves technology, dreams and higher concepts contained in an animation styled piece? What projects ooze a realism yet then have the dual pull of being surreal, eerily original and an examination of the subconscious and the psychology of the mind.
Not many if any at all come close to what
Paprika
succeeds in bringing to our attention.
So... A female research psychologist who goes up against thieves who steal dream technology and develops an alter-ego named Paprika... Yes, it had me at that.
It is truly thought provoking, for example, when a recurring corridor scene with the detective and you see some sort of murder and chase taking place...
The dream never lets the detective catch up with the mysterious shooter in the distance. He is always out of reach. This is one of many scenes which actually captures the uncontrollability of being frozen or trapped in a dream which truly scares us and renders us powerless. A dream which feels like a prison and when we wake up it actually comes as a relief to distinguish reality from dream.
The twist comes in the sense that later on, the detective is shown in a segment, actually being the victim and the shooter. A very strange case of him shooting himself. This was a fascinating possibility and totally disorientating in so many ways.
Paprika
isn't afraid of letting loose all punches and shocks: It is a mind fuck and it doesn't pretend to be an easily travelled journey.
It is fun. It is crazy. It is thought provoking.
Need I say more?
This is a film and story which will show how dangerous technology could be if it could allow others to access our minds and dreams.
What could doctors and scientists or anyone accessing your subconscious mind do or change inside your dreams? Would the dreamer have more willpower or control over proceedings? It would depend on who is stronger or weaker and this would determine the level of manipulation and danger involved.
This film comes highly recommended and without giving anymore away I can't stress enough how much I enjoyed it, with the added factor that you remain pondering and going over various concepts and ideas the film throws at you.
Paprika
seems to be about human nature and control. What gives us the right to invade an individual's privacy? Is there any point when it can be justified? The questions stand and you can ponder them with me.
This journey then shows us how everyone wants something different and that sometimes these desires, aims or objectives conflict with each other.
The interesting conclusion is that light can overcome darkness and reality inspires our dreams where we can mutate and adjust them from our perceptions.
Paprika
makes dreams come true.
"I, who stand before you, am the protector of your dreams. I wonder what kind of punishment will befall the ignorant commoner who tries to enter this sacred dream?"
10/10