Blinded by the Light
is a feel-good triumph, an immensely entertaining and heartfelt coming-of-age story supported by an exceptional soundtrack filled with irresistible 1980s music. Directed by British filmmaker Gurinder Chadha (
Bend It Like Beckham
,
Bride and Prejudice
),
Blinded by the Light
is based on journalist Sarfraz Manzoor's 2007 memoir
Greetings from Bury Park: Race, Religion and Rock N' Roll
, which is a literary tribute to his hero, Bruce Springsteen. Like the book, this adaptation illustrates the universal themes of Springsteen's lyrics and ideas which transcend race and religion, and the screenplay uses his music to explore working-class life in England during the 1980s. Although it falls just short of perfection,
Blinded by the Light
is jam-packed with charm and heart, emerging as one of 2019's most underrated and underappreciated motion pictures. It's fun, funny, joyous and visually sumptuous, and it confidently stands up to repeat viewings.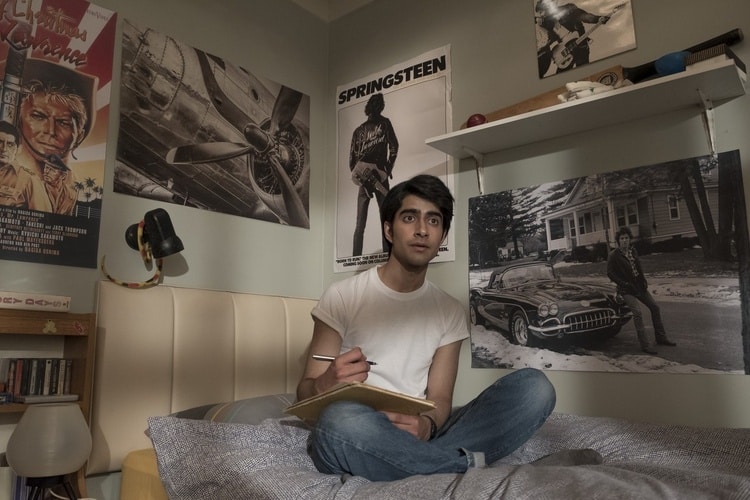 In 1987, Muslim teenager Javed (Viveik Kalra) is stuck in the dead-end British town of Luton with his family, including devoutly traditional Pakistani migrant father Malik (Kulvinder Ghir). Javed dreams of becoming a writer and attending university in Manchester, but he's constrained by his family's expectations, particularly after Malik loses his job and faces severe financial strain. At school, Javed meets another South Asian student named Roops (Aaron Phagura), who introduces him to the miracle of Bruce Springsteen music. Instantly, The Boss' songs speak to Javed in a way that nothing else has, with the lyrics encouraging him to take risks and follow his dreams. Javed's passion for Springsteen's music helps him find his voice to write poetry, which is also spurred on by his English teacher, Ms. Clay (Hayley Atwell), and a kindly elderly neighbour (David Hayman) who takes an interest in the teenager's literary works. Javed soon attracts the interest of a student activist, Eliza (Nell Williams), but Malik disapproves of his son's newfound liberation, instead forcing Javed to adopt traditional Pakistani values and career paths.
With a script by Chadha, Manzoor, and
Bend It Like Beckham
co-writer Paul Mayeda Berges,
Blinded by the Light
tackles a lot of narrative and thematic material during its two-hour duration. On top of Javed's spiritual awakening, the film delves into the tough British economy during Thatcher's reign (with job losses, high unemployment rates and industrial unrest), the era's political turmoil, racist attitudes, as well as the cultural expectations of Pakistani children like Javed. While the narrative beats are hardly new ideas in the realm of coming-of-age stories, especially the tension between Javed and his parents, it hardly matters when the execution is this confident and jubilant. Moreover, even though
Blinded by the Light
tugs on the heartstrings a few times in the third act, it does not feel mawkish or manipulative, which is a testament to Chadha's well-judged direction. Not everything works - the most egregious plot distraction involves Javed abruptly breaking up with Eliza, while the characters also overcome some plot obstacles a bit too conveniently - but there are no major shortcomings.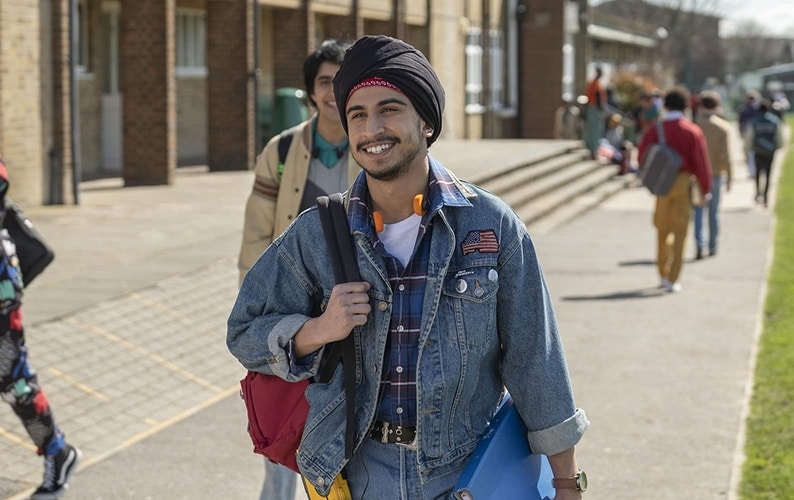 Although not a traditional movie musical, Blinded by the Light is peppered with flights of fancy which showcase Springsteen's music, and the resulting sequences are magical. During one especially rousing scene, a despondent Javed listens to Springsteen for the first time on his Walkman, and the lyrics appear on-screen around him to highlight the poeticism and relevance of The Boss' words. In another scene, Javed fearlessly sings an impromptu version of "Thunder Road" at an outdoor market, joined by Rob Brydon (a massive Springsteen fan in real life), to woo Eliza. Such sequences risk coming across as cornball or awkward, but they work thanks to Chadha's sincere handling of the material. Chadha's directional approach is low-key during the dramatic character moments, but she cuts loose with an electric sense of style when Springsteen tracks fill the speakers, though she's careful not to overdo these sequences. Blinded by the Light features twelve Springsteen songs, including several classic hits and a few rarities that fans of The Boss will cherish. The soundtrack even contains the previously unreleased song "I'll Stand by You," which was originally written for Harry Potter and the Philosopher's Stone but ended up being shelved for nearly twenty years. Furthermore, the recreation of '80s-era England here is virtually effortless, from the distinctive fashion to the storefronts and vehicles, as well as the technology. Additionally, the production design feels astonishingly authentic and lived-in - and it was all achieved on a very modest $15 million budget.
Newcomer Kalra (making his film debut) is one hell of a find, creating a three-dimensional and thoroughly believable character with the role of Javed. There is not a single moment of artifice from Kalra throughout the movie - every line delivery is credible, and he conveys incredible emotional depth as he transforms from a timid teenager to a young adult, developing the confidence to come out of his shell and embrace his passion for writing. Meanwhile, as Malik, Kulvinder Ghir (
Bend It Like Beckham
) gives genuine gravitas and depth to what could've been a one-note role. It's the father-son relationship at the centre of
Blinded by the Light
which gives the movie its emotional grounding, ensuring that - despite the fantastical elements - the story is profoundly human. Also worth mentioning is funnyman Rob Brydon in a small but colourful role as the father of Javed's best friend, Matt (Dean-Charles Chapman).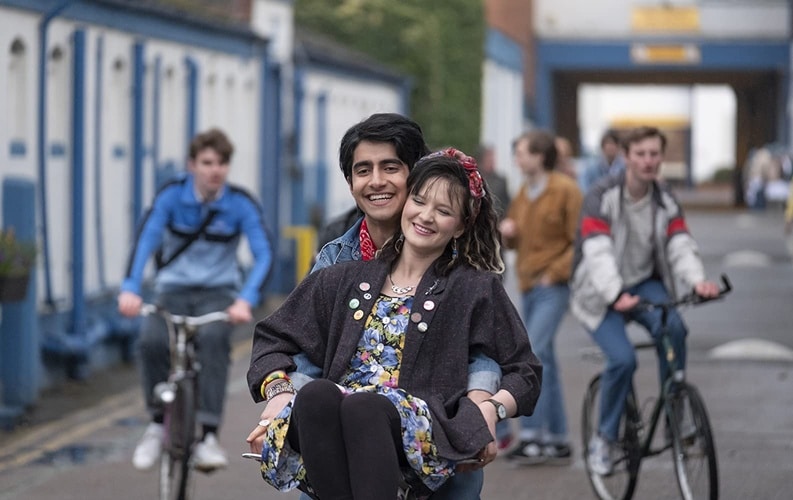 Although not an outright financial bomb, Blinded by the Light failed to light the box office on fire, which is a great injustice for a flick this insanely disarming. Much like Chadha's 2002 hit Bend It Like Beckham, this is a shameless crowd-pleaser with honest-to-goodness humanity and evocative themes which has several cultural talking points on its mind. The script cannot avoid clichés or familiar narrative beats, but it all gels, miraculously coming together to create something brilliant and narratively meaningful. Although somewhat cheesy at times, the material never feels phoney or false, which reflects the quality of the performances and the direction. Blinded by the Light is absolutely worth your time, and it would be a fantastic double feature with John Carney's similarly brilliant '80s-themed 2016 musical Sing Street.

8.4/10