Before
The Naked Gun
, there was the short-lived television show
Police Squad!
in 1982, which introduces the character of Detective Lt. Frank Drebin (Leslie Nielsen) as well as the distinctive style of humour. Created by David Zucker, Jim Abrahams and Jerry Zucker, who were fresh off the success of 1980's
Airplane!
, this half-hour-long show hilariously spoofs police procedurals - more specifically, it's a parody of the forgotten 1950s TV show
M Squad
. In keeping with the other productions masterminded by the ZAZ trio,
Police Squad!
is jam-packed with so many gags that there's virtually always something on-screen to make you laugh. Unfortunately, only six (terrific) episodes were produced before
Police Squad!
was axed due to poor ratings. As Nielsen himself posits, the show did not succeed because it was ahead of its time - viewers need to actually pay attention to detect the humour, especially since the creators refused to include a laugh track.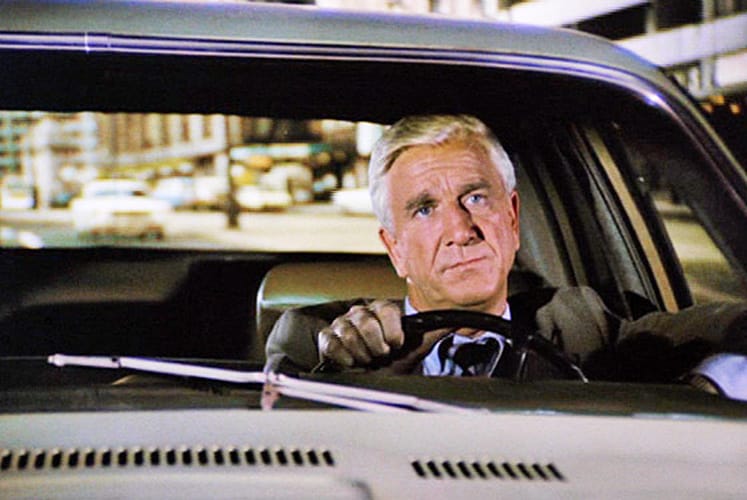 In San Francisco, Frank Drebin is assigned to investigate violent crimes with the help of his boss, Captain Ed Hocken (Alan North), and lab technician Ted Olson (Ed Williams). The cases vary from homicides to kidnappings, while one episode also sees Frank going undercover to infiltrate a criminal gang that bribes boxers. Each episode features a special celebrity guest star, such as William Shatner and Florence Henderson, though they immediate get killed during the opening credits. Police Squad! is played relatively straight in terms of narrative, as there is some mystery and plot progression, while Frank follows leads and does actual police work...no matter how ridiculous some of the situations become. Indeed, although Police Squad! is not exactly immaculate from a writing perspective, it's more cohesive than most contemporary spoofs, which allows it to stand out.
Anybody familiar with Airplane!, Top Secret! or The Naked Gun should know what to expect from each episode of Police Squad!, as it adheres to the same template: countless sight gags and non-sequiturs which vary from the understated to the absurd. When Frank and Ed travel to Little Italy, for instance, famous Italian landmarks suddenly appear in the background, including the Colosseum and the Leaning Tower of Pisa. In another scene, a shootout appears to occur across a great distance, but a wide shot soon reveals that the two gunmen are barely a metre apart. There are hilarious running gags throughout the series, too, such as the precinct's elevator stopping in ludicrous locations on each floor, or Frank hitting a number of objects that are equal to the episode number. Also, each episode ends with a faux freeze-frame, which spoofs that time-honoured TV tradition. Frank (and the rest of the city) even frequently consults an alleyway shoeshiner named Johnny the Snitch (William Duell), who has information on everything. The gags throughout Police Squad! are sometimes cheap and easy, but they still hit hard for the most part, and other scenes and jokes are seriously clever. Years later, I still laugh out loud several times per episode.
Police Squad! does not feature a laugh track and never winks at the audience, while the actors play the material earnestly. Due to this, the show's creators carefully selected directors without a comedic or sitcom background. Thus, episodes were helmed by directors from TV shows like Mission: Impossible, Charlie's Angels, Starsky and Hutch, and The Rockford Files, which makes Police Squad! feel more cinematic. Even the legendary Joe Dante (Piranha, The Howling, Gremlins) directed two episodes. It's all topped off with a pleasing jazz score by Ira Newborn, who went on to compose for the Naked Gun trilogy as well as several other classic flicks. Furthermore, the late Nielsen is note-perfect as Frank Drebin. He's an honest-to-goodness comedic gift, delivering every word with complete sincerity, and never seeming to be in on the joke. Williams, meanwhile, is the only actor aside from Nielsen who was carried over into the Naked Gun films, and he's a great find as Olson, the lab technician. Williams was actually a science teacher before Police Squad!, and this is his first real acting role.
Perhaps Police Squad!'s cancellation was fortuitous in the long run, especially since that the show eventually led to the Naked Gun film trilogy, and did not continue for long enough to run out of steam or grow stale. All six episodes are bottled lightning, and they remain both hilarious and entertaining in 2020. (However, I still wish there was at least a second season, given the creators' plans for celebrity cameos as well as including Gandhi wielding a machine gun in the opening credits.) Arguably, the debut episode is the best and most consistent of the season, which is likely because it's the only episode that was written and directed by the ZAZ trio. Not every gag lands in every episode, but the show is perpetually enjoyable thanks to the winning cast, and there are far more hits than misses. Police Squad! is an underrated gem.

8.6/10