Ripley: Just tell me one thing, Burke. You're going out there to destroy them, right? Not to study. Not to bring back. But to wipe them out.
Burke: That's the plan. You have my word on it.
Ripley: All right, I'm in.

The only survivor of the Nostromo, Ripley is discovered in deep sleep half a century later by a salvage ship. When she is taken back to Earth, she learns that a human colony was founded on the same planet where the aliens were first discovered. After contact with the colony is lost, she finds herself sent back to the planet along with a team of warriors bent on destroying the alien menace. Also looking for survivors along the way.
Sigourney Weaver
: Ellen Ripley
57 years after the events of the first film, Ellen Ripley is found and awakened from hyper sleep to discover that a terra-forming colony has been set up on LV-426, the planet wherein she and her fellow crew of the mining cargo spaceship Nostromo first encountered the titular aliens. When Earth-based communications loses contact with LV-426, a band of marines are sent to investigate, taking Ripley and a representative from the company that financed the colony, Carter Burke (Paul Reiser) along for the ride.
For the difficult job of following up Ridley Scott's excellent
Alien
, director James Cameron decided to go a completely different route--to make a fast moving, slightly tongue-in-cheek, boisterous action extravaganza. Remarkably, he was able to do that while still maintaining a stylistic and literary continuity that melds Aliens seamlessly with the first film.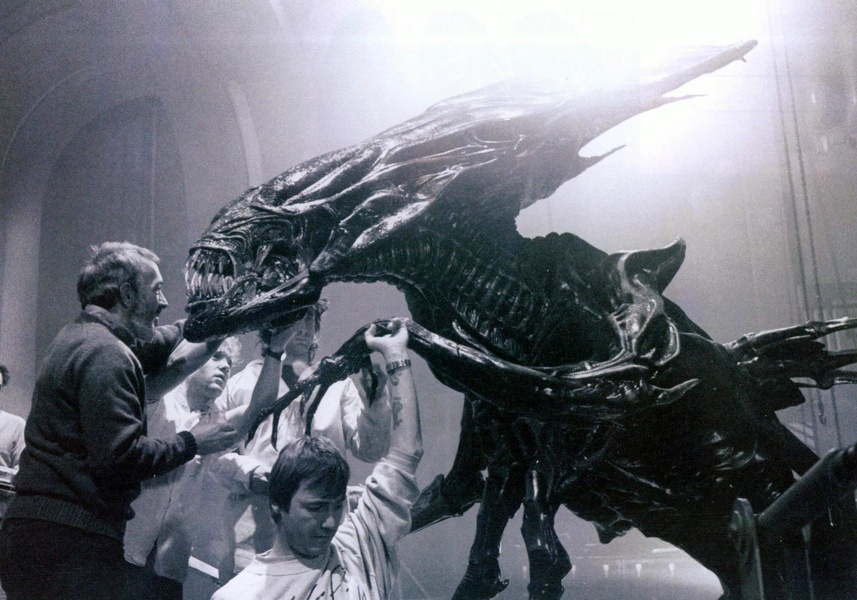 Ripley is given alot more depth in character in this piece, although unfortunately, some of the more signifying scenes were deleted from the theatrical release (View the 2-hour and 37-minute Director's Cut instead). Cameron created
Aliens
into a grand vision of sorts, where Ripley's heroic efforts, have much more meaning as she's not only fighting, but also fighting to retain a part of her self, of something she lost due to her 57-year slumber. As in the first film, she is still the most intelligent, courageous and resourceful member of the crew.
The marines accompanying Ripley back to LV-426 may be too much of caricatured stereotypes for some tastes, but for anyone more agreeable to that kind of exaggeration, it's a joy to watch.
Bill Paxton and Lance Henriksen, both turn in wonderfully over-the-top performances, at their diametrically opposed ends of the emotional spectrum--Paxton as the spastic surfer/redneck and Henriksen as the intense, moody sage, with a surprising reality and an even more surprising conscience to go along with it. We also get a cigar-chomping Sergeant, a crazy, butch Private, and a complex, pensive Corporal as main characters, and a mysterious, bright young girl, Newt (played by Carrie Henn). Much of the center section of the film focuses on the interaction of these characters, despite the action trappings going on around them.
[pulling out his pump-action shotgun]
Hicks: I like to keep this handy... for close encounters.
Frost: I heard *that.*

James Cameron carries over the crypt/labyrinth motif of the first film Ridley Scott manned; and adds a
metaphorical descent
into the bowels of hell climax. The action throughout is suspenseful.
Aliens
contains one of my favorite cat fights in any film. It's also worth noting the influence this film may have had on Paul Verhoeven's
Starship Troopers
(1997); although admittedly, we could say that Cameron was influenced a bit by the Robert A. Heinlein book, as well. Throughout all of the varied action sequences, as well as the important early scenes of colonists on LV-426; Cameron is able to clearly convey the logistics of very complex sets, so that viewers remain on the edges of their seats.
Cameron's piece was garnered with two Oscars respectively for Best Effects, Visual Effects, and Sound Effects Editing; Rightly so, this films effects are in a word
timeless
.
Cleverly it must be mentioned: Cameron mirrors Ridley Scott's method from the predecessor
Alien
; The Aliens result in being so effective because we're not told too much about them, maintaining the mystery and the suspenseful illusion. We only receive glimpses into their physiology, their behavioral patterns and their primal insectoid intelligence. Cameron gives us just enough to become
hooked
, but not so much that we become overly familiar with the aliens, or start to question the logic behind the film. He also smartly carries over some devices from the first film that were abandoned to an extent, such as the acidic blood of the aliens, and he supplies answers to the few questions that the first film raised, such as why the blood doesn't corrode instruments and objects when a dead alien is examined.
Ripley: Get away from her, you *bitch!*

The main problem with
Alien
, some have said, was that, as great as it can be, the characterizations were reduced to the minimum (not that it really mattered, with Ridley Scott ensuring the film retained the right pace and suspense throughout). With
Aliens
, character development is the last thing fans should worry about; Cameron being fully aware of each individual's potential and exploiting it as much as he can. Ripley, whom was just part of an ensemble in the original, is now allowed to carry the whole film, and boy, does she carry it: rarely has there been a more solid, compelling female role in a genre movie like this (the fact that Sigourney Weaver is the only actress, thus far, to have received an Oscar nomination for a science-fiction film is further testament to
Aliens'
immortality). The supporting cast is equally good, with a multitude of different characters ranging from funny (regular Cameron collaborators Michael Biehn and Bill Paxton) to weird (Lance Henriksen's android Bishop) and bringing something extra to the movie's unique atmosphere.
On a superficial level, it could be said
Alien
was a horror movie, while the follow-up is an action-oriented piece; this may be true, but one should also notice that every single spectacular battle scene actually oozes
tension
; never leaving the audience with a pause to breathe or relax. In fact, Cameron has succeeded where many other directors would have failed: he stayed faithful to the originals tone, but managed nonetheless to make the film undeniably his own baby.
Relentlessly creepy, occasionally very violent and consistently compelling,
Aliens
is a pitch-perfect piece of adult science-fiction. Watch it on a double bill with Scott's version and you will get four hours of genre film-making at its finest.
''We'd better get back, 'cause it'll be dark soon, and they mostly come at night... mostly.''
10/10