A parody of virtually every teen comedy from
She's All That
to
The Breakfast Club
, 2001's
Not Another Teen Movie
adheres to the same formula popularised by 
Scary Movie
and
Airplane!
, and the result is easily one of the most successful spoof movies of the noughties. Far better than bottom-of-the-barrel, brain-dead drivel like
Disaster Movie
or
Vampires Suck
,
Not Another Teen Movie
succeeds because it's genuinely side-splitting and clever, showing a reverence for the genre whilst gleefully taking the piss out of well-worn tropes and clichés. Teen movies are ripe for parodying, as the genre has well-defined narrative parameters and familiar conventions (not to mention iconic scenes), and
Not Another Teen Movie
is confidently up to the task. Although critics savaged the film upon its theatrical release in 2001, it has developed into a minor cult classic, and for good reason. In 2018, the film more than holds up, particularly given the dire state of the parody subgenre.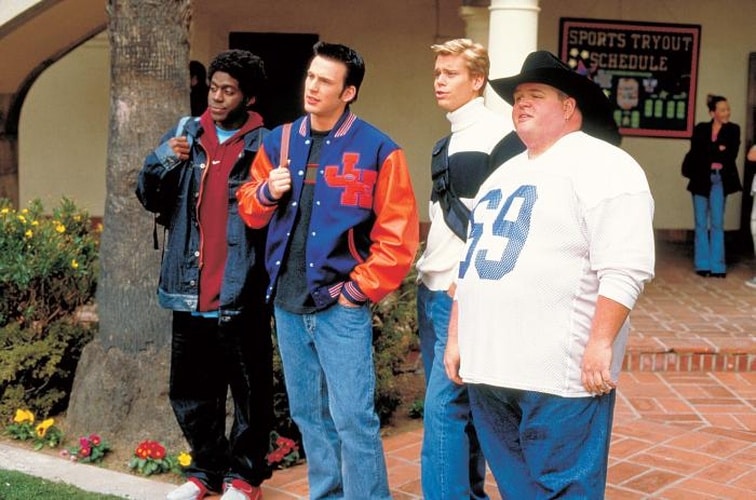 At John Hughes High School in Southern California, "popular jock" Jake Wyler (Chris Evans) is dumped by cheerleader Priscilla (Jaime Pressly) in favour of "beautiful weirdo" Les (Riley Smith). With prom approaching, Jake makes a bet with his friends that he can turn the frumpy "uniquely rebellious pretty ugly girl," Janey Briggs (Chyler Leigh), into prom queen. Along the way, the relationship that Jake builds with Janey transcends the bet as they start to fall in love. Meanwhile, desperate virgins Mitch (Cody McMains), Ox (Sam Huntington) and Bruce (Samm Levine) make a pact to lose their virginity by graduation, even though they're only freshmen.
Narratively,
Not Another Teen Movie
takes its cues from
She's All That
, mixing in a dash of
10 Things I Hate About You
,
Cruel Intentions
,
American Pie
,
Never Been Kissed
, and many more.
Not Another Teen Movie
primarily succeeds because it actually feels like an authentic motion picture - it was shot on 35mm film stock, accurately replicating the cinematic look of the features it merrily sends up. This aspect separates it from more recent parodies, which just look astonishingly cheap. However,
Not Another Teen Movie
is at its weakest when focusing on Jake's football misadventures. One can understand the necessity to parody such a prominent staple of American high school movies, but the resulting sequences are not as fast-moving or as focused, nor are the plot machinations as interesting. Still, there are some laughs to mine from said scenes, and this is a minor knock against an otherwise eye-wateringly funny movie. The fun culminates with a riotous ending (the result of a reshoot) complete with a Molly Ringwald cameo to show further reverence for the genre that the filmmakers gleefully skewer. And just to make the scene funnier, Ringwald's character hates teenagers and turns her nose up at the romantic dialogue. ("
Fucking teenagers
," she bemoans.)
At the helm of the movie is veteran MTV spoofer Joel Gallen, who now spends a bulk of his time overseeing Comedy Central Roasts. Gallen keeps the pacing quick, never lingering on gags or set-pieces, with the film clocking in at an economical 89 minutes. Subtle gags abound, from the school cafeteria being called "Anthony Michael Dining Hall," to the football team playing in "Harry Dean Stadium." With the benefit of an R rating, Gallen and the five credited screenwriters go for broke, incorporating vulgar dialogue and uproarious gross-out moments. The spoofing is consistently on-target, and appreciable extra touches serve to legitimise the production; the late Paul Gleason reprises his Breakfast Club role to merrily take the piss out of himself, while another moment lampooning She's All That uses the song from the original scene. Other hilarious gags takes aim at the fact that teen movies include precisely one token black guy. The soundtrack, too, boasts multiple gems, while Good Charlotte actually appear as the live band at the prom. Comedy is subjective, of course, and it's impossible to predict any individual's reaction to the movie, but I cannot deny that Not Another Teen Movie worked like gangbusters for me. An extended director's cut was later released on home video, which adds approximately eleven minutes of footage to bring the runtime to a tidy 100 minutes. Naturally, not every added joke lands, but the director's cut is still the superior edition; the theatrical version feels gutted in comparison.
Not Another Teen Movie
is fearless, even including a musical number that references incest and ejaculating into French toast, while characters highlight that attractive girls always receive slow-motion entrances. Film buffs will probably get the most out of
Not Another Teen Movie
, as it's jam-packed with countless nods and references to a vast array of youth movies from the '80s and '90s, and certain gags are so obscure that it may take multiple viewings to notice. Of course, not every joke soars, but that's par for the course; what matters is that there are enough successful gags to make sure the movie is worthwhile. The sizeable cast is game for everything the script demands, with Leigh (now a regular on
Supergirl
) and Evans a fun central pairing. The future Captain America is a fresh-faced teenager here, and his comic performance is ideal, scoring laughs aplenty. Pressly, meanwhile, gets plenty of mileage as the attractive but bitchy cheerleader, while the supporting cast features the likes of Eric Christian Olsen, Mia Kirshner, Sam Huntington, Samm Levine, Lacey Chabert, and even Randy Quaid, who seems to simply reprise his role from the
Vacation
movies. Future
How I Met Your Mother
star Josh Radnor is also present as a tour guide who intermittently pops up to make snide remarks about teen movie clichés ("
You would never suspect that everyone at this school is a professional dancer
").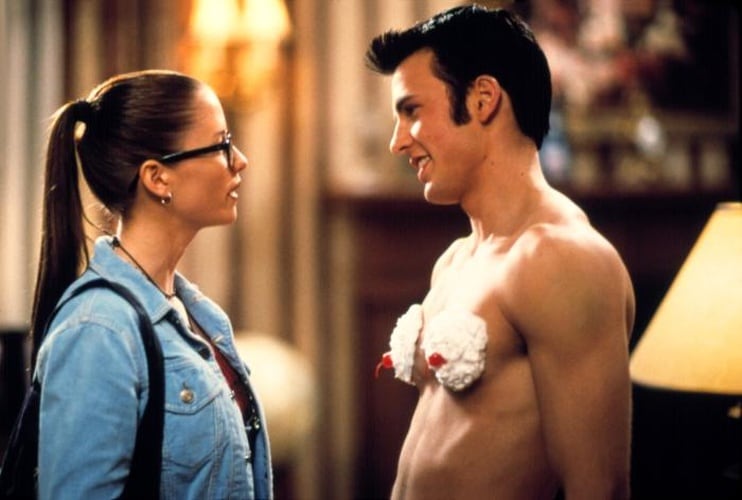 Not Another Teen Movie makes use of the very same parody formula which has beget dirge like Date Movie and Disaster Movie; pictures that effectively killed the parody subgenre. But films such as this demonstrate just how funny the formula can be when in the hands of a creative team capable of actual humour. Without reaching the dizzying heights of Airplane! or The Naked Gun!, Not Another Teen Movie is hugely entertaining and full of belly-laughs, standing the test of time and looking all the better after the dreadful spoofs which followed in its wake. And it was not followed by endless sequels to sully its reputation, which is frankly astonishing. Additionally, be sure to stick around until the end of the credits for one more laugh.
7.8/10