Directed by the late Richard Attenborough (
Gandhi
,
A Bridge Too Far
), 1992's
Chaplin
traces the life and career of Charles Chaplin, from his glum childhood all the way through to his final years in the 1970s. With a screenplay credited to William Boyd, Bryan Forbes and William Goldman, the film is based on two literary sources: Chaplin's own autobiography, and "Chaplin: His Life and Art" by film critic David Robinson. On top of recounting the life of its titular subject,
Chaplin
also delves into Hollywood's early days, the politics of filmmaking, and the scandals that defined many careers. The resultant movie is not especially cohesive given the nature of its narrative structure and the breadth of the material in question, but the production has far more strengths than weaknesses. Engrossing from the first frame, Attenborough mounts an outstanding old-fashioned biopic, perhaps not quite definitive but nevertheless informative and sublimely acted. Even though it was panned by critics and failed at the box office,
Chaplin
deserves to be seen, particularly by those who admire Chaplin's body of work.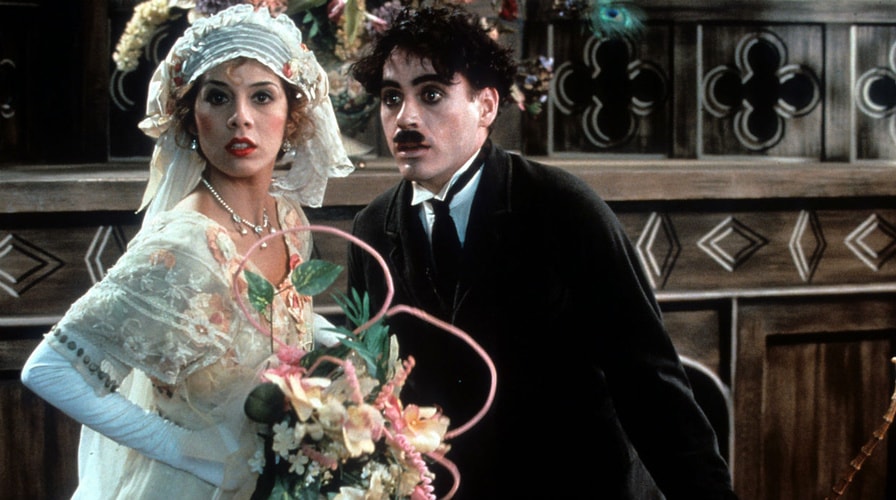 Growing up in extreme poverty with a mentally ill mother (Geraldine Chaplin), Charlie Chaplin (Robert Downey Jr.) starts performing physical comedy from an early age in London, to escape his otherwise bleak life. Hoping to further a career in show business, Charlie moves to America where he's hired by Mack Sennett (Dan Aykroyd), a famous filmmaker known as "The King of Comedy." Working under Sennett, Chaplin develops his iconic Tramp persona and eventually begins directing his movies. Moving his way up the ladder and establishing his own film studio, Chaplin carves out a successful motion picture career, beset with a number of failed love affairs as well as an unfortunate run-in with J. Edgar Hoover (Kevin Dunn) which ultimately leads to him becoming exiled from America.
To facilitate what amounts to a "greatest hits" compilation of moments from Chaplin's life, the narrative is framed around an elderly Chaplin - living out his last years in Switzerland - talking to (fictional) writer George Hayden (Anthony Hopkins), who's finalising the comedian's autobiography and wishes to fill in certain blanks. It's a familiar gimmick which allows Attenborough to explore stories and pieces of information from throughout Chaplin's life, centring in on the most important events. The veracity of Chaplin's autobiography is also brought into question, with Hayden even calling out the veteran performer on certain things that he lies about - at one stage, Chaplin retorts "
But the truth was so boring, George!
"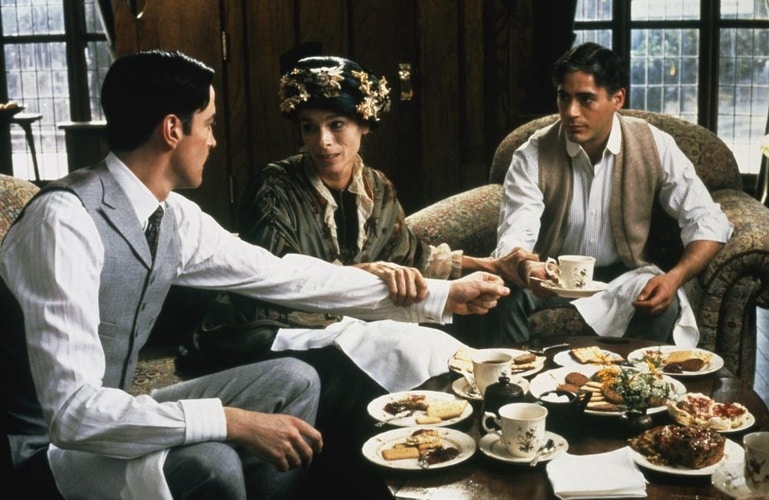 Running at over 140 minutes including credits, Chaplin delves into the man's perfectionism as a director, demanding dozens of takes to get the best possible shot, while he also had an affinity for underage girls. However, some of Chaplin's most famous films only receive a passing mention, while many of his leading ladies feel short-changed. For instance, Edna Purviance (Penelope Ann Miller) was one of Chaplin's most frequent co-stars, but is given barely a couple of scenes in the movie. Numerous other things are left out, too, like the death of Chaplin's first son, as well as the inspiration behind, and filming of, 1921's The Kid. Reportedly, the original cut of Chaplin clocked in at a staggering four hours, and Attenborough's preferred edit was twelve minutes longer than the theatrical version, but it was further trimmed at the behest of the studio. According to Attenborough himself, the cuts damaged the movie, leaving us to speculate about the merit of an extended cut.
As to be expected from a Richard Attenborough movie produced for a sizeable $31 million sum (no small chunk of change in 1992),
Chaplin
boasts strong production values, with elegant sets, elaborate costuming and spot-on period details. 19th Century London is convincing recreated, while Sven Nykvist's cinematography is careful and smooth, competently capturing the action. Admittedly, some of the optical effects are obvious and dated, and not all of the make-up stands up to contemporary scrutiny (the elderly Chaplin make-up looks especially phoney), but these are minor knocks against an otherwise finely mounted biopic. Attenborough is certainly no stranger to movies of this length and scale, and he manages to maintain an effective if slightly leisurely pace - this is not a tedious movie due to its elegant construction, but it does require patience to sit through.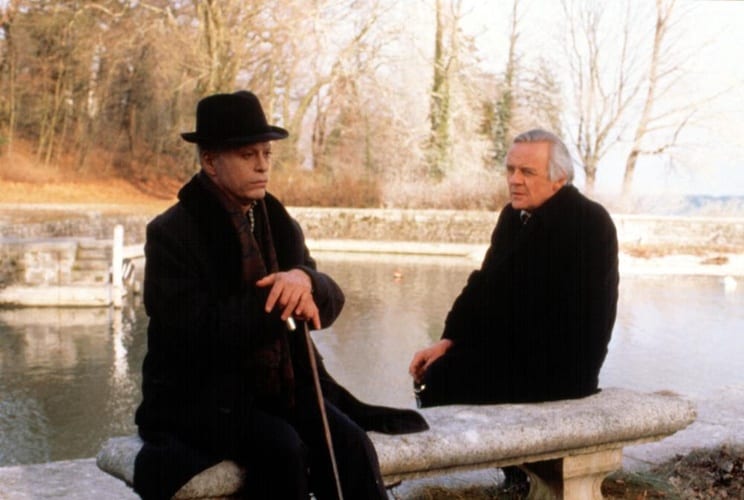 Downey undeniably carries the film, representing Chaplin's biggest asset. The American actor swallows his native accent to espouse a convincing British dialect, and he perfectly embodies Chaplin to boot. Downey bears a close enough resemblance to Chaplin, and further sells the illusion by nailing his recognisable physical mannerisms. It's a treat to behold Downey engage in physical comedy, impressively recreating The Tramp persona. Furthermore, Downey's performance amplifies the power of several scenes, including a heart-wrenching moment in which Chaplin learns about the passing of his first love. The sheer breadth of the ensemble cast surrounding Downey is staggering - recognisable names fill almost every role, no matter how minor. Chaplin's daughter Geraldine is even on hand to play her own grandmother in an inspired piece of casting, while the likes of Hopkins and Kevin Dunn are reliably brilliant. Dan Aykroyd is a genuine treat as Mack Sennett; he's amusing, but he provides enough gravitas to sell the drama. Kline, meanwhile, makes for a superb Douglas Fairbanks, bringing plenty of energy and charm whenever he appears on-screen. Performing double duty, the beautiful Moira Kelly is most appealing as both Hetty Kelly (Chaplin's first love) and Oona O'Neill (Chaplin's final wife), managing to create two distinctive characters. Digging further into the supporting cast, Chaplin also features the likes of Marisa Tomei, Penelope Ann Miller, Milla Jovovich (a teenager here), Diane Lane, James Woods, Maria Pitillo, and even future X-Files lead David Duchovny, all of whom hit their marks with confidence.
Chaplin attains effective poignancy as it approaches the finishing line, observing Chaplin as he is granted permission to return to American in order to receive a special Lifetime Achievement award at the 1972 Academy Awards. It's a fitting ending to a tremendous biopic, underscoring the great actor's indispensable contributions to motion pictures throughout his career. Despite Chaplin's flaws and shortcomings, it's an insightful film, and a must-see for Chaplin fans.
8.3/10