The second standalone
Star Wars
anthology movie after
Rogue One
in 2016,
Solo: A Star Wars Story
certainly endured a bumpy production period, exacerbated by worrying press coverage. With director Ron Howard coming aboard late in the process to complete filming and reshoot a bulk of the feature, and with certain vocal fans sharpening their knives in preparation for the end result, it appeared that almost everything was working against
Solo
, but the resultant movie actually works, thanks to a charismatic cast, astute scripting, and focused filmmaking. It helps that
The Empire Strikes Back
scribe Lawrence Kasdan co-wrote the screenplay, collaborating with son Jonathan to hatch a history lesson about the titular scoundrel several years before his fateful meeting with Luke Skywalker. Although not perfect,
Solo
is a welcome entry to the
Star Wars
canon, providing slick thrills and an engaging narrative, representing another home run for the Disney-distributed
Star Wars
series. No matter its imperfections, it is still a damn sight better than the prequels.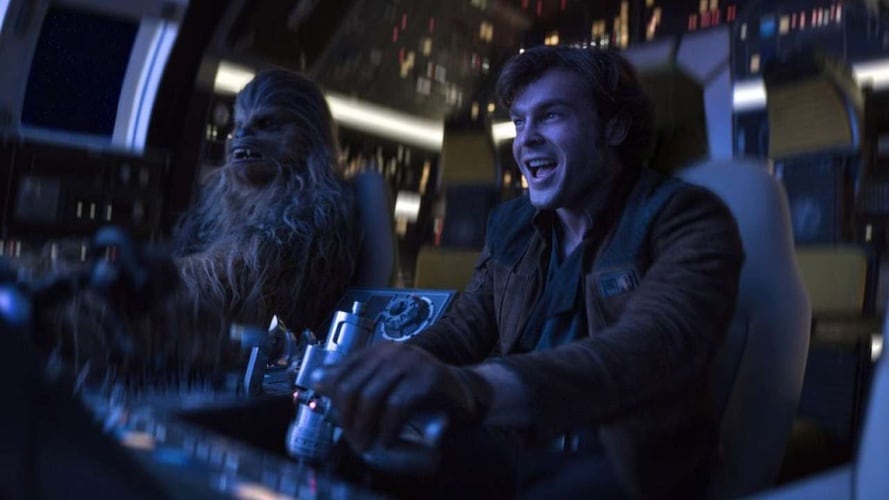 It is a lawless time, and the shipbuilding planet of Corellia is ruled by ruthless crime boss Lady Proxima (Linda Hunt). Han Solo (Alden Ehrenreich) dreams of becoming a pilot and buying his own ship to make a new life for himself with girlfriend Qi'ra (Emilia Clarke). In a bold dash to escape Corellia, Solo becomes separated from his lover, which motivates him to sign up for the Imperial Fleet to develop his flying skills. Three years later, Han has been expelled from the Imperial Flight Academy, and instead serves as an infantryman. Encountering fellow prisoner Chewbacca (Joonas Suotamo), Solo deserts the Empire, joining a band of thieves led by Tobias Beckett (Woody Harrelson) and becoming embroiled in a scheme to steal a hundred kilos of valuable starship fuel known as coaxium. However, complications arise and the gang is left in debt to gangster Dryden Vos (Paul Bettany), necessitating a seemingly impossible heist to steal unrefined coaxium from Kessel. Vos also insists that his top lieutenant, Qi'ra, accompanies the team. The requirements of the job lead the crew to veteran smuggler Lando Calrissian (Donald Glover), who has the benefit of a top navigational droid in L3-37 (Phoebe Waller-Bridge) and the fastest ship in the galaxy: the Millennium Falcon.
Solo
has much to work through, striving to cover the genesis of Han's surname, how he met both Lando and Chewbacca, and the events which led to everyone's favourite smuggler taking ownership of the Falcon. The Kasdans shrewdly solve the issue of the Kessel Run as well, demonstrating exactly why Solo brags about a unit of distance as opposed to time. The very notion of a Solo-centric spinoff does inherently forbid character development since the events of the original trilogy represent his "origin," and deepening Han's character within a prequel would threaten to take away from the payoff at the end of 1977's
Star Wars
, when the detached, money-hungry loner unexpectedly swoops in to help Luke during the Battle of Yavin. Although
Solo
lacks a significant arc as a result, and is therefore somewhat shallow, the Kasdans nevertheless find fertile dramatic ground to delve into. Perhaps an extra segment could have explored Han's youth since he speaks about running jobs on the streets as a ten-year-old, but Howard and the Kasdans wisely elect to get to the meat of the story as quickly as possible.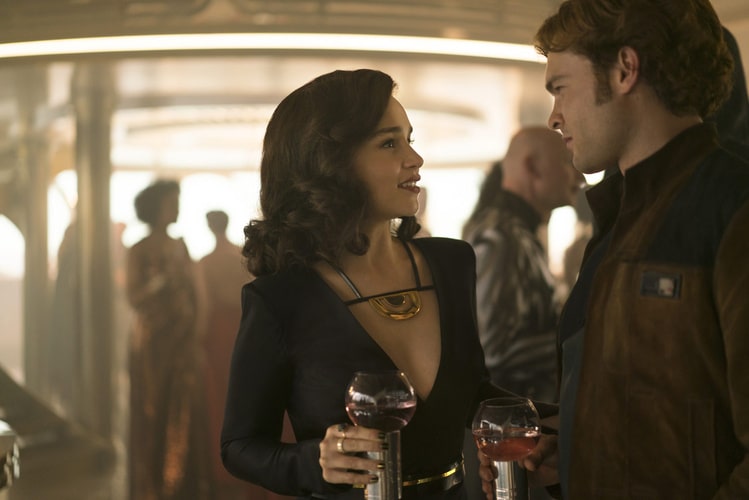 One of the reported reasons behind the sacking of original directors Phil Lord and Christopher Miller related to the pair creating more of a farce played specifically for laughs, butchering the Kasdans' script in the process. With Howard taking over the controls, Solo has less humour than anticipated, standing in stark contrast to 2017's surprisingly amusing Star Wars: The Last Jedi. Amazingly, the switch in directors is seamless, and Solo never feels like a fractured work of conflicting creative visions. Admittedly, however, certain lines of dialogue feel too on-the-noise, and Han's relationship with Qi'ra - which was evidently designed to provide heart at the centre of the chaos - fails to gain much traction. In addition, unlike the recent saga entries which were shot on celluloid, Solo was captured digitally, and darkness unfortunately pervades the cinematography by Bradford Young (Arrival). Remarkable special effects notwithstanding, the movie simply looks too dim, marred by a drab colour palette crying out for more vibrancy - it's a far cry from the lush, colourful visuals of The Last Jedi. Nevertheless, Young's framing remains magnificent, with frequently stylish compositions and some instantly iconic images throughout.
Despite a hastened production schedule,
Solo
's digital effects continually impress. Considering the decision to retain the original release date in the face of a hasty directorial change, it's relieving to behold such superb craftsmanship. Mixing practical effects and CG, there's often an appreciable tangibility to the visuals, as one would expect from a summer movie which reportedly cost up to $300 million to produce. Furthermore, the decision to shoot on real sets and locations when possible is beneficial, resulting in an effective tactile aesthetic as opposed to something more overtly digital.
Solo
is chock-full of electrifying set-pieces, ranging from a nail-biting opening speeder chase on Corellia, to a climactic shootout permeated with an agreeable western vibe. But nothing can top the elaborate heist sequence atop an Imperial locomotive high in the mountain peaks, which is beset with complications. It's a gripping, technically proficient sequence, adrenaline-pumping and fun in equal measure. Admittedly, some of the CGI - particularly during the Kessel Run - looks obvious, but these moments are fleeting. Topping everything off, the original score by John Powell (
Jason Bourne
) manages to find its own sound while subtly evoking John Williams's seminal contributions to the series. Williams actually composed an exuberant track for
Solo
's opening, which appropriately sets the tone.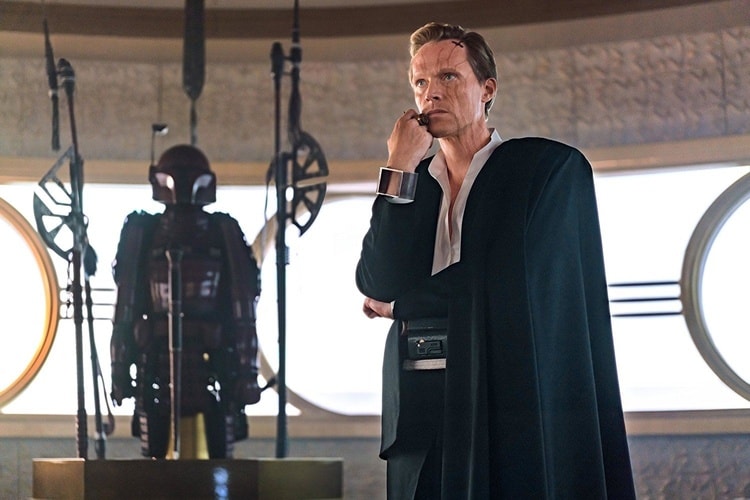 Even though Ehrenreich does not look or sound much like Harrison Ford, he certainly looks the part of Han Solo whilst in costume, and manages to capture the essence of the iconic role. The Hail, Caesar actor was no doubt under a lot of pressure, but he's instantly likeable and natural, while his performance is more than a mere act of mimicry. Ehrenreich may not match Ford, but who could? Meanwhile, the ever-reliable Harrelson is predictably top-notch, and the movie makes great use of Game of Thrones star Emilia Clarke. Glover is ideal casting as Lando, making for the perfect successor to Billy Dee Williams. Encapsulating the character's inherent coolness and nailing the appropriate mannerisms without feeling forced, he's a real bright spot, and it's only a shame that he feels somewhat underused. Indeed, more scenes with Glover and Ehrenreich together would be welcome. Additionally, Bettany sinks his teeth into this villainous role, while Thandie Newton makes a positive impression as Beckett's lover. The ensemble's sole downfall is Waller-Bridge as L3. Ostensibly included as an answer to Alan Tudyk's K-2SO in Rogue One, L3 does not work on any level. Despite Waller-Bridge's spunky performance, the droid sounds like a hipster from a bad Diablo Cody film, with tone-deaf dialogue and jokes which fall flat. Furthermore, a subplot involving Lando harbouring feelings for the droid is completely half-assed.
Solo: A Star Wars Story has its shortcomings, particularly with a beefy 135-minute runtime and some needlessly dense plotting, but this is nevertheless an enjoyable, buoyant Star Wars adventure bolstered by a charismatic lead. The set-pieces are consistently thrilling, while the picture also manages to fill certain gaps and continue to deepen the franchise's ever-expanding mythology. This is a minor, perhaps even disposable Star Wars adventure, but that is precisely what Solo needed to be. Furthermore, unlike Rogue One, it leaves enough time between its dénouement and the events of A New Hope to allow for sequels, and Solo's last scene suggests that there is more of Han's past to explore if any further adventures are on the cards.
7.7/10