Produced by Italian filmmaking luminary Dino De Laurentiis, 1977's
Orca: The Killer Whale
represents a brazen attempt to capitalize on the astonishing success of Steven Spielberg's 1975 blockbuster
Jaws
. In addition, this particular film goes one step further by ostensibly incorporating elements of "Moby Dick," as it pits a boat captain against a killer whale. From an ironic standpoint, a certain degree of entertainment value can be derived from the enormously cheesy and at times incompetent
Orca
, but it's borderline impossible to defend this cult curiosity as a serious motion picture. Despite the efforts of director Michael Anderson (
Logan's Run
), the movie is so far removed from the spine-tingling horror and enduring effectiveness of
Jaws
, even though it was created with a comparable budget. And whereas age has been kind to
Jaws
, the same cannot be said of
Orca
, as it looks seriously dated in 2018.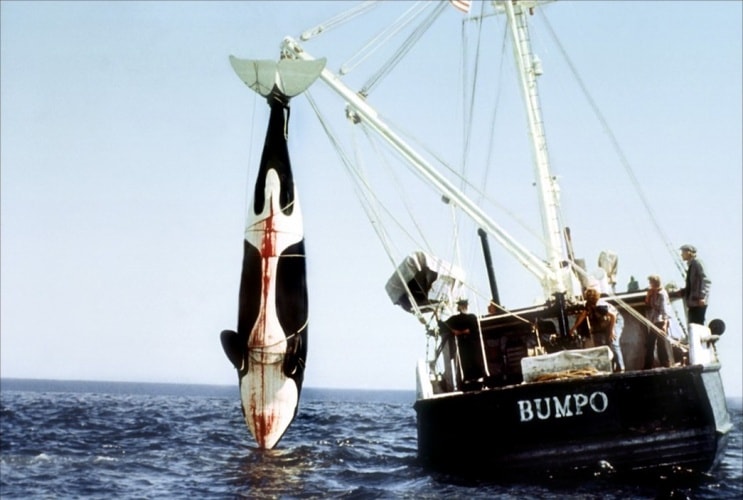 Irish-Canadian fisherman Captain Nolan (Richard Harris) makes his living by capturing marine animals for aquariums, and hopes to return to Ireland once the mortgage on his boat is paid off. Choosing to hunt for an orca, Nolan mistakenly harpoons and reels in a pregnant female killer whale, leading to its death as well as the demise of its unborn foetus. Unfortunately, the orca's male mate witnesses the slaughter, and becomes determined to get revenge on Nolan. Following him to a nearby coastal town, the orca starts to wreak havoc on the village, destroying its resources and sinking ships as it challenges Nolan to a showdown. Confiding in whale expert Dr. Rachel Bedford (Charlotte Rampling), Nolan is terrified of facing the orca since he knows the odds are not in his favour, but the livelihood of the village is in danger if the captain does not face up to his misdeeds.
Even though comparisons to
Jaws
from a narrative standpoint are justified, the story is actually closer to
Jaws: The Revenge
, which was released later, in 1987. Indeed, it certainly does appear that the producers of
Jaws: The Revenge
took inspiration from
Orca
. How ironic. The concept behind
Orca
admittedly has promise, with an intriguing moral dilemma at the centre of the film since Nolan
did
kill the orca's mate and should pay for his mistake. Unfortunately, it's clear that screenwriters Luciano Vincenzoni and Sergio Donati did not conduct much research before penning the script - leaving aside the unlikeliness that a killer whale would actually go to the trouble of terrorising a small seaside village, the mammals are not even monogamous, making the story look all the more ridiculous. In addition, scenes set on dry land during which Nolan contemplates the situation slows down the pacing dramatically, and there's even a pretentious voiceover delivered by Rampling which is intended to add some depth and gravitas, but instead comes off as laughable and cheesy.
To the film's credit, the authentic shark footage during the opening sequence is impressive, but it's extremely obvious when the mechanical shark takes over - said fake shark looks like a bathtub toy; stiff and unconvincing. It's something of a blessing when the orca is given centre stage, as the mechanical killer whale is not half-bad and at times it's difficult to distinguish between the fake orca and footage of the real things. In addition, there are a number of striking, brilliantly-composed shots thanks to credited cinematographers J. Barry Herron and Ted Moore. However, certain key sequences are undeniably hammy and campy, with overwrought sound effects and bizarre editing. There are a lot of close-ups of the orca's eyes, set to the mammal's high-pitched screeching. One vestige of the production which actually deserves respect is the original score, composed by Spaghetti Western veteran Ennio Morricone. Although it is a tad histrionic at times, the compositions are nevertheless proficient and full of flavour for the most part. Harris is another huge asset, as he actually takes the material seriously and looks wracked with guilt during more dramatic moments. It's just a shame that the filmmaking fails to properly serve him.
In amid the hit-and-miss ensemble cast, Bo Derek appears as a member of Nolan's crew, in her first motion picture appearance (though not the first movie she actually filmed). None of the other actors make much of an impression, though Will Sampson (One Flew Over the Cuckoo's Nest) is on hand as a wise Native American who tells stories about the orca. Even though Orca: The Killer Whale is not necessarily unwatchable, and it's entertaining and even compelling to a certain degree in a "so bad it's good" type of way, it is nevertheless a bit of a shame that it's not a better film overall. No doubt Orca will always hold a degree of cult appeal for the right audience, but it's unclear how more casual watchers will receive the movie as first-time viewers in 2018.
5.6/10