Every once in a while a film comes around that is so incredibly amazing that it leaves everyone stunned into silence. Forrest Gump is amazing but nobody can pin point exactly why, a silent understanding lies between one another that this movie is just great, there in lies why this movies will forever be a firm favourite.
Like an age old tradition or the unwritten etiquette of the underground, Forrest Gump bemuses me. Forrest Gump is completely unprecedented, he isn't an all out hero, he doesn't particularly earn his rags to riches position, he isn't cool, he isn't witty or funny and he isn't the typical 'disabled' figure that insights a wealth of pity. Gump instinctively does the right thing without any cogitation, he has no motives, no aims, no sense of money or concept of ownership, no greed, no malice, no wroth. What is he then?...I can't tell you. His innocence and honesty likens him to the robotic character, similar to that of Bicentennial man, yet his humanity is underpinned by his constant and unerring love for Jenny.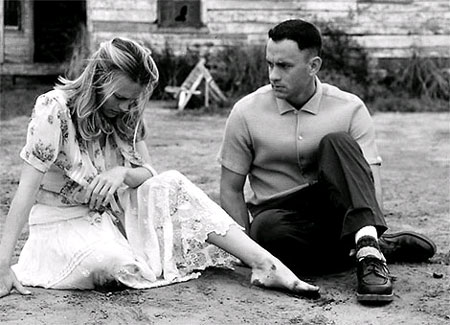 I have started many a review for this film, but never finished one, so concerned with definition and explanation, that I've not been able to put it into words. I recently saw a documentary that said "
We don't know how the big bang started, but we do know what happened a millisecond after it did
"...I'm going to take this approach in this review, I don't now why Forrest Gump is so good, or what the character is, but can tell you what effect the film has.
This film is unbelievably multifaceted, it evokes the deepest feelings of sympathy at the same time as the evoking awe. It will make you cry and laugh at the same time, stun you into silence then draw you into yells.
The film never loses it poignancy as it follows through most of modern history's most important events, the civil rights movements, presidential assassinations, Watergate and the Vietnam War, to name but a few. All the while the inherent human tendency toward evil is highlighted in its opposition to Forrest's unwavering goodness and innocence. This most certainly evokes that guilty and remorseful feeling for some of the shameful actions of the human race. In all this shame and remorse however, Forrest's humanity remains a glimmer of hope that the human condition isn't entirely doomed and may be inclined to good, if guided in the right direction.
This is so much more than a good film, it is a modern parable. A reminder that modern man can be driven to terrible things, but has the potential to be entirely innocent and at peace with the world. Forrest, unconcerned by material gain and sinful ventures, remains eternally peaceful despite his bleak surroundings. Even Jenny, who experiments with every kind of sin and vice, finds redemption in the end.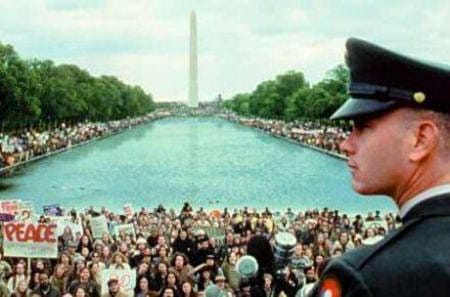 On a cinematic level, Forrest Gump is pristine, beautiful shots and some clever camera trickery place Gump in many an iconic media moment. The film has a substantial war scene which incorporates many of the awesome, sweeping camera shots and orchestral themes that are convention within epic war movies. The sound track is beautifully composed and stirring to say the least. Tom Hanks also plays his character to such a high standard that he forever sealed his 10/10 status, playing Gump with light-hearted whimsy as well as solemn dignity.
I'm not saying that Forrest Gump is the new bible, nor am I saying everyone who watches it will ditch sin for a cleaner life; but I think anyone who watches this film will be hard pressed to deny it does a bit to realign the moral compass within all of us.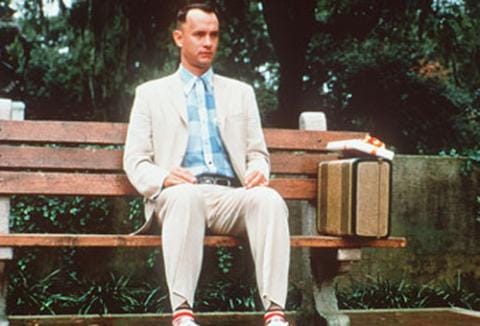 10/10