''There will be no order, only chaos.''

A paranoid mathematician searches for a key number that will unlock the universal patterns found in nature.
Faith in Chaos.
Sean Gullette
: Maximillian Cohen
Max is a mathematician who tries to find the perfect number/equation to life, to everything. Upon finding it, people will do anything to get what he knows.
Beautiful sounds and music, fantastic camera work are a few aspects
Pi
has to offer. The whole flashes, views through keyholes, the ants, the black and white filming intensifies the ordeal that is
Pi
.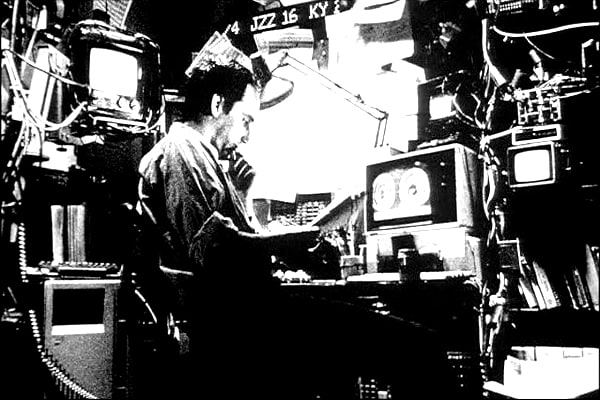 I liked the Jewish lettering and numbering system. Especially fascinating with some awe defining comparisons and links to certain symbolic aspects within the Torah.
Darren Aronofsky has crafted a superb, psychological, analytical movie that spirals out of control to dizzying heights. Paranoia and madness soaked.
Sean Gullette portrays Max in such a believable fashion. Incredible.
Very meaningful quotes for instance, the following examples:
''When i was a little boy my mother told me not to stare into the sun.
So once when i was six i did''.

''1. Mathematics is the language of nature.
2. Everything around us can be represented and understood through numbers.
3. If you graph these numbers, patterns emerge. Therefore: there are patterns everywhere in nature.''


Pi is perfected in it's capturing of numbers and the mixture of faith and religion. Even in religions and nature numbers are in everything, which begs the idea that God, the big everything, or whatever you believe, patterns are in everything, reflecting how numbers are everywhere.
Some interesting ambient music from some surreal groups too like Aphex Twin, orbital, Ront Size, Massive attack, David Holmes, Autechre and Clint Mansell.
The whole film is surreal,beautiful and shot so differently yet originally. Reminds me of the Silent Hill video games on parts the way it messes with your head and stretches your fear of the unknown. Also is similar to
Taxi-driver
how its main guy seems to plummet and be consumed by craziness and chaos. How you get to the stage where you snap and there's no going back.
What begins as an obsession to beat the stock market slowly transcends into something altogether higher and pivotal yet dangerous.
Watch immediately if you are into deep films because
Pi
certainly is near the top of the pile.
Darren Aronofsky, I see what he's trying to achieve here. In all his films. Has to be watched again and again to take into account all it's deeper messages and meanings.
Simply Amazing, spirals into perfection and infinity like it's chaotic numeric, faithful subject matter.
Faith is indeed in chaos, in order, and sometimes human error: A myriad of God, man and math. I will leave you with questions: When does genius become madness? When does a mathematician begin to become a numerologist? An obsession has good traits and bad, but how far would you go if you discovered the secret of the Universe? And if you did would you destroy that secret/discovery because this secret would be too dangerous for anyone to have?
10/10