I have been waiting for a good Deadpool movie for a long time. Ryan Reynolds has been fighting for a good Deadpool movie before the character was really even that popular. I was not the biggest fan of Mr. Reynolds before Deadpool but I do have give him credit. The man earns my respect for working his hardest to get a great Deadpool movie out there. He took the absolutely horrendous portrayal of the character in
X-Men Origins: Wolverine
, just to get the chance to portray the character. Honestly, the man's portrayal of Wade Wilson (before he became Barakapool) was the best part of that atrocious film. Deadpool is my third favorite superhero character, right behind Batman and Spider-Man. So I was eagerly anticipating the idea of a Deadpool movie but I also had strong doubts that it would get made. But sometimes, dreams do come true because this Deadpool movie is everything I wanted to see in a Deadpool movie.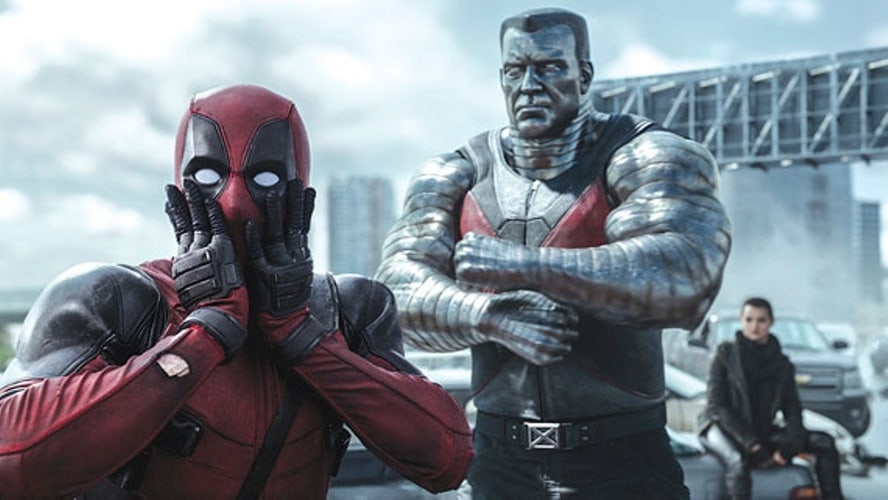 Vulgar, bloody, hilarious, meta, and elements pulled straight from Deadpool's comic history. This feels like a true Deadpool comic brought to life on the big screen. The music is pretty awesome as well. This film is full of classic songs that either feel appropriate to the respective scene or hilariously inappropriate for sake of comedy. Special mention goes to "Angel of the Morning", a ballad that helps make one of the most memorable opening sequences I've ever seen. Honestly, there are those special actors that can capable of embodying a beloved comic character and make it their own. Christopher Reeves is Superman. Robert Downey Jr. is Iron Man. Ryan Reynolds is Deadpool. But that is not to say the other supporting characters aren't just as memorable. Quite the contrary, their performances are just as interesting and memorable as the Merc with the Mouth's, certainly not an easy task. Both T.J. Miller and Leslie Uggams successfully capture the hilarious personalities of Deadpool's obscure allies, Weasel and Blind Al respectively. Ed Skrein plays a memorable villain in Ajax who, rather than being overtly complex or ambiguous, is just an douche. Super strong and really smart but still an incredible douche who you just want to see get his ass kicked. Gina Carano does a good job playing Ajax's trusty brutish henchwoman, Angel Dust. Plus the two X-Men (and only truly heroic characters in the film) they managed to get into this picture, Colossus (played by a CGI character) and Negasonic Teenage Warhead (who has the greatest superhero codename ever), feel well-incorporated along with providing both hilarious and awesome moments.    
But while these characters are fun to watch, the chemistry between Ryan Reynolds and Morena Baccarin, who plays Deadpool's love interest in the film, makes up most of the truly emotional moments of this film. While the film is filled to the brim with irreverent humor, it is their relationship, honestly some of the best romance I've seen in a superhero movie, that really adds weight to what could have been an immensely immature experience. It still full of immature moments but it luckily doesn't distract from the drama of the characters. Honestly, I'm glad this movie was R-rated because the character and the story feels most appropriate for mature audiences only. A PG-13 Deadpool movie would have neutered the appeal of this beloved fourth-wall breaking psychopath. 
Overall, I am just glad this movie got made to begin with. I appreciate that the movie managed to get the character right while also feeling like a complete movie rather than a funny distraction. Plus, the immense success of this film is a good omen to corporate executives, showing what happens when you take risks and stay faithful to a character's roots. I hope that this film's success brings out more mature superhero content that can risks while also being a whole lot of fun.
9/10