Listal hasn't been the only place where I've been posting reviews. There have been websites that I visited prior to discovering Listal where I decided to type out my thoughts on films that I had thoughts about. This is was an Blogger review of The Dark Knight Rises that was posted on December 31, 2012. While The Avengers certainly had a lot of hype behind it, this was truly one of the most anticipated films of 2012. It is the concluding chapter of Christopher Nolan's groundbreaking trilogy based on the famous comic-book superhero known as Batman. It is a film that managed to bring out a lot of large opinions and reactions from people, both positive and negative. So here are my thoughts about it from 2012, let's get on to it...
Ever since being created by Bob Kane on May 1939, the character of Batman has gained people's interests even to this day. After being orphaned by a run-off-the-mill crook when he was young, billionaire Bruce Wayne decides to spend the rest of his life fighting against the crime that lurks in the criminal-ridden streets of Gotham City. Not having any superpowers of his own, Bruce Wayne trains himself to reach psychical and intellectual peaks and takes the mantle to become everyone's favorite bat-themed caped crusader. In his never-ending battle against crime and villainy, Batman has managed to be portrayed in an array of mediums through a variety of tones. One of the things that has made the character of Batman so interesting is that he can be portrayed as a light-hearted superhero going through colorful adventures against the forces of evil to a dark and mysterious figure that goes against disturbing threats while dealing with his own psyche. He could be portrayed in either tone and still manage to make it work (for the most part). This shows in his history with films as well. Batman was very popular during the 1960s because of the famous Batman television that took the light-hearted nature of the comics during that time period and humorously parodied it to present a campy yet clever take on the Caped Crusader as well as his friends and foes. It notably features Adam West as Batman and Burt Ward as Robin the Boy Wonder. During the height of the show's popularity in 1966, a movie was produced based on the show and featuring a majority of the cast from the show. However, the tone of Batman in the media gradually changed from light to dark during the 70s-80s. This was signified in 1989 with the release of Tim Burton's "Batman". The film was positively received because of the dark atmosphere and great performances from Michael Keaton's take on Batman and Jack Nicholson's take on the Joker. It received a sequel in 1992 called "Batman Returns" with Tim Burton returning to direct. However "Batman Returns" was not nearly as critically or financially successful as its predecessor. It was probably due to being too dark and disturbing for younger audiences. In response to this, Warner Bros. decided to make the next Batman film more kid-friendly. So, they replaced Tim Burton as director with Joel Schumacher and with that brought a whole new approach to the Batman films. With the release of "Batman Forever" in 1995, the following Batman films changed from serious to goofy, dark atmosphere to neon-light scenery, serious storytelling to campy writing, etc. It ended up working with "Batman Forever" as it managed to be a financial success. However, with the release of "Batman & Robin" in 1997, the executes were not as lucky as the film was reviled by critics and audiences due to its ridiculous acting and casting, awful writing, and being overall too campy to be treated with any respect. The failure of "Batman & Robin" caused an 8-year hiatus for the Batman movie franchise. Many sequels, reboots, and adaptations were all planned to continue the franchise, however, none of those projects went past the idea phase. This all changed when Christopher Nolan decided to reboot the Batman franchise with a new darker and more realistic take on the Dark Knight. Thus, the world was exposed to a new era of Batman in 2005 with the release of "Batman Begins". This film gained praise from a lot of critics and audiences, in-spite of some minor flaws with the plot and cinematography. Despite some flaws, audiences were just glad a new Batman was able to escape from the cinematic disaster that was "Batman & Robin" and knew it was only just the beginning of something more fantastic to come. After the success of "Batman Begins", Christopher Nolan revealed his plans for a sequel called "The Dark Knight" and people were hyped for it. They wanted to see the next installment of Christopher Nolan's great portrayal of the Batman mythos, especially knowing that this one would have Batman face off against his greatest nemesis, The Joker. So, when "The Dark Knight" was released in 2008, it received MASSIVE critical acclaim. Critics and audiences loved "The Dark Knight" because of its great storytelling, amazing characters and performances (especially Heath Ledger's performance as the Joker), and spectacular cinematography. It wasn't just considered one of the best superheroes films ever, but one of the best films ever. Not only was the film critically successful, but it was MAJORLY successful financially as well. It managed to be the highest grossing film of 2008 making $1,004,558,444 in the box office. After releasing what a lot of people consider a modern-day "Citizen Kane", Christopher Nolan planned on making a sequel to this massive hit called "The Dark Knight Rises" to serve as a finale installment to end an amazing trilogy of films. And even more hype arises...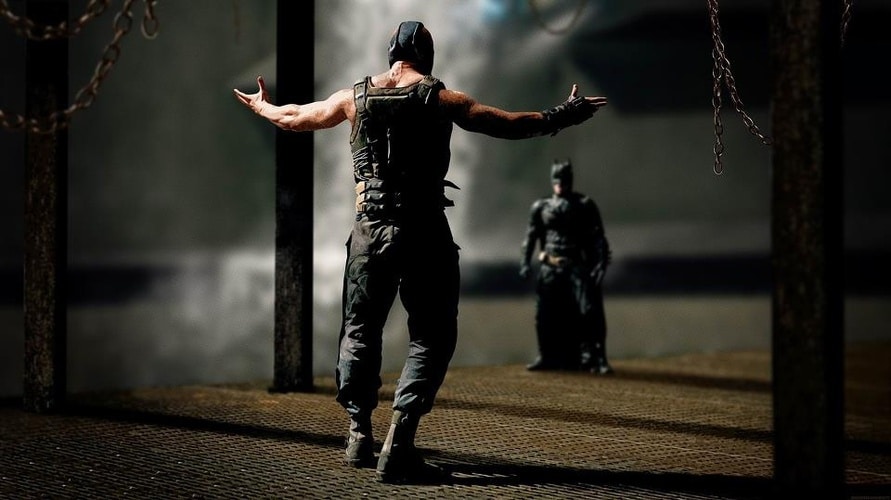 The movie takes place eight years after the events of "The Dark Knight", Gotham City is in an era of peace. Bruce Wayne (played by Christian Bale) has given up the cape and cowl and become a recluse. But after an incident involving stolen fingerprints and a manipulative burglar (played by Anne Hathaway), Bruce Wayne decides to go back to fighting crime. However, a powerful mercenary and terrorist named Bane (played by Tom Hardy) is causing anarchy and destruction in Gotham. Batman must learn to resolve his inner conflicts to stop Bane's tyranny and allow the hope to rise again in Gotham City. Now, I know judging by the summary I am giving it, it would seem like the plot of this movie isn't that impressive. However, I found the plot of this movie to be extremely well-done. Christopher Nolan wanted to make a film that would end this magnificent trilogy of films on a grand note and does really succeed in that part. One of the main reasons that the previous two films were praised was because the writing showed a very dark and realistic side to the Batman mythos that was never as explored in other films. Christopher Nolan's spectacular writing makes this different portrayal of the Batman universe work very well. They displayed the dilemmas and struggles that Batman faces with himself as well as with the villains he faces. A lot of praise was given to the villains of those films as well for taking these memorable and classic villains and adding some new elements to how they are portrayed without straying away from what made these villains so great to hate. Also, Christopher Nolan shows how much a true Batman fan he is but laying his stories with elements and homages to famous Batman comic-book storylines that the massive Batman geeks will get and enjoy without alienating the people who aren't as knowledgeable about Batman and his history. I mention all of this because of all the things that made those films great return in "The Dark Knight Rises" to make an incredibly spectacular film. However, unlike the past two films, a lot of people felt the story to "The Dark Knight Rises" wasn't as thought-out and tightly-written. Considering how critically acclaimed "The Dark Knight" was, people immediately predicted that its sequel would not live up to the predecessor's greatness. This gave a lot of people a disappointed and negative reaction to the film when it was released in theaters. While I still consider the story of this film to be very well done, I do acknowledge that it is not as tightly-written as "The Dark Knight" and the plot is kind of cluttered when you start really thinking about it. In spite of some flaws with the story, Christopher Nolan still manages to get major themes from both "Batman Begins" and "The Dark Knight" to play an important part in this film. These themes that were foreshadowed in those past films are further explored, so that the story is able to resolve those elements and able to end the trilogy feeling satisfied with ourselves. "The Dark Knight Rises" was created because Christopher Nolan wanted to create a triumphant finale to a spectacular trilogy of films and succeed through his amazing story and exploration with themes.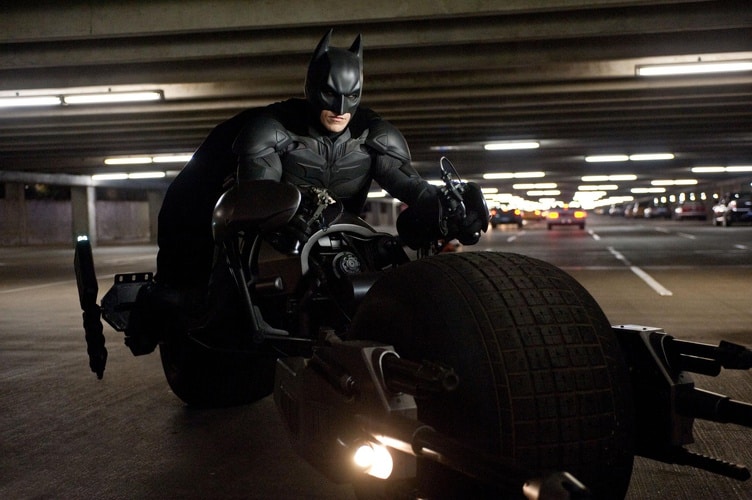 However, the strengths of "The Dark Knight Saga" didn't just lies in its amazing story, it also contained some amazing performances from some truly talented actors. Many of whom return in this film to give some noteworthy performances. Christian Bale returns to his role as Bruce Wayne/Batman. Now, I think Christian Bale is a spectacular actor and has done some very great roles in the past and I think he does a very good performance as Bruce Wayne. However, his performance as Batman is rather lackluster; it seems like the man is trying way too hard to be deep and brooding but most of the time, he sounds forced. Especially when it comes to that ridiculous overly-raspy Batman voice that he keeps using throughout all of Nolan's Batman films, it is just such a silly element that sticks out like a sore thumb because of the dark and realistic tone that the films are setting. Luckily, the rest of the acting in this movie is phenomenally good. Michael Caine does a wonderful performance returning as Alfred. While his time in the movie is shorter than in the past films, he manages to give a truly magnificent and sometimes even tear-jerking performance. Gary Oldman returns to the role as Commissioner James Gordon. He really doesn't change anything in terms of performance from the last films. He does a fantastic job portraying James Gordon in those past films and the same applies to this film. However, the character of James Gordon has changed and goes through some interesting development, dealing with him becoming older and possibly retiring and with him working through the events from "The Dark Knight" and adjusting to the consequences of it. This doesn't really sidetrack from the main story but it was definitely a nice touch to make the character more interesting and three-dimensional. Also, Morgan Freeman does a wonderful performance (as always) returning as Lucius Fox. His importance to the story is pretty much to create a new vehicle to the series, the epic flying aircraft known as The Bat. It is a very cool vehicle and does some very awesome things in the film... although, I do wonder how they manage to leave the thing around Gotham without anyone noticing. Now, let's talk about the new characters starting with the villain of the movie, Bane played by Tom Hardy. A lot of people complained about Bane's dubbed voice as being ridiculous and hard to listen to. However, I wasn't really bothered by the voice as most were and only needed a slight adjustment in hearing to understand what he is saying. I think it is less silly compared to the Christian's Batman voice. I actually consider Tom Hardy's performance to be rather chilling. He doesn't have the large impact and acclaim that responded from Heath Ledger's phenomenal performance as the Joker but I think his portrayal of Bane really works. It works well because Bane manages to get an uncomfortable feeling for nearly every time he is on screen. He gets this uncomfortable reaction because of how big of a physical threat he is. He can just casually snap someone's neck almost instantly and nonchalantly. However, the man is not just pure muscle and there is an actual brain under that mask that gives him a Russian Sean Connery  impression. Bane is just as cold and calculative as he is strong. He manages to calculate the steps that will bring out the complete destruction of the movie. Many other villains have done this before but unlike those villains, Bane manages to actually succeed in bringing out of Gotham's reckoning for a large part of the movie. In fact, when I saw the whole plan lay out the first time I saw the film, I honestly had no idea how Batman going to be able to save the day. I honestly thought Gotham City was screwed and there was a high level of suspense that was going through to see if Batman could accomplish a victory. Bane manages to be portrayed an chilling, calculative, and incredibly strong. Most people just presume the character of Bane is the very latter but I am glad to see an more accurate portrayal of the character finally appearing on the silver screen. Anne Hathaway plays the role of Selina Kyle/Catwoman and I didn't really know what to expect when I heard that she was going to play Catwoman in this movie. The only roles I've remember Anne Hathaway from was "The Princess Diaries" films (I've never seen them... just heard of them), so I didn't know what to expect from her being cast as the femme fatale master thief. When watching her performance, I really thought she fit into the role rather well. She is shown very capable of flipping between feigning naivety and scheming criminal. Her character is interesting as well, she is a struggling citizen in Gotham whom is against the rich elitists members of society and gains a conflict/interest with Bruce Wayne. She is also a cunning thief with a record that is trying to wipe the past away and gain redemption for her acts and gaining a conflict/interest with Batman. Many people consider her character unnecessary to the story but I think she was needed to help Bruce resolves some of his conflicts while he helped her find solutions to her problems as well. They gained an interesting chemistry/relationship that by the end, allows both of them to resolve their hardships to live their own lives happily. Marion Cotillard playing the role of Miranda Tate, a member of the Wayne Enterprises board whom was working on an alternative energy program that Bruce Wayne that disclosed because it could be possibly used as a weapon. This element to her character becomes very important later in the film. Heck, her character becomes even more important even later in the film but I'm not going to spoil it for those whom haven't seen the film yet. Anyway, she does a good performance in the film acting as an act of hope for the reclusive Bruce Wayne but the performance does change to something melodramatic near the end. However, the interesting twist they take with the character makes the melodramatic of her performance make a little bit more sense. Finally, there is Joseph Gordon-Levitt playing the role of John Blake, a young optimistic policeman whom James Gordon takes under his wing and has a positive outlook on the Batman. Joseph Gordon-Levitt does a very good performance and like Miranda Tate, his character provides a sense of hope in this rather cynical world. He does some very important things in the movie and develops into a really interesting character at the very end. Also like Miranda Tate, his character plays a very important part in the very end of the film. Overall, the cast was not spotless but still the performances in the movie are top-notch and make the film even more interesting to watch.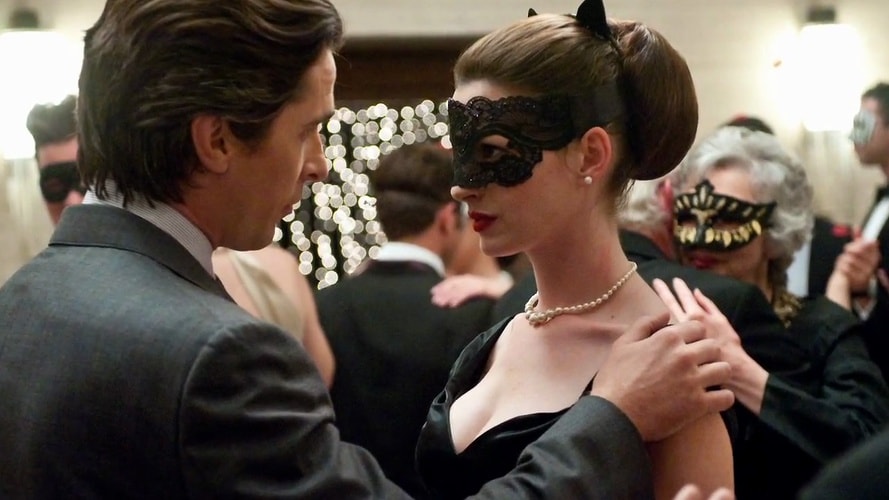 We've been talking a lot about Christopher Nolan's genius storytelling and direction but let's shift the focus to someone who's helped make Nolan's films so magnificent: Wally Pfister. Wally Pfister is the cinematographer behind Christopher Nolan's films ever since "Memento". While Christopher Nolan is the man making the orders in his director chair, Wally Pfister is the one that actually sets the cameras up to film the perfect shots on location. The combination of Christopher Nolan's directing and Wally Pfister's cinematography provides some truly amazing visuals often accompanied by a very well-thought script. The end result is a streak of amazing films starting with "Memento" that has not been broken by even a sub-par movie yet. Now, the cinematography for "The Dark Knight Rises" is spectacular. Christopher Nolan used IMAX cameras to film a majority of the movie and it provides a very crisp quality to the visuals. Everything shot in the movie looks amazing such as the various exotic locations, many of the action scenes, the very suspenseful scenes, and even the more mundane scenes. I really can't say anything is wrong with the cinematography... it all just looks very amazing to the eyes. They even got the look right in making the film have this gritty and realistic tone that all the previous Nolan Batman films tried and succeed to present. Now, let's recap on the decisions made under the direction of Christopher Nolan. The script was not as tightly-written as "The Dark Knight" but still managed to be a very well-written conclusion to the series that leaves people satisfied. The performances were all top-notch but they were some little hiccups in the cast (Batman's ridiculous raspy voice, Bane's weird Darth Connery voice, some ham being served with Miranda Tate) but overall, I thought everyone gave very solid performances. I thought the cinematography was perfect and all the visuals were pleasing to the eyes. All the scenes were filmed excellently and gave the film it's right tone of gritty realism. Honestly, Christopher Nolan has done slightly better in his previous films but I do not think at all that Nolan did a bad job directing this project. He went into this project wanting to make a spectacular conclusion to his critically-acclaimed Batman films and he did indeed succeed at that goal.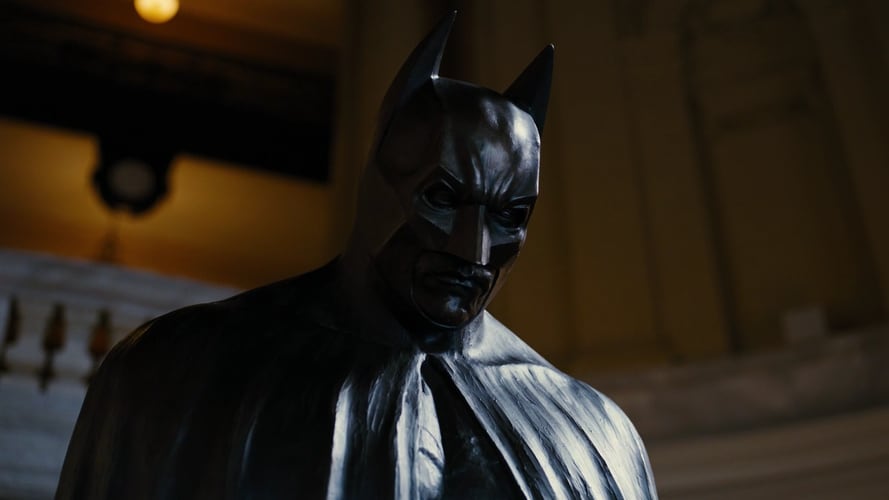 Overall, I thought "The Dark Knight Rises" was a fantastic film. Many people consider this film to be a disappointment with more plot holes and ridiculous moments than what was expected and what expectations was set by "The Dark Knight". However, I just cannot consider the words "The Dark Knight Rises" and "terrible movie" being used in the same sentence. I honestly think the acting is amazing, the story is well-done, and the cinematography just works great with the rest of the movie. Yeah, it has some flaws but I think the things that work in this film FAR exceed any flaws the film has. For a concluding chapter to a critically-acclaimed film trilogy, it ends the series on a grand and triumphant note. I really love this movie and no negativity will deviate from the fact that I think this film is truly amazing. If you are wondering whether you want to see this film or not, I really recommend you watch to get your own opinion on the matter. Whether you like it or not, I think "The Dark Knight Rises" is a cinematic experience like no other that many people should expose themselves to.
10/10