Listal hasn't been the only place where I've been posting reviews. There have been websites that I visited prior to discovering Listal where I decided to type out my thoughts on films that I had thoughts about. This is was an Blogger review of The Avengers that was posted on December 9, 2012. Back when the movie was the biggest thing ever and it still is today, to an extent, but it was at the height during 2012. So yeah, what did I have to say about one of the most hyped superhero movies or really one of the most hyped films in general? Well, you have an whole review to find that answer. So, let's get on to the review... 
At the very end of the popular superhero blockbuster, "Iron Man", there was a scene where Nick Fury was talking to Tony Stark about the "Avengers Initiative". That was the very moment where people were anticipating the upcoming Avengers movie. Many of the Marvel films released afterwards ("The Incredible Hulk", "Iron Man 2", "Thor", and "Captain America: The First Avenger") were pretty much created to establish more superheroes that will team-up in the upcoming movie phenomenon that is the Avengers movie. As you might have expected, this movie had a lot of buildup and many people were highly-anticipating this film because of it. While I was also highly anticipating this movie, I still had some doubts that it could be a bad movie. You never know, many big-budget films with a lot of hype have turned out to be disappointments in the past. However, those doubts were pretty much thrown out the window, when I learned that Joss Whedon was going to be a writer and director in this project. For those who don't know, Joss Whedon is a rather popular screenwriter, executive producer, and a director of television and film. He is well known for his works in television shows like "Buffy the Vampire Slayer", "Angel", and "Firefly". The thing about Joss Whedon's work is that he is well-known for making amazingly thought-out storylines with a large cast of interesting and developed characters. Often times, his films and TV shows became critically-acclaimed cult-classics because of his great writing and characters. And with a movie that needed a storyline that can allow a large cast of characters to play big roles in a grand adventure, I thought he was the perfect writer/director for the Avengers movie. Knowing he would be playing a big part on the production of this movie, I was probably even more hoping to see how this movie would turn out. I finally got the chance to see the movie in theaters and the moment the movie began I was hooked throughout the entire thing.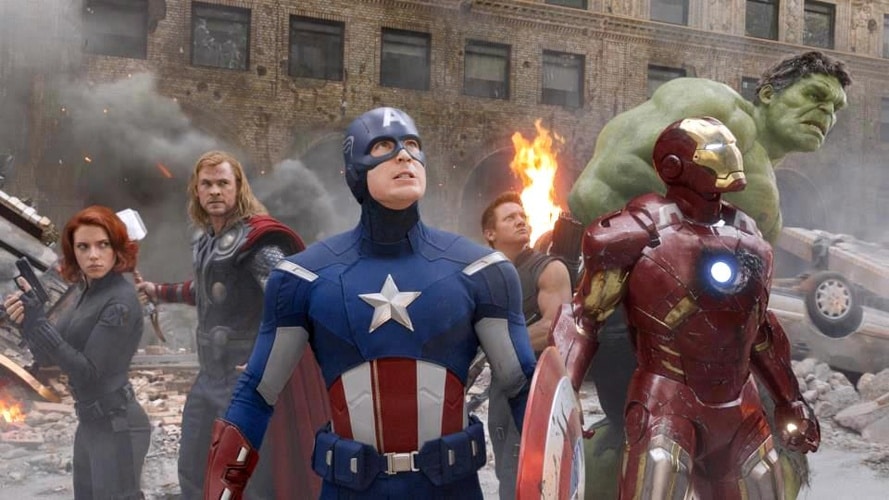 The plot of "The Avengers" is that there is a powerful energy source known as the Tesseract that came from the mystical land of Asgard but has managed to land on Earth. This energy source catches the attention of espionage agency, S.H.I.E.L.D., who take the Tesseract and plan to use its power to benefit the world. However, Loki (played by Tom Hiddleston), a former Asgardian, comes to Earth and takes the Tesseract from S.H.I.E.L.D. He plans on using the Tesseract in order to call a massive army of aliens called the Chitauri to invade and conquer the Earth. In response to this, Nick Fury (played by Samuel L. Jackson), the director of S.H.I.E.L.D., reactivates the dormant "Avengers Initiative" to assemble a team of the world's mightiest heroes in order to defeat this global threat. This team consists of Tony Stark/Iron Man (played by Robert Downey, Jr.), Steve Rogers/Captain America (played by Chris Evans), Bruce Banner/Hulk (played by Mark Ruffalo), Thor (played by Chris Hemsworth), Natasha Romanoff/Black Widow (played by Scarlett Johansson), and Clint Barton/Hawkeye (played by Jeremy Renner). It isn't easy getting these different personalities to work together, but with the invasion getting closer. Will these people be able to work together in order to save the world? As you can tell from the plot summary, the story isn't that groundbreaking especially compared to previous superhero blockbusters like "The Dark Knight". However, the way the story is executed, the way the action and adventure enfolded, and the way the different characters clashed and worked with each other. It really makes the movie an even more entertaining experience. The story isn't even that bad and really it does its job very well: it was able to give each member of an ensemble cast significance and give each moments where they could truly shine.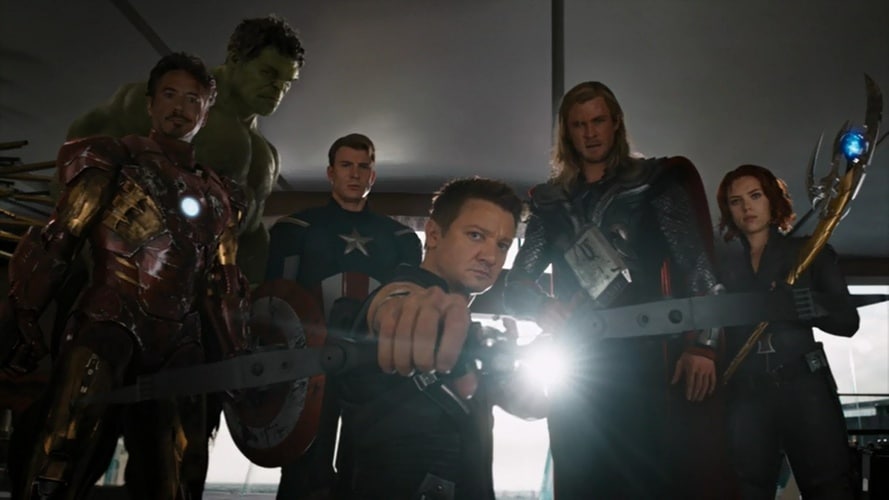 A movie with this large amount of hype needed an ensemble cast that would perfectly play this diverse cast of superheroes. Luckily for us, they managed to cast some really good people in this movie. Most of them returned from their roles in other superhero films, but they also managed to get some new actors into the mix. Robert Downey Jr. returns to the role of Tony Stark a.k.a. Iron Man, the narcissistic, cynical, and sarcastic billionaire with a suit of technological armor that can perform incredible feats. 
Steve Rogers: Big man in a suit of armour. Take that off, what are you?
Tony Stark: Genius, billionaire, playboy, philanthropist. 
Robert Downey Jr. fills the role of Iron Man with a lot of charisma. He plays Tony Stark as the snarky jerk who has good intentions. This is the interesting thing about Downey's portrayal of the character. He is certainly fighting for good but he isn't afraid to play dirty and get mean. He can take a rather serious situation and make funny quips to lighten the mood. In fact, he is probably the funniest character in the whole movie. This makes him an interesting contrast to the rest of the group and it definitely takes him awhile to get adjusted to working with the others. However, the character does go through some development as the ending of the movie shows. Chris Evans returns to the role of Steve Rogers a.k.a. Captain America, an American soldier with superhuman strength who fought during World War II and spent over 70 years frozen in ice. Chris plays Captain America as the idealistic soldier that is determined to fight for his country, while adjusting to a whole new time period. The movie does show how the Captain is affected from entering a world that has changed since he was around. By the end of the movie, he has become more adjusted to his new setting and able to use his experience and leadership to really help out. Chris Hemsworth plays Thor, the Asgardian god with the power to summon lighting and the brother of the antagonist of the movie, the mischievous and twisted Loki. 
Thor: Loki is beyond reason, but he is of Asgard and he is my brother!
Natasha Romanoff: He killed eighty people in two days.
Thor: He's adopted.
Chris Hemsworth portrays the role of Thor as the foreigner whom is not accustomed to the ways of his new surroundings. However, he comes from a land of more royalties and advancements compared to Earth. Thus, he acts as if he's superior to the rest of the group while acknowledging not by much. Another thing about Thor is that he always sees the good in people as he constantly tries to get Loki to change his ways, while the Trickster God just keeps scoffing off his offers for redemption. Mark Ruffalo plays Bruce Banner/Hulk, the peaceful scientist that keeps a raging monster deep inside of him. Honestly, out of all the people that have portrayed the jolly green giant on film (Eric Bana and Edward Norton), I think Mark Ruffalo does the best performance in this movie. He really does seem to capture all the things that makes the character interesting. As Bruce Banner, Mark manages to portray him as the rather calm yet shy scientist who seems to be holding something back. As the Hulk, he manages to show how intimidating and destructive he is capable at being. The first time you see Bruce Banner become the Hulk, you aren't glad to see him tear stuff up. You are generally frightened because that rampaging creature is loose and will do massive damage to anything and everything around him. Another great thing about Mark Ruffalo's performance is that it seems he have become a more developed character. In the previous Hulk movies, Bruce was always afraid to let the Hulk out and treated him like monster that he must destroy. In contrast to this movie, Bruce treats the Hulk more like the animalistic side of him that could be controlled and used for the better. This makes it all the more awesome when you see the Hulk using his brute strength against the invading aliens, later in the movie. You can thank Joss's great writing and Ruffalo's great performance for finally making a really great Hulk performance. It makes you hope to see a sequel to "The Incredible Hulk", starring Mark Ruffalo in the lead role.
Natasha Romanoff: This is just like Budapest all over again.
Clint Barton: You and I remember Budapest very differently.   
Next is Scarlett Johansson playing the role of Natasha Romanoff/Black Widow, the master assassin who seeking redemption as a S.H.I.E.L.D. agent. I think Scarlett did a great job playing the femme fatale who can kick butt and get information through any means necessary. The character of Black Widow was a very interesting one as she didn't feel like just the Girl they added in the Team of Men because they needed a girl. Joss Whedon has been known for  making an interesting character first and the gender later. So, it shows that Black Widow wasn't a character defined by her gender but by her role and actions in the main plot. Scarlett Johansson was able to present a character that handle herself in nearly any situation and there is an array of mystery to the character that keeps her character interesting. She feels like someone that could side-by-side with people like Iron Man, Thor, and the Hulk. Then, there is the final Avenger of the team, Clint Barton/Hawkeye who is played in the movie by Jeremy Renner. This character was honestly the one that surprised me the most. While all the other heroes had been established from past movies, this movie was Hawkeye's first main appearance in the series (aside from a brief cameo in "Thor"). I was worried that they wouldn't be able to make his character fit alongside with the other Avengers, ESPECIALLY considering his only power is to shoot arrows. I believed they really weren't going to be able to work him into the story and make it genuine and I was also worried he'd be the weak link of the group because of his kind-of lackluster abilities. Fortunately, his character REALLY did manage to work in the film... and he even made shooting arrows pretty awesome. His character in the film is that he used to be a loner assassin who, like Black Widow, ends up changing his ways and work for S.H.I.E.L.D. In fact, he has special chemistry with Black Widow throughout most of the film. However, he does a bigger role in the story, but without revealing any spoilers involves the main antagonist of the movie, Loki. 
Thor: We were raised together. We played together. We fought together. Do you remember none of that?
Loki: I remember a shadow, living in the shade of your greatness. I remember you tossing me into an abyss, I who should have been king!
As mentioned previously, Loki is the main antagonist of the film. He acts as the major conflict that the Avengers need to stop. And with that role, I believe Tom Hiddleston plays it very well. Loki played a rather good villain with his rather charismatic yet vain attitude. He also has an interesting backstory (that was explored in "Thor") involving his relationship with his "brother", Thor. Loki and Thor's conflict as well as Thor's attempts to redeem the corrupted Loki makes an interesting subplot for the film that works to not interfere with the main plot. However, it isn't just Thor that Loki manages to have a conflict with as throughout the story, Loki ends up attempting to manipulate the other Avengers as part of his master plan. Luckily, he does get his comeuppance at the end and it is definitely very enjoyable to watch. Samuel Jackson plays Nick Fury, the leader of S.H.I.E.L.D. and creator of the "Avengers Initiative", whom after making brief appearances in the previous Marvel films finally gets to show his greatness in this movie. Nick Fury was able to show his capabilities in the action and story department. He plays a significant role in the plot as it is flowing (especially at the end). He isn't just the leader archetype that brings the group together and then stays in the background for the rest of the film. He is a largely important character that can handle himself in action and during the rather serious moments. Samuel L. Jackson does a great performance with the role as it felt like the character was made to be played by him. And finally to round off the performances is Clark Gregg playing the role of Agent Phil Coulson. Agent Coulson was actually just a supporting character to the entire Marvel Cinematic Universe. He made previous appearances in "Iron Man" and "Thor" but he managed to have the most important role in this movie. Not going to spoil anything but you start feeling for Coulson's character later in the film and he definitely made a big impact in the story. Clark Gregg portrays Agent Coulson as the quirky yet down-to-earth S.H.I.E.L.D. agent. Clark was able to make the character very likeable, which makes what happens to him in the film all the more powerful. Overall, the cast in this movie gave incredibly good performances, all the actors felt like they perfectly fit in their roles and they truly help make us believe that we're watching our favorite superheroes on silver screen.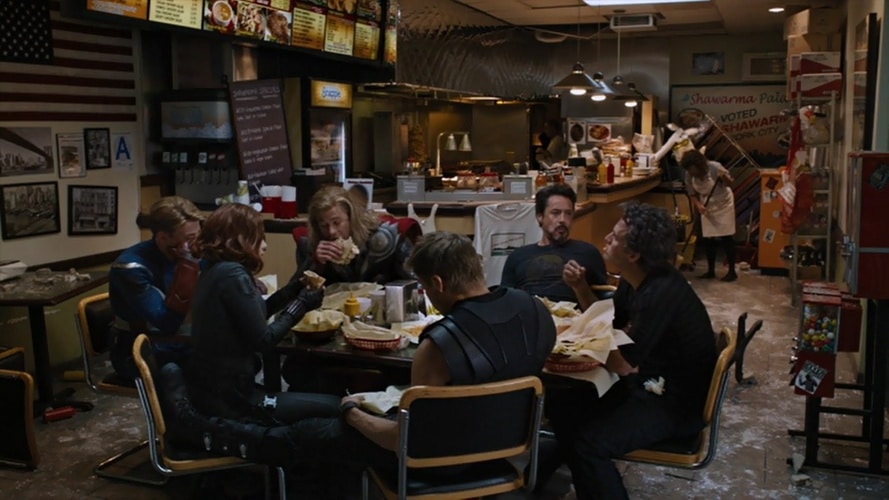 Now, I have explained in large detail that the writing and performances were all very good. However, was the direction anything special and was it able to give the right kind of mood that fit this movie? The answer is "yes". The direction for this movie was very well done, again praise goes to Joss Whedon whom not only was a great writer but a spectacular director for this film. The film was very fast-paced but it really works as the film becomes a spectacle that one cannot take their eyes away from. The well-done action helps as well to make this movie such a spectacle to view. The action scenes are wonderful but the reason it works so well with the film is because it is action that builds. There is stuff that happens in the first act but as it goes on, the film just gradually gets more and more thrilling that builds to this epic climax. And that epic climax is the true reason that this film was so greatly praised. When the Chitauri invasion occurs and the Avengers are ready to save the Earth, your heart will pumping hard and you will be loudly cheering at nearly every action the Avengers do during that scene. While the film can get very action-packed, the film has a rather light-hearted tone especially compared to the other superhero movies released this year (such as "The Dark Knight Rises", "The Amazing Spider-Man", and "Ghost Rider: Spirit of Vengeance"). As you've probably seen from this review, "The Avengers" contains a lot of light-hearted quips and snarks that are shown throughout the movie. Now, this could damage the film and turn it into campy obscurity. However, these humorous quips and remarks actually work for the movie because they are actually pretty funny; I honestly laughed out loud during this movie. And I do believe there is a purpose to these funny quips as it really does make the movie more replayable. There is a reason why "The Avengers" is the 3rd highest grossing film of all time. I presume that many people weren't just satisfied watching this wondrous movie for just a first time. With the combination of great acting, writing, directing, and humor to boot, I can guess a lot of people wanted to watch this movie again and again. Heck, I've watched this movie to prepare for the review way more times than I need to. This was a film that had broken records and I'm sure a lot of people would agree with me that the "Avengers Initiative" was an amazing success.
Overall, "The Avengers" is a truly amazing film. Everything in this film tries to achieve works incredibly well. The writing was simple yet well-done, the performances are superb, and the direction is amazing. This was a film that anyone could pick up and enjoy... however, there may be some moments that you may feel slightly in the dark. Thus, you may need to watch the other Marvel films in the "Marvel Cinematic Universe" to understand some of the things being presented. However, it doesn't alienate anything away from this truly amazing spectacle. This definitely will not be the last we'll be seeing from Iron Man, Captain America, Thor, or the rest of the Avengers as sequels have already been announced for this individual films. And I definitely cannot wait to see more from the World's Greatest Heroes.
10/10