The Big Sheldon Cooper Theory
Decade:
Rating:
List Type:
Sheldon Cooper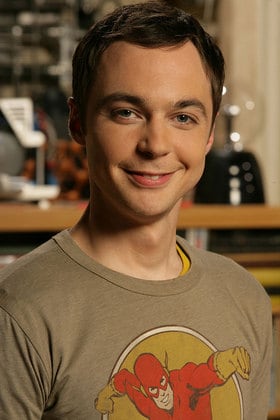 1. Sheldon is a theoretical physicist.
2. Sheldon has to sit on the left side of the couch. Wherever he goes, he has to choose the best sitting location based on such things as optimal television viewing, lighting, and cushion density.
3. Sheldon always eats oatmeal on Mondays.
4. Shaldon cannot detect sarcasm, but frequently asks if the comment made was
5. Sheldon has a red toothbrush that is kept in a Plexiglass case under a UV lamp.
6. Sheldon cannot stand whistling.
7. Sheldon labels all home utensils, appliances, etc.
8. Sheldon fears birds.
9. Sheldon doesn't like to go to the cinema alone because there is no guarantee that someone can help him with the heimlich maneuver in the case he chokes on his popcorn.
10. Sheldon doesn't condone anyone on his place on the sofa (left side).
11. Sheldon learned how to swim (on the floor) online.
12. Sheldon sorts his cereal numerically by fiber content.
13. Sheldon wakes up at 6:15 every Saturday, pours himself a bowl of cereal, adds a 1/4 cup of 2% milk, turns on BBC America and watches Doctor Who.
14. Sheldon went to college at the age of eleven, entered graduate studies at fourteen, and received his first PhD at sixteen.
15. Sheldon has 212 friends on MySpace.
16. Sheldon is allergic to bees and cats (despite having a pet cat as a child).
17. Sheldon used a Doppler Effect costume for Halloween.
18. Sheldon goes to the Comic Book Store every Wednesday so he can see all the new comics on, "New Comic Book Day"
19. Sheldon and his friends play Halo every Wednesday night, they call this ritual "Halo Night".
20. Sheldon knows Morse code very well.
21. Sheldon is terrible and constantly asks for things when he is ill. His friends have a protocol to hide themselves from him when it happens.
22. Sheldon doesn't know how to lie or how to keep a secret.
23. Sheldon does his laundry every Saturday night at 8.15 p.m.
24. Sheldon has Leonard Nimoy's DNA on a signed restaurant's napkin.
25. Sheldon had a cat named Lucky when he was a child, this cat died because it was hit by a train and he couldn't see the irony of the hit cat named Lucky
26. Sheldon does not like teddy bears because he thinks bears are terrifying.
27. Sheldon loves having his brain scanned.
28. Sheldon only shows genuine affection for one person, his grandmother (or Memaw), who he writes to.
29. Sheldon once got chased up the elm tree at the front of his house by the neighbour's chicken
30. Sheldon went to a sci fi convention on a bus for 10 hours and went against his will of peeing on buses twice to see Wil Wheaton who didn't show up at the sci fi convention
31. Sheldon considers himself to be a "Homo novus." A new, evolved species of homo sapiens.
33. Sheldon loves Star Trek, Battlestar Galactica, Doctor Who, and Scrubs.
34. Sheldon has a Master's degree and two PhDs.
35. Sheldon uses his Green Lantern action figure as a safe place for his emergency money.
36. Sheldon wears briefs.
37. Sheldon thinks that his very strong attention to hygiene and his skill in writing Java Applets are main points of interest to his persona to his friends.
38. Sheldon would like to control people in the same way he can control Mario in the videogame Super Mario Bros.
39. Sheldon thinks that to have more then four friends at the same time is much too stressful for him.
40. Sheldon once took a bet with Howard about a species of cricket, but lost and had to give Howard his Flash comic book.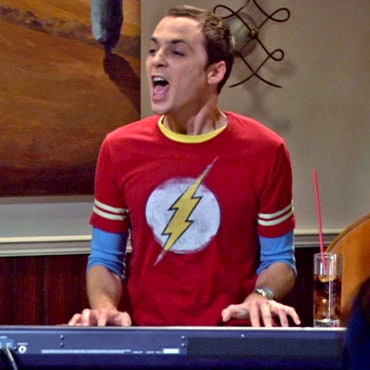 Quotes
Sheldon: I'm not insane! My mother had me tested!
Sheldon: [to engineers] Hello, Oompa Loompas of science!
Sheldon: Okay, I'm sleepy now, get out.
Sheldon: Smell that? That's the smell of new comic books. Oh, yes!
Sheldon: Do you want to hear an interesting thing about stairs?
Leonard: Not really.
Sheldon: If the height of a single step is off by as little as two millimeters most people will trip.
Leonard: I don't care—two millimeters?! That doesn't seem right.
Sheldon: No, it's true! I did a series of experiments when I was twelve; my father broke his clavicle.
[at the high-IQ sperm bank discussing donating...]
Sheldon: What if she ends up with a toddler who doesn't know if he should use an integral or a differential to solve for the area under a curve?
Leonard: I'm sure she'll still love him.
Sheldon: I wouldn't
Leonard: We need to widen our circle.
Sheldon: I have a very wide circle. I have 212 friends on MySpace.
Leonard: Yes, and you've never met one of them.
Sheldon: That's the beauty of it
Sheldon: I couldn't sleep knowing that just outside my bedroom is our living room and just outside our living room is that hallway and immediately adjacent to that hallway is this! (showing Penny's messed up apartment)
Sheldon: Oh, Mario!If only i can control everyone the way i control you!
[Presses buttons frantically]
Sheldon: Hop, you little plumber! Hop, hop, hop!
Sheldon: There's always a chance that alcohol and poor judgment on her part may lead to a wonderful evening
Leonard: No, I'm done with Penny. I'm going to be more realistic and go after someone my own speed.
Raj: Like who?
Leonard: I don't know... Olivia Geiger?
Sheldon: The dietitian at the cafeteria with the limp and lazy eye?
Leonard: Yes.
Sheldon: Well, I don't think you have a shot there
Sheldon: I'll have a diet Coke.
Penny: Can you please order a cocktail? I need to practice mixing drinks.
Sheldon: Fine... I'll have a virgin Cuba Libre.
Penny: That's... rum and Coke without the rum.
Sheldon: Yes, and would you make it diet?
Leonard: You are not Isaac Newton.
Sheldon: No, no, that's true. Gravity would have been apparent to me without the apple.
Sheldon: Why are you crying?
Penny: Because I'm stupid!
Sheldon: That's no reason to cry. One cries because one is sad. For example, I cry because others are stupid and it makes me sad.
Sheldon: [to Penny] I suppose if someone
could teach sign language to KoKo the gorilla... I could teach you some rudimentary physics.
Sheldon: Your shoes are delightful. Where did you get them?
Howard: What?
Shelodn: Bazinga. I don't care.
Melinda's rating:

You may have heard of Sheldon, he is one of the best TV Character ever!

Dr. Sheldon Lee Cooper is a fictional character on the CBS television series The Big Bang Theory, portrayed by actor Jim Parsons.


He has the funniest habits, quotes. I intend to collect many of them :)
Feel free to join!:)
Added to