14

vote
Everything about Melinda Gordon

Add image to section
~Appearance~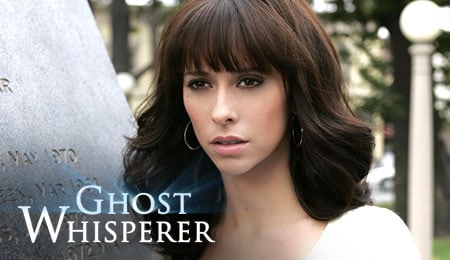 Melinda Irene Gordon is the title character of the television series, Ghost Whisperer, portrayed by Jennifer Love Hewitt, where she has the unique ability to talk to the deceased. She uses her ability to help ghosts by finding them peace by assisting them in any unfinished business, sometimes having to contact their living loved ones and tell them of her gift so their departed can transfer messages to them just before they cross over into the light. However, telling her secrets to the living often causes Melinda trouble, usually doubt and anger from the people she tries to help. Melinda is a warm-hearted, loving person who finds love with Jim Clancy, marrying him in the first episode of the series and spending the rest of her life with him until his death, in which he assumes the role of Sam Lucas, who she later marries, all the while knowing Jim was possessing him. During the first season, she is helped by best friend Andrea Marino, who co-owned Same As It Never Was, the antique shop Melinda ran. Andrea continued to help Melinda until her death, where the role was later resumed by Delia Banks, who had a hard time getting her head around Melinda's ability to talk to the dead, however she still supports Melinda. Melinda is currently expecting her first child with husband Jim Clancy, who they will name Aiden Lucas. Melinda also fell pregnant early season four with Jim, however she miscarried after her body couldn't support the pregnancy.

Add image to section
~Early Life~
Melinda has been able to see ghosts since she was a little girl. Her grandmother told her about their abilities, and that Melinda's mother doesn't like their gifts.
Melinda meet her husband Jim when her apartment building was on fire and had to be evacuated from the building. Melinda sees the ghost of an elderly women whose husband is still inside. Melinda tells Jim that there is still a man inside, even though he doesn't fully believe her, he goes insides and double checks. He finds the man still breathing, and the man's wife. The wife is relievead her husband is safe, and is able to cross over. Jim sees Melinda walking, and he gets off his fire truck to walk with her. After they meet they eventually get married and move to Grandview.




Add image to section
~~Powers And Abilities~~
Melinda has the ability to see and communicate with the deceased, (ghosts and spirits) she also posesses Ghostly-Telekinesis the ability to allow or almost command ghosts to help her in trouble ( Season 2 Episode 16) when she used randy's spirit to push objects around to blast the killer wyat. Melinda also is Ghostly-Clairvoyant, she can see the history or memories of the spirits and there connections, this making her an enhanced medium. Melinda also posseses a form of astral projection, she can project her spirit into things related to ghost like she projected her spirit into a computer game that was related to a ghost.

Add image to section
Trivia
-Melinda loves anchovies on her pizza.
-Melinda didn't know how to cook when she met Jim.
-Melinda bought her first car with the babysitting money she made in high school.
-Melinda graduated from Hillridge High School and went to college in Washington State.
-Melinda played field hockey in high school and wore braces when she was seventeen.
-Melinda likes chick flicks and horror movies (though the latter scare her a lot).
-Melinda had a red umbrella turn inside out on her first date with Jim. He replaced it on the fifth anniversary of that encounter.
-Melinda knows nothing about sports except for field hockey having played it in high school.
-Melinda is allergic to Ho-Hos.
-Melinda doesn't like her birthday or Halloween, but loves Christmas.
-Melinda's biggest fear is being studied for her gift.

Add image to section
~~Style~~
Her character's style embodies the sexy desirable wife, the caring home maker and now mother, the sassy antique dealer, the caring friend and detective sleuth for souls who have unfinished business.

Melinda's look is the perfect mixture of classic, delicate vintage pieces, and modern day spunk. It's romantic elegance meets quirky, whimsical girl next door. The re-working of certain vintage pieces in combination with everyday staples and 'to die for (in) heels', breaks the conventional rules and, in the process, creates fashion which is undeniably unique.

The Notable styles includes:
-Boot leg jeans and flares
-Baby doll and empire line tops and dresses
-Tailored/fitted blazer jackets, frilled around the waist
-Lingerie worn as outer wear, tops and bed jackets teamed up with jeans
-Sailor/nautical
-Victorian, French provincial
-1950's-60's dress styling
-Extra long knitted cardigans