After having played and completely fallen in love with the original "Canis Canem Edit" for PS2 I decided to give the Scholarship Edition a try as well.
To see which improvements have been made and if the game really is still the same.
First of all the story has naturally stayed the same. Yet there are some additional missions and classes which serve no real advance to the plot but make the game a little longer. And it's always a good thing to hang about Bullworth some more.
With those new objectives also come new characters. They are quite original but still couldn't win my sympathy -but that's not the game's fault of course.
The old characters are all still present and some have even got their little mistakes fixed.
(e.g. In CCE Gord had a voice different from his usual one in the first cutscene of the second chapter- that has been corrected now.)
Rockstar also decided to add one additional type of weather: Rain and thunderstorm.
And that is what Jimmy gets a lot in the game. But it's a nice little feature, adds up to the atmosphere.
Looking at the aspects of graphics I'm a little conflicted. The overall game design, may it be the characters or the environment, is looking better than ever before but during the cutscenes the characters become unconvincing and different. But fortunately the overall picture is not delivered through cutscenes alone. Most importantly the indescribably pleasant mood was retained.
What I'm very happy about is that the brilliant score of the game has also got some additional tracks that are in no way inferior to the main soundtrack.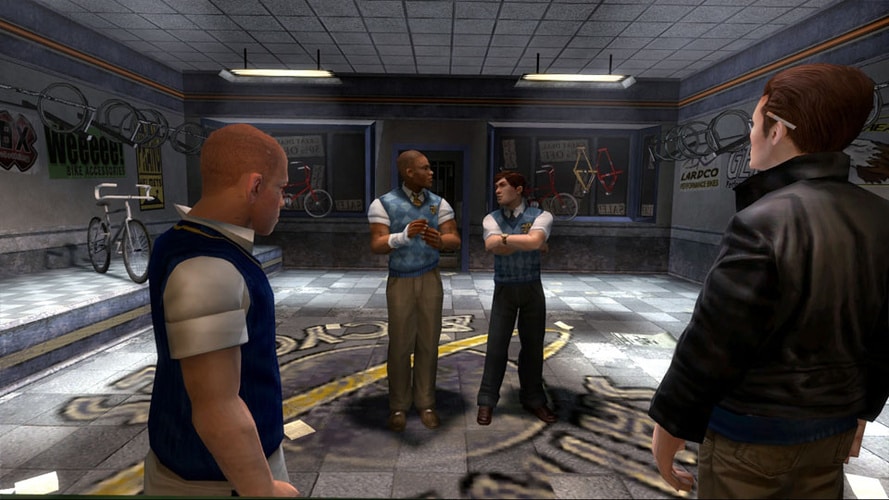 Next up is the very important aspect of difficulty that seemed greatly remodeled.
The thing is that CCE seemed a bit too easy at times but actually it didn't bother the player (in my case that is). Now I thought:
"Playing the same game for the 6th time won't be that much of a challenge. Even if it's on the Xbox360 this time!" And oh how wrong I was...
Basically it's the same weird severity as in the original: Starting easy, becoming troublesome a little later, getting surprisingly easy near the middle, making it harder moving towards the end and then finishing with one of the easiest boss fights in game history.
But there are still very frustrating classes in school and several missions that didn't seem that hard before. Though that might also be the fault of the Xbox360 controls, I don't know that fore sure. Yet I don't mind it. Sure, it strengthens the urge to curse but it also gives you more willpower because it's never unfair.
Coming back to those corrections I mentioned in the second paragraph, there aren't only good changes. It seems the glitches have become worse than in the PS2 version (there are permanent ones in classes) and when I was boxing Bif it was a different character. He looked like his Preppy fellow Justin. That shouldn't be, especially not in an almost-boss fight. But actually I don't even mind glitches too much if they don't put me off (which luckily they do not). After all it's a Playstation's re-release, it may be forgiven. ;)
The last thing that really stands out a mile are the god-awful loading screens. They appear whenever there's a short interruption. Entering a building, exiting a building, visiting class, approaching a cutscene, ending a cutscene...it would probably still be alright if they were like a second long but no! It takes up to at least 10 seconds. While looking at the actually well-done concept artwork, unfit font spelling the same advice over and over again is inserted and it gets so tedious after a while.
CCE had a simple black screen which remained only shortly and mainly appeared in combination with missions. That worked so much better!
However, as a passionate supporter of "Canis Canem Edit" I find this game to be a successful re-release.
Getting "Bully" is a very smart investment because it offers all of CCE's big variety, great character design and wonderful atmosphere -and even a bit more. For owners (and fans) of the original as well as for 'newcomers' who are into Rockstar games or open-world in general.
Yes, I entrust this to you because it's a certainly an underrated game in my opinion. :)