"My world is reduced to a single instinct: Survive. As the world fell it was hard to know who was more crazy. Me... Or everyone else."
In the three decades since the release of
Mad Max Beyond Thunderdome
, franchise mastermind George Miller has participated in a number of questionable projects, helming the likes of
Babe: Pig in the City
and the two animated
Happy Feet
features. But 2015's long-gestating
Mad Max: Fury Road
suggests that the Australian filmmaker has found his mojo again, creating an insane post-apocalyptic action movie beset with the franchise's idiosyncrasies; it retains a feral and at times darkly comic edge, and this wasteland is inhabited with perverted supporting characters. Studio involvement is what ultimately led to the misfire of
Beyond Thunderdome
, and it would seem that everybody learnt their lesson -
Fury Road
is all Miller, with the crazy filmmaker using a $150 million budget to visualise a genuinely gonzo future. Blockbusters these days are so concerned with the patented Christopher Nolan approach of dour self-seriousness and faux gravitas, which makes it all the more refreshing to witness a purely
fun
spectacle like this. It's a large-scale, R-rated
Mad Max
movie, and the best action blockbuster in decades. It's a genuine gift.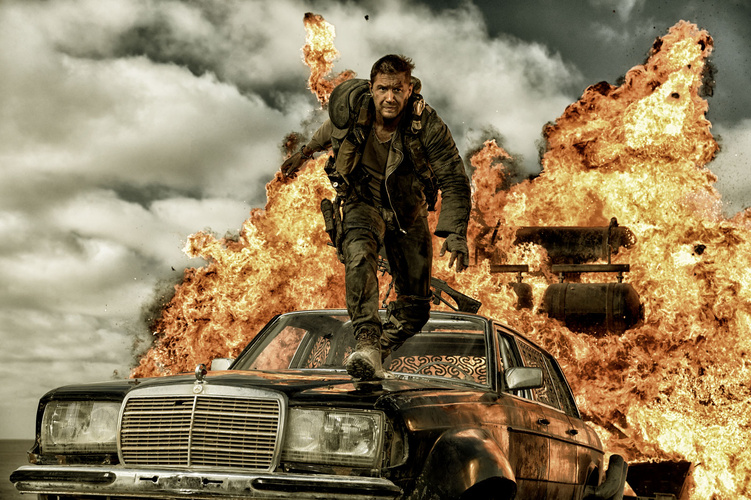 With the world now reduced to a stark desert wasteland, former law enforcer Max Rockatansky (Tom Hardy) traverses the wilderness in search for food and water to sustain his existence. But following a chase, Max is imprisoned by maniac Immortan Joe (Hugh Keays-Byrne), who rules a fortress known as the Citadel, farming water from the ground and giving precious little to the thousands of starving denizens. On a mission to collect gas for Joe, driver Imperator Furiosa (Charlize Theron) decides to go rogue, smuggling Joe's five wives (Zoe Kravitz, Riley Keough, Abbey Lee, Rosie Huntington-Whitely, Courtney Eaton) out of hell in search of a fresh start. In hot pursuit are Joe and his War Boys, with Max brought along for blood transfusion purposes. Freeing himself after a struggle, Max uneasily forms an alliance with the women, while a War Boy named Nux (Nicholas Hoult) is also keen to help out as Immortan Joe and his marauding army rapidly close in.

Although Fury Road may be perceived by some as a reboot, that's not entirely accurate. These days, reboots feel the need to start with an origin story, in the process negating all the preceding flicks, but Miller wisely avoids this increasingly frustrating trend: Fury Road is more or less Mad Max 4, and although it arrives with a brand new cast, it can easily be considered a sequel to the Mel Gibson films since it doesn't ignore or contradict them. Rather, it simply feels like another movie set in this post-apocalyptic future, which is fitting since the previous Mad Max movies were never inherently tied to one another in the first place. The result is incredibly refreshing; a film that plays equally well for fans as well as the uninitiated. It even opens with a voiceover reminiscent of Mad Max 2 which sets the tone for what ensues.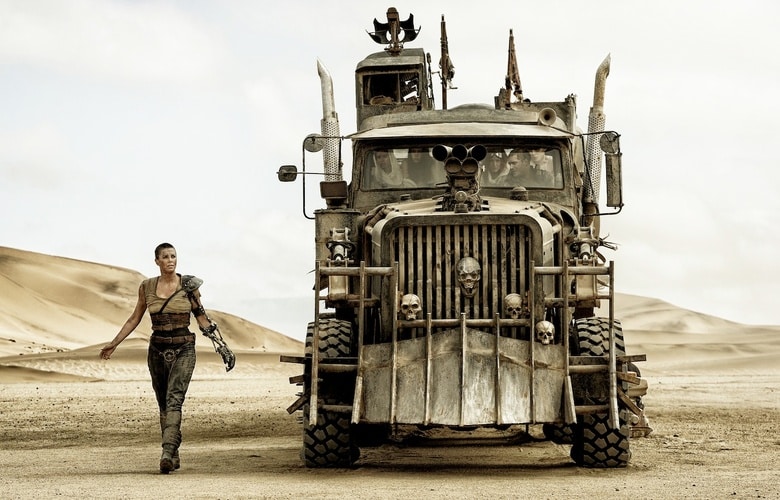 Pacing is one of Fury Road's strongest suits, as this picture really moves. The first half-hour or so simply flies by, boasting an efficient opening segment that leads into a breathless vehicular chase that's genuinely gripping. Although the picture fundamentally amounts to one long chase, it does feature some downtime to develop the characters, even introducing a hint of pathos as Nux is shown to have retained some semblance of humanity in this crazy world. Moreover, Miller does wisely by developing the characters and plot through visuals, in turn never letting the pace lag. The film has gravitas and a political voice, but a lot of the themes and metaphors are subtly conveyed through the visuals rather than excessive dialogue. It enriches the already extraordinary experience, and also allows the flick to improve on repeat viewings. Admittedly, with Furiosa doing a lot of heavy-lifting, Max does seem almost like a secondary character, but that's always been the case with the sequels - Max simply finds himself in a crises of good vs. evil, and chooses a side. What matters is that Max actually has things to do and has a bearing on the ultimate outcome of the narrative, two boxes that Fury Road ticks.

Miller recaptures the spirit of the earlier movies by relying on grittiness and practical effects, an incredible feat for a blockbuster in the 21st Century. The lunacy is executed using stuntmen and real vehicles, with tastefully-utilised digital effects reserved for removing wires and safety harnesses. In fact, beyond a brief sandstorm sequence, there appears to be no CGI at all beyond a few tiny touch-ups, which generates the type of raw thrills that we haven't seen since the '90s. One has to wonder just how Miller managed to stage and shoot some of the action beats, as they are genuinely off the hook. Miller and cinematographer John Seale sustain the chase sequences exquisitely, building and maintaining a sense of honest-to-goodness tension by refusing to show any degree of sentimentality towards the characters. Beyond Thunderdome's kiddie ensemble were 100% safe from harm, but characters here are constantly killed off. It's sensational, and the mayhem is scored to perfection by Junkie XL, whose thunderous compositions add extra oomph to this phenomenal movie. Fury Road is brutal to boot, and features a few delightfully gory killings. Miller's penchant for realistic injuries (he used to work in a hospital) again surfaces here, though the R rating is not pushed to its boundaries.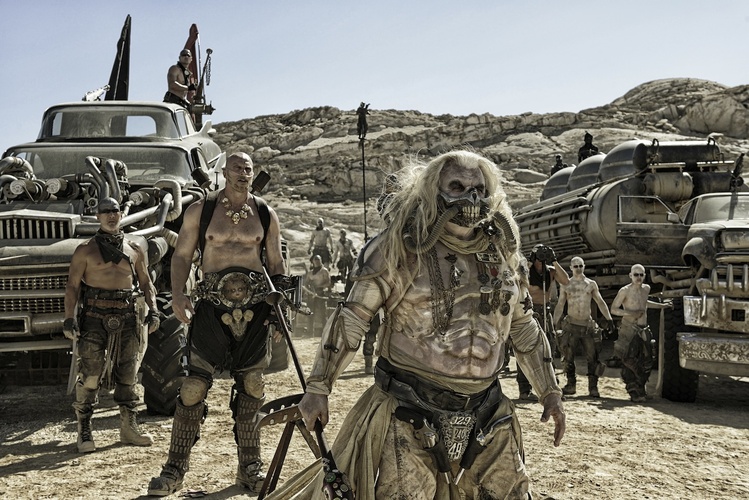 The Mad Max series has always featured gaudy production design, and thankfully this aspect is retained for Fury Road. It's a fever dream of details, with Miller obviously having a ball for his return to the Mad Max sandbox. With the biggest budget of the series so far, Miller brings his insane vision to vivid life. Vehicle designs are ridiculously awesome - there's even a car/tank hybrid that looks beautiful - while another crazy character spends his time handling a flame-thrower guitar. And then there's the character names, with awesome monikers such as Rictus Erectus, Immortan Joe, The Bullet Farmer, The People Eater, and The Doof Warrior, to name a few. Fury Road is 100% off-the-rails insane in all the right ways, turning what is essentially one long chase into a showcase of unique screen artistry alive with textures and details. You seldom see this type of innovation in modern cinema. Furthermore, although lensed digitally, Fury Road looks gorgeous, carrying a celluloid aesthetic of scorched oranges, reds and yellows, making this a colourful antithesis to the typical post-apocalyptic look of bleak, desaturated colours. Miller shot the movie in real desert locations, and the result is something that cannot be replicated by computers or sets.

A lot has been made of the ostensible feminist propaganda within Fury Road, as Miller enlisted the help of feminist Eve Ensler to create strong female characters, but such complaints are rubbish. For starters, using female warriors represents a fresh angle for the series, and Furiosa is the only strong woman here outside of a group of elderly warriors who have lost their humanity, just like the men in this harsh world. Miller does not pander to cheap "girl power" tropes, nor does he depict the females as being stronger than the men. If anything, the movie promotes gender equality; both sides suffer casualties, and no gender is given any special treatment. Besides, Ensler was reportedly used to merely enhance the characters, specifically the rape victims, helping Miller to handle sensitive issues with utmost care and attention to detail. The whole "feminist propaganda" argument is being blown way out of proportion.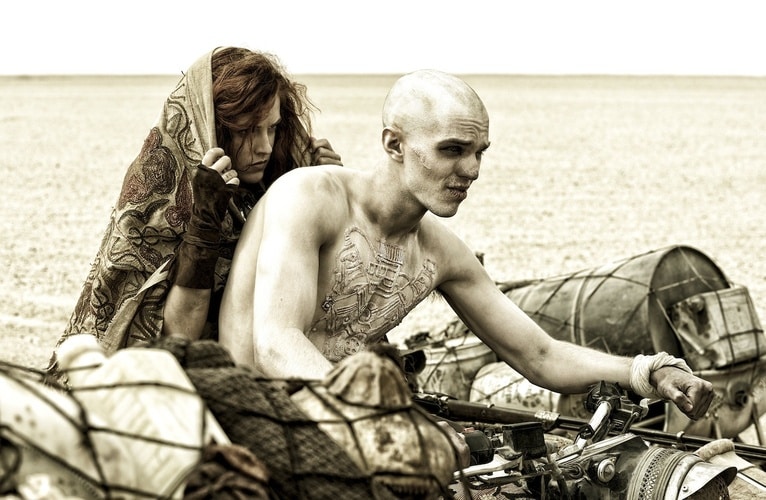 Arguably, Gibson could still have reprised his iconic role of Max for this go-round, especially since the aging actor is still participating in action films, but Hardy is nonetheless a worthwhile replacement. Hardy does wisely by not mimicking Gibson - he essays his own version of Max. Although the star's British accent does occasionally slip through, for the most part he's top-notch, and more instalments featuring Hardy as Max would be most welcome. Meanwhile, Theron is the most notable newcomer, playing the female lead with real gusto. Hoult is also worth mentioning, as he's very good at playing crazy. Hugh Keays-Byrne played the villainous Toecutter in the original Mad Max back in 1979, and returns here as new villain Immortan Joe. Decked out in an elaborate costume, Keays-Byrne is superb, exuding menace and emerging as a tremendous physical threat.

Despite the extraordinarily assured finished product, the outlook for Mad Max: Fury Road was not always positive. Principal photography was carried out and completed in late 2012, with the production undergoing extensive reshoots almost a year later. Release dates were cancelled and shifted on a constant basis. The budget kept soaring, making a PG-13 rating an almost certainty. Not to mention, it was always going to be hard for anybody to replace the eminently badass Mel Gibson in the titular role. But lo and behold, Fury Road delivers and then some, representing a one-of-a-kind summer treat that will make you bemoan the lack of similar endeavours. If there's anything to complain about, it's the abrupt ending. Both Mad Max 2 and Beyond Thunderdome closed with narration to further solidify the mythological figure of Max, but such a touch is absent here, and the flick feels somewhat incomplete without it. Nevertheless, the very few missteps do not diminish the experience of this deliriously entertaining action flick, which demands to be seen on the biggest possible screen.

9.5/10