If you have not heard of
Fifty Shades of Grey
and the hype (negative or positive) surrounding that cultural phenomenon, you must have been living on the moon for quite some time. Based on the best-selling novels by author E. L. James,
Fifty Shades of Grey
have been described as being simple mommy-porn, with a target audience of almost strictly women. This is a film that's clearly attempting to sweep over the
Twilight
crowd, which is unsurprising as the books actually started out as being
Twilight
fan-fiction. And it looks like they're succeeding with that. It's destroying the box office at the moment. But not without its cost. The film is currently getting a lot of criticism and even hatred. Standing at the moment with a very harsh 3.9/10 rating at IMDb, with almost 50% of the votes being a 1, it's safe to say that people are not reacting positively towards this adaptation. Add that some people are attacking it, claiming that it glorifies domestic abuse and you've got a film with a huge amount of backlash. And what is my statement towards this? What is my reaction on
Fifty Shades of Grey
? Well. Let's put it this way. The IMDb rating is a joke. That it glorifies abuse towards women is bullshit. And
Fifty Shades of Grey
is actually a fine film that completely outshines its ludicrous source material. I liked it.
Before I proceed on to talking about the film itself, I really believe that I ought to address the insanity of its IMDb rating. It's as I've said at 3.9 at the moment. Days prior to its release it was as low as 3.2. People, mostly male, went on a rampage, giving it a 1 without having seen the film. Naturally it was countered by some people giving it a 10, but seeing as it went as low as 3.2, there's no doubt about who was the most dominant. This is absolutely ridiculous. If there ever was any doubt about the flaws of these rating systems before, you can absolutely confirm it now. Luckily, it's being changing more rationally now, as people are seeing the film, but that people are bringing this film down without seeing it is pathetic. It's pathetic that people are hating on a film they haven't seen just because of the hype surround it. It's despicable that people are hating on the hard work of others without giving it a chance first. I've previously defended the
Twilight
films for being a result of people's hatred being overly exaggerated because it's the cool thing to do. Now it looks like it's happening again with
Fifty Shades of Grey
. It's perfectly fine to dislike a film after seeing it, but going around trashing something just because it's cool (and without seeing it) is ridiculous and it lowers the standard of the human race, and our cultural understanding much more than any of these films. Anyway, there are being made far worse films than this every week, and
Fifty Shades of Grey
is being judged unfairly because of its hype.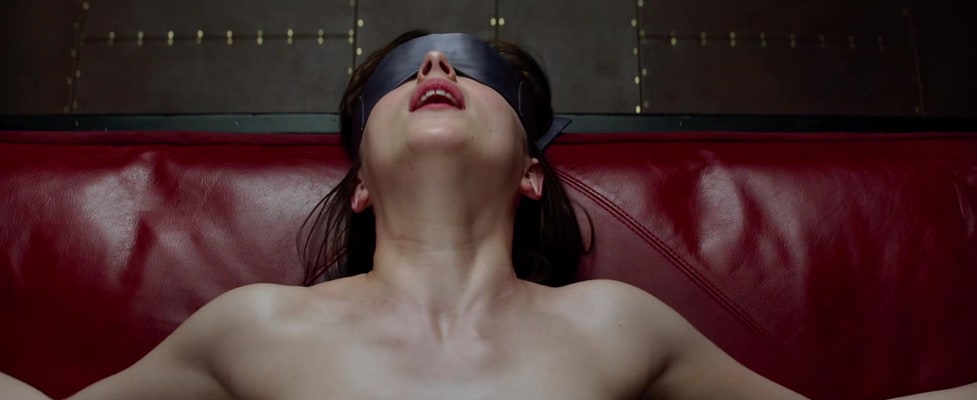 Now, on to the film itself. It's a solid film that's actually quite a lot of fun. Much of it comes from it's own self-awareness. They know that they're adapting a book that's not exactly great literature, and they do have fun with it. I honestly don't think there's any comedic moment in this film that is unintentional. And that the filmmakers have managed to spin the huge flaws from the source material in to a strength is a great feat. I laughed a lot. I found myself, almost, constantly smiling at what was happening on the screen. It's a great romantic comedy. With an extra pressure on the word comedy. There are many great jokes here, and the ridiculousness of some of the scenes just adds an extra layer to it.
But
Fifty Shades of Grey
is mostly about the sex, and the relationship (or non-relationship) that the two lead characters have. I will say that I did find the sex to be a slightly bit tamer than what I was expecting, and that it wasn't as rough or controversial as one would guess. But I will say that I actually thought most of it was pretty well-handled. There's naturally a lot of nudity here, some spanking, some whips and ropes and a whole lot of kissing and touching. It's not as steamy as one would have hoped for, but instead it feels much more intimate. There's just one that I thought was a bit unsettling, and that was because the plot demanded it to be so, which worked well. So I actually liked most of the sex scenes because of their intimacy and that they were more focused around the character's pleasure and enjoyment as opposed to just showing hardcore BDSM sex. The scenes that are steamy and sexy, if you will, are some of the scenes that doesn't involve them actually having sex.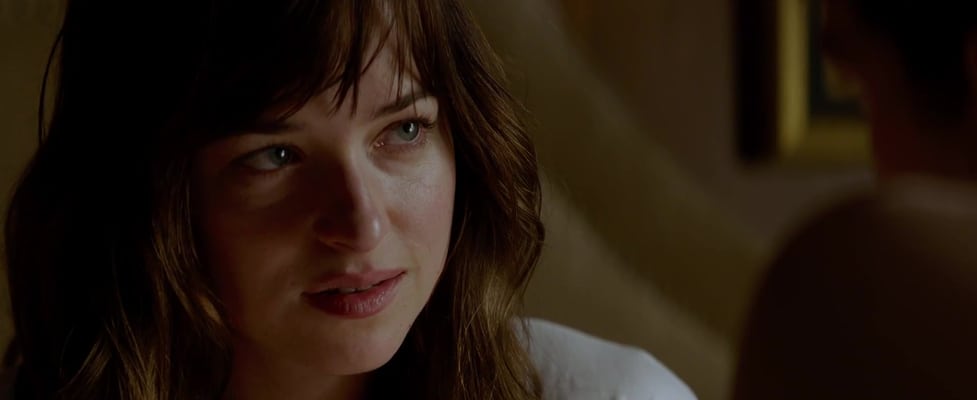 The greatest part of this film is Dakota Johnson. She's a catch. Not only is she absolutely gorgeous, but she plays her character with brilliancy as well. She perfectly manages to capture the awkwardness, insecurity and humour of Anastasia Steele. She's also extremely sexy when she needs to be. Jamie Dornan, on the other hand, is not as great. He's perfectly serviceable, and I can imagine that he will cause a lot of women to faint, but I didn't find him to have that commanding and intimidating presence that his character should have. His chemistry between Dakota Johnson is also a bit off sometimes, while it's great on some occasions. They certainly work best together whenever they're focused on the sex, or talking about it. Whenever they try to delve into Christian Grey's psychology, I think it's a bit more off.
It does of course leave everything open for the sequel, and the film doesn't come with a particular conclusion of its own. But as a simple cliffhanger, I think the ending worked fine enough. And I'm going to see the next one, quite simply because I liked this film. I thought it was funny, intimate, occasionally sexy and I thought Dakota Johnson was outstanding. But above all, it was hugely entertaining. Sure, it's a very flawed film. The sex scenes may be a bit disappointing, Jamie Dornan is a bit weak and the psychology of Christian Grey is a bit poorly handled. But this is a film that knew what it was based on, and it had fun with that. And so did I. And I'll be damned if some stupid hype is going to take that away from me.
7/10