"What are you thinking? How are you feeling? What have we done to each other? What will we do?"

David Fincher tackles an adaptation of the novel
Gone Girl
by Gillian Flynn with this psychological thriller. Fincher is indeed back on form with this wonderfully dark story and the immediate escalation and complexity that develops is in a word inspiring. Ben Affleck and Rosamund Pike are cast in the lead roles as husband and wife: Nick and Amy Dunne. The plot revolves around the alleged murder of Amy and the suspicion falls upon her husband. The ensuing media frenzy, clues and fallout evolves into a race against time. A linear murder mystery? Is it that simple? Not at all. Fincher gives us a story with numerous twists, turns and flashbacks.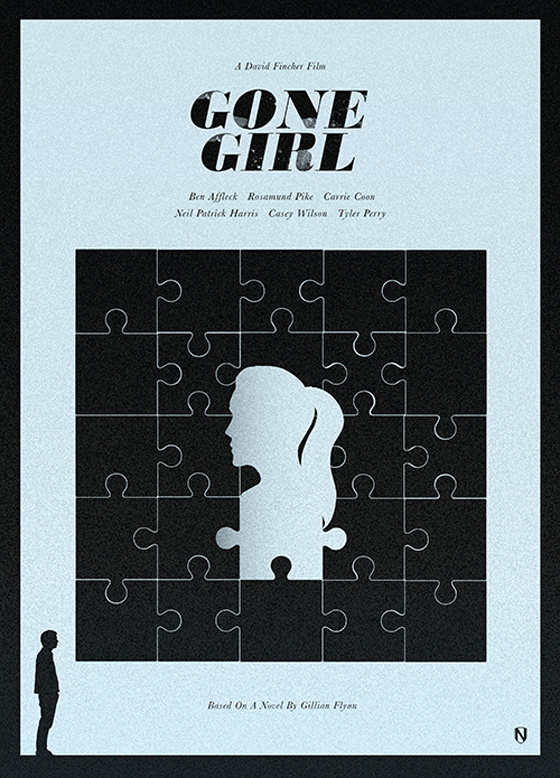 Film making, effects, cinematography
: The clever camera shots and smooth transitions are typical finesse as usual in a Fincher film with clever close ups, panning and sideways movements.
Gone Girl
has some delicate effects which never deviate from being realistic. Whether indoor or outdoor regarding scenes the use of low or high angles give the film a menacing and claustrophobic edge.
Story, acting, character development
: Casting and acting remain at a high standard and all players involved deliver performances which are not only multifaceted but also allow layers in characters who are not what they seem. The real shining examples in
Gone Girl
are Rosamund Pike and Ben Affleck, as we learn from the story as it progresses Amy is a successful writer whom seems to be in a marriage, which started full of passion and vibrancy, yet spirals into resentment and manipulation. Nick in the earlier stages appears to be cheating with one of his young students (Played by the beautiful Emily Ratajkowski) and is essentially living on the funding of his wife. The character development is advanced and deeply warped which is a pleasure: The deception and puzzling nature of (especially) Amy and Nick is what gives
Gone Girl
an unpredictable mask upon another volatile mask.
The chronological nature of the story follows Amy's disappearance and the clues left for detective Rhonda Boney, played by Kim Dickens, and Nick allows the trail of bread crumbs leading to answers or more questions apparent. There is also a development which shows other chronological chapters for not just Nick but Amy and a resulting one based on what transpires with the murder investigation when it reaches a conclusion which I will not spoil here. Other worthy performances stem from Neil Patrick Harvey and Tyler Perry with hands on approaches with their roles.
Music, score, sound
: The music by Trent Reznor and Atticus Ross adds to the frantic, foreboding and menacing events. It gives the film atmosphere and a scary tension which still resonates with the viewer even until the credits are still ascending.
Summary and conclusion
: David Fincher gives us his most recent revelation with
Gone Girl
.
A psychological, intelligent and thrilling rollercoaster puzzle within a twisted and warped story
. By the end it really reaches a place that will perhaps be memorable as an outcome which is dually monstrous and suffocating. A lingering imprisonment of suspicion, horror and an unescapable confinement with something, with someone deadly.
9/10