"I made my family disappear..."

Written by the late great John Hughes, Home Alone is a Christmas film in a more superficial sense of the term. After all, the movie may be set during the festive season, but it plays out as a comedy with action and adventure elements as opposed to being a straight-up Christmas film. Despite this, Home Alone is considered a family favourite, and it's often mentioned in the same breath as other holiday greats like It's a Wonderful Life and Miracle on 34th Street. While it's not even close to touching the superior quality of these aforementioned titles, Home Alone is a lot of fun for adults and children alike. Upon entering theatres in 1990, the film was a smash hit, and it's easy to see why - at one point or another, every kid has dreamed about freedom from parents and their iron-fisted enforcement of household rules. Vehemently a young boy's fantasy, Home Alone sees the youthful protagonist indulging in stairway sledding, raucous bed jumping, pizza ordering, and ice cream-eating.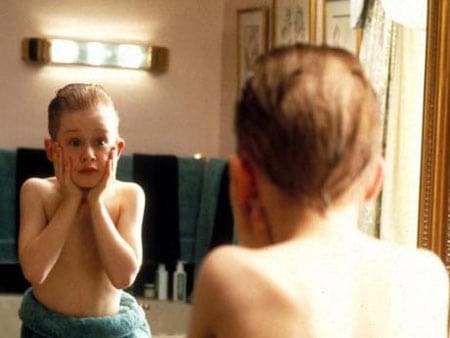 With Christmas rapidly approaching, the McCallister home is in full holiday mode, and the large household is serving as a base of operations for the extended family's vacation to France. However, things aren't so good for young Kevin McCallister (Culkin), who seems to get in everyone's way, is as an outlet for the family's frustrations, and is an easy target for the older offspring. After being blamed for a dinner disaster, Kevin is sent to the attic for the night, but not before proclaiming that he wishes his entire family would disappear. The next morning, Kevin is forgotten during the mad rush to the airport, and, by the time Kevin awakens, the whole family are well on their way to France. Initially the youngster believes his wish has been granted, and he's thrilled at his newfound freedom. Meanwhile, house burglars Harry (Pesci) and Marv (Stern) are robbing other homes on the affluent street, and soon set their sights on the McCallister residence. Also, Kevin's mother (O'Hara) soon realises that Kevin was left behind, and desperately tries to find her way back home.


To state the obvious, the plot of Home Alone is hardly driven by the Christmas season. Nevertheless, the holiday - particularly its spirit and meaning - plays a crucial role in the film's tone and in establishing the heart & soul of the picture. Additionally, the hustle and bustle of the festive season acts as a driving force behind the plot, and there are a few touching scenes amidst the antics and gags which reflect on the true meaning of Christmas (particularly the importance of family). It also helps that everyone involved with the film was at the top of their game - Chris Columbus' direction is competent, and Julio Macat's photography is pleasant and yuletide-soaked. Added to this, John William's classic score generates a playful holiday atmosphere, and this led to his umpteenth Oscar nomination. Produced for a mere $18 million, the movie effortlessly encapsulates the feeling of holiday bliss. Home Alone is exceedingly silly but inarguably enjoyable and often very funny, and its elevation to Christmas staple is deserved.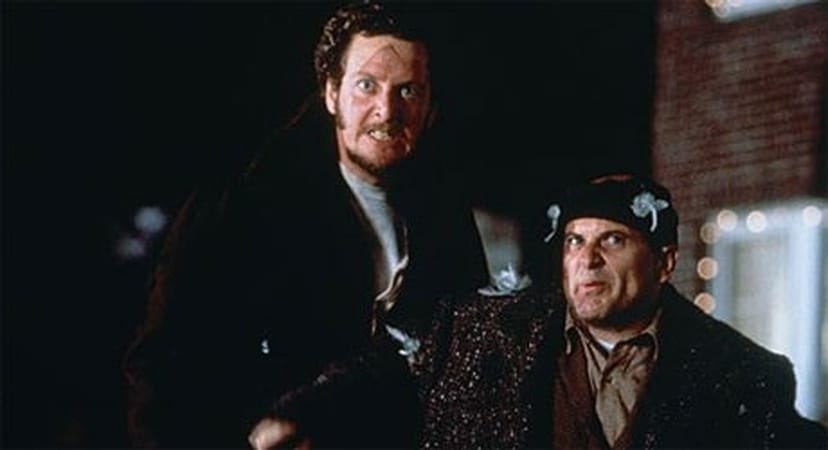 The real meat-and-potatoes of Home Alone is, of course, the grand finale in which Kevin thwarts Harry and Marv's home invasion with a string of ingenious booby traps. In reality, a number of these traps would result in serious injury or worse, but in this PG-rated world the results are side-splitting and comical; turning the robbers into a live-action Wily E. Coyote who repeatedly comes up short to the smarter, Roadrunner-like Kevin. Sure, one needs to suspend their disbelief because the traps work so conveniently in Kevin's favour, but this hardly matters. The only glaring weakness of Home Alone is the opening act which features Kevin's extended family. This first segment suffers from acting and dialogue which feels choppy and forced, and consequently the scenes don't mesh overly well. Unfortunately, there's not much reality to this segment as well - it seems like the filmmakers were simply trying too hard to recreate a chaotic household on the eve of a daunting family task. Luckily, things pick up once Kevin is left home alone.


Macaulay Culkin's performance as Kevin McCallister is another element that makes Home Alone so endearing. He's a likeable kid with a bright screen presence, and he afforded the right mixture of innocence and mischief to the role. It's truly unfortunate that there was so much backlash against Culkin in following years - all of the hate seems unfair and undeserved. He may not have been the greatest child actor in history, but he was nine. Plus, his skills were certainly light-years ahead of Jake Lloyd. Meanwhile, Joe Pesci and Daniel Stern both hit their marks commendably as the incompetent thieves. It's certainly interesting to see Pesci in a children's film where he was unable to let his mouth run rampant. Also in the supporting cast is a very effective Roberts Blossom playing a man whom Kevin befriends, as well as Catherine O'Hara who's extremely believable as Kevin's mother. John Candy even made a small cameo appearance, and he's delightful in every frame. As a side-note, look out for an extra in the immediate background just prior to Candy's introduction - legend has it, this extra is in fact Elvis Presley (it does look remarkably like him).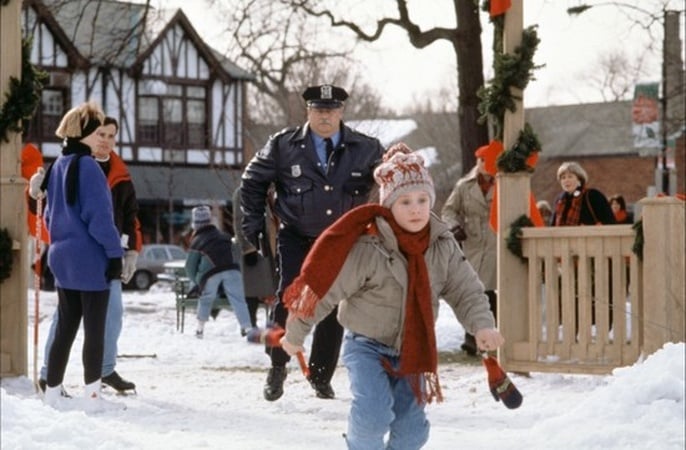 Home Alone is a generally fluffy instance of Christmastime filmmaking which is hindered by a very predictable narrative trajectory, a few absurdly cartoonish moments and a handful of uneven scenes, yet it remains an entertaining holiday classic. It still deservedly enjoys continued prominence as a Christmastime tradition due to its entertainment value and its well-integrated, effective message regarding the importance of family. It's just a shame the film was tarnished by three sequels of declining quality, beginning with Home Alone 2: Lost in New York.

7.2/10