Some sagas just won't die.
(Yeah, neither will the fuckheads behind these spoof movies)

After rendering audiences momentarily brain-dead and polluting multiplexes back in 2008 with the positively apocalyptic one-two punch of Meet the Spartans and Disaster Movie, I honestly thought and hoped those movies would be the end of the writer-director duo of Jason Friedberg and Aaron Seltzer. Unfortunately, Hollywood is always on the hunt for a fast buck, and thus the go-to spoof movie hacks have made their return with the unreasonably woeful Vampires Suck. This time, the sights were set on the easiest target imaginable: the Twilight saga. The material here is played far more broadly than in the actual Twilight films, but is somehow even worse than the Stephenie Meyer adaptations - and even less funny. Once again, Friedberg and Seltzer relied on jokes which relate to people getting kicked, punched, smacked in the face and beaten up, and such "humour" is unable to compete with the painfully sincere cornball dialogue found in the real Twilight flicks.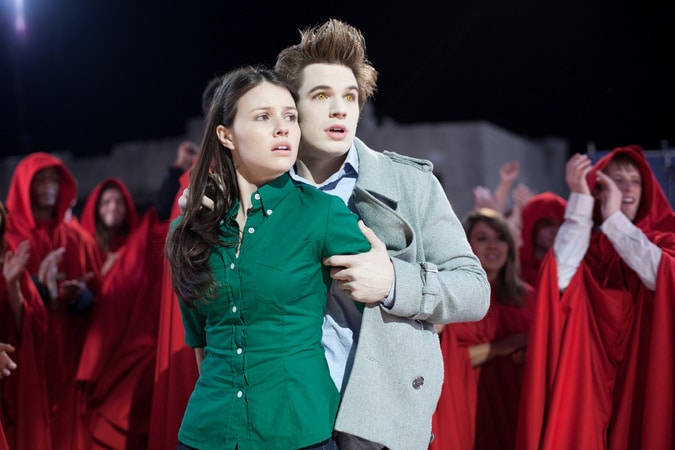 After her mother abandons her to pursue Tiger Woods, Becca (Proske) moves to the small town of Sporks to live with her estranged sheriff father (Bader). In Sporks, the vampire population is rampant. At her new high school, Becca is inexplicably drawn to the brooding, pale-faced vampire Edward Sullen (Lanter). (Get it? Sullen? It rhymes with Cullen, and describes the faggot vampire in a truthful manner.) Soon, for no good reason, Edward falls for Becca, but leaves town when he gets frightened about what might happen if they get too close. Hoping to divert Becca's gaze is the burgeoning werewolf Jacob (Riggi) who's madly in love with Becca for no good reason other than because the plot demands it. With prom right around the corner, the twisted love triangle is destined to come to a head.


To begrudgingly offer a glimmer of positivity, Vampires Suck is the best film that Friedberg and Seltzer have unleashed upon movie-goers. For starters, the production values are slightly improved and borderline impressive. Secondly, there's something resembling a narrative here as opposed to an incoherent succession of barely-connected sketches. On that note, the film manages to highlight the long-winded nature of Twilight - the first two films are condensed into 80 minutes here, and nothing important feels excluded. Also, with a few exceptions, Vampires Suck is primarily a spoof of the Twilight movies, as opposed to previous spoof flicks which were grab-bags of anything that had been culturally significant within the past year. However, this is all faint praise, as Friedberg and Seltzer's concept of what constitutes a parody movie remains unchanged. For Vampires Suck, the duo did what they always do: they crammed in as much product placement as possible, included a barrage of uncreative gags, and smashed the ensemble in the face. The makers clearly adore body trauma, as it constitutes 70% of the humour. It's not remotely amusing, but Friedberg and Seltzer firmly believe that brutality equals laughter, and nothing can persuade the morons otherwise.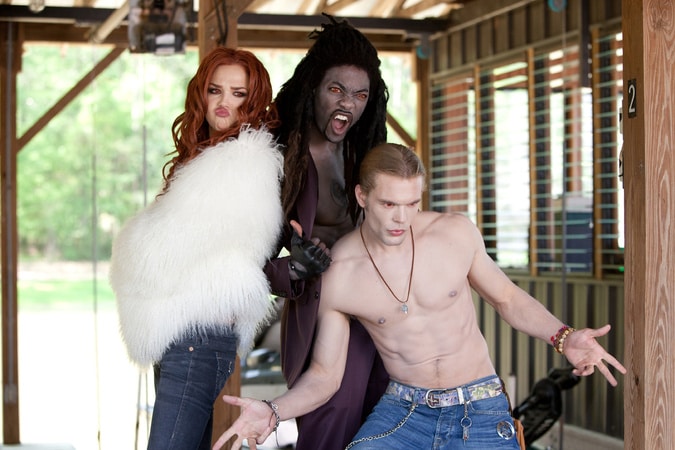 Making fun of Twilight is the equivalent of fishing with dynamite, but Friedberg and Seltzer were unable to conceive of any humour that's worth a damn. Their idea of comedy is to replicate key scenes from the Twilight movies and conclude said scenes with something colossally unfunny such as a crude sex joke or someone getting smacked in the head. Whenever Friedberg and Seltzer grew tired of this approach, they reverted back to groan-worthy piss-takes against Indians or Canadians, or tabloid mainstays like Lindsay Lohan and Chris Brown. There are even references to unrelated items such as Dear John, Alice in Wonderland, Gossip Girl and even Buffy the Vampire Slayer (the Buffy lookalike is so woeful that the joke had to be blatantly spelt out). Even with all of this filler, the film barely makes it to feature-length status. There's a lot of painfully unfunny and depressingly pedestrian stuff, too. For instance, Jacob's werewolf clan are a pack of dancing homosexuals, and Becca's dad has a relationship with a blow-up sex doll. Worse, the humour is never so stupid it's funny, but so stupid that it's just very, very stupid.


Furthermore, some jokes don't even make sense. For instance, one of the Sullens goes crazy when Becca gets a paper cut and starts bleeding. The gag is that he's so hungry that he envisions Becca's head as a Big Mac. This is illogical, though, as vampires do not like or eat Big Macs. It's like Elmer Fudd envisioning Daffy Duck as a bag of blood rather than a roast duck. Even worse is the fact that Vampires Suck is unable to truly mock the "acting" work of the Twilight heartthrobs (Kristen Stewart, Taylor Lautner and Robert Pattinson). Anyone familiar with any of the Twilight movies will recognise the blatant flaws in all of their performances which are perfect for ridicule. Instead, Friedberg and Seltzer aimed low...and still missed. Why skilled performers such as Ken Jeong and Diedrich Bader are here is anybody's guess. It's uncomfortable witnessing these talented stars floundering on camera looking distinctly embarrassed. Added to this, all of the actors appear to be in on the joke, which makes it far less funny. They appear to be broadly mugging for laughs, and that's exactly why they aren't funny.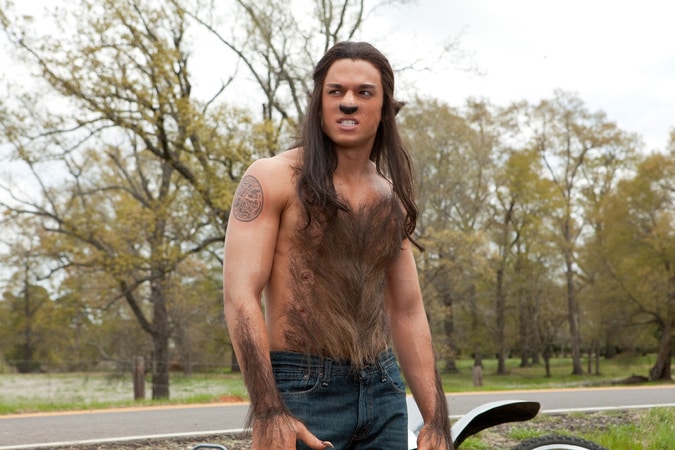 Running at about 80 minutes, Vampires Suck is so empty-headed and lacking in everything that it fast becomes an interminable endurance test. To quote YouTube reviewer Jeremy Jahns, the film "has the comedic appeal of an Al Qaeda hostage video". Oddly enough, 2010 denotes the 30th anniversary of the best spoof movie in history: Airplane!, which was masterminded by the ZAZ trio (David Zucker, Jim Abrahams and Jerry Zucker). Three decades on, and the art-form has disintegrated into this numb-skulled nonsense. How bad is Vampires Suck? It's worse than all of the Twilight movies so far, that's for sure. It's also so bad that those who passionately hate Twilight will come away thinking that the saga deserves a better spoof than this.

0.8/10