"Please be my teacher! Meeting you makes me want to be a real noodle cook."

Director Juzo Itami's culinary comedy Tampopo proved to be an important movie for the Japanese due to the way it introduced Western movie-goers to contemporary Japan and its agreeable sense of humour. Up until the 1987 American release of Tampopo, Westerners generally thought of Japanese cinema in terms of samurai pictures, even though Japanese filmmakers produced more comedies than films of any other genre. Tampopo altered this perception; demonstrating to Western audiences that the Japanese had an obsession with food and a delightful sense of humour. Despite a formulistic plot and some occasionally uneven pacing, this is an engaging cinematic hybrid which brilliantly mixes Japanese food and culture with a Western-style narrative. In fact, this quirky comedy is frequently described as a "Noodle Western".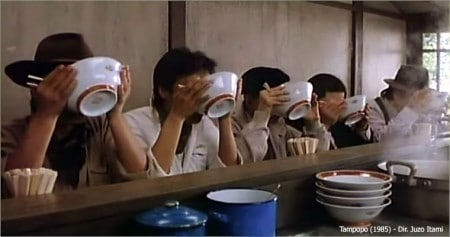 At the centre of the film is middle-aged widow Tampopo (Nobuko Miyamoto), who's struggling to make a living in order to support her son and cling onto her humble homestead. On a dark, stormy night, two strangers named Gorô (Tsutomu Yamazaki) and Gun (Ken Watanabe) visit Tampopo's home seeking food and shelter. They soon realise the widow lacks survival skills, and decide to stay to set things right; fighting off evil and restoring order before heading into the sunset. This may sound like the classic Western form, but that's not exactly true. The narrative is set in the industrial wasteland of contemporary Tokyo, and Tampopo's threatened property is a ramen (noodle soup) restaurant. Similarly, Gun and Gorô are truck drivers rather than cowboys. Meanwhile, the task facing Gorô and Gun is helping Tampopo to perfect her cooking and build the best ramen restaurant in town.


Writer-director Juzo Itami's movie is a genuine oddity. A Western-style story reminiscent of Shane lies at the core of the film, but said story is surrounded by a series of offbeat supplemental stories (side courses, so to speak), some of which last only a few minutes. A lot of these short vignettes may seem random, but they all revolve around the central theme of food, and they demonstrate how food can affect many different aspects of our lives. For instance, one side story concerns a gangster (Kôji Yakusho) and his girlfriend (Fukumi Kuroda) who use food to enhance their sexual activity and passion in hilarious ways. In another short vignette, an old man almost chokes to death while eating, and a panic-stricken restaurant owner uses a vacuum cleaner to dislodge the obstruction from the man's throat. This particular vignette is apparently rooted in reality - a handful of senior citizens do in fact die each year while eating types of Japanese cuisine, and the vacuum-extraction method is not unheard of. Yet, while some of the film's vignettes are amusing, others are inexplicably and unnecessarily lengthy. The long-winded nature of the film causes pacing problems, leading to a number of dead spots.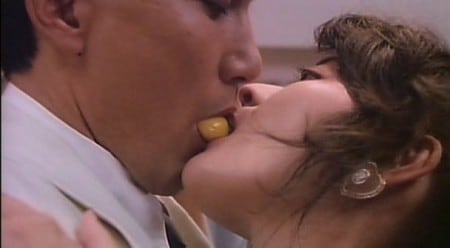 Aside from the plot being structured like a Western, Itami crams Tampopo with allusions and homages to Western movies of old. For instance, Gorô wears a cowboy hat at all times, except for when he takes a bath. In another scene, Tampopo dreams that a gang of ramen chefs from another restaurant visit to challenge her skills, and they stride down the street like the gunmen out of The Magnificent Seven. Additionally, Tampopo's final noodle exam is filmed like a shootout; it's Gunfight at the OK Ramen Restaurant. Gorô is a comical character as well, and he functions as a combination of Shane (the mythical hero who comes to town to set everything right before moving on) and the Man-With-No-Name role that Clint Eastwood played in Sergio Leone's spaghetti westerns. Comedy is additionally derived from simple parodying. When a gangster is dying from gunshot wounds in the pouring rain with his girlfriend wailing over him, he can only think about food - and his final words are about food.


In the cast, there are a number of recognisable faces. Gun is played by Ken Watanabe, whose more recent movies include Batman Begins, The Last Samurai and Letters From Iwo Jima. The kinky gangster, meanwhile, is played by Kôji Yakusho, who went on to star in Band of Brothers, Babel and Memoirs of a Geisha. The entire cast deliver strong performances, and Itami reportedly selected these specific actors in order for Westerners to be able to distinguish between them (thus, he was fully aware that it can be difficult for a lot of Westerners to tell Japanese people apart). Fortunately, the entire cast have an amiable nature to them as well, and it's easy to warm to each of the characters during their first few minutes of screen-time.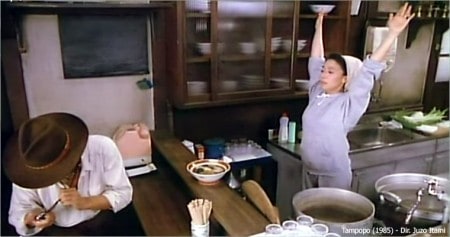 With the pointed satire, the at times inspired comedy, the appealingly oddball characters, the subtle flashes of pathos, the agreeable cast, and the orgasmic visual feast of food cinematography, Tampopo is a wonderful little gem of a Japanese movie. It's probably one of the greatest movies you've never heard of, as well. Granted, the picture contains a good 15-20 minutes of unnecessary flab, but, like a great bowl of ramen, it's highly satisfying. On that note, do not watch Tampopo on an empty stomach - you'll begin to crave food.

7.9/10