Rambling, incoherent mess, that might contain minor spoilers.
Disney's 1958 animated film by the name of
Sleeping Beauty
is one of cinema's greatest classics when it comes to animation and entertainment for children. It told a sweet and charming story, while introducing us to someone who ended up being one of the most iconic villains ever, and arguably one of Disney's greatest accomplishments. So when the people at Disney decided that they wanted to create a film that focuses on one of their villains, who would be more suiting than the evil, sinister and devil-horned Maleficent? Expectations were high after seeing the excellent atmospheric and moody trailer with Lana Del Rey's haunting cover of "Once Upon a Dream". The possibility of a darker, but family friendly look into Maleficent's rise to evil are definitely intriguing. Unfortunately, that's not what
Maleficent
brings us, and it might just end up being one of the biggest disappointments of the year.
Quite early on we realize that whatever we learned from
Sleeping Beauty
is not entirely true, and that the story didn't go exactly as it was told in 1959. During the first minutes we're filled in sweetness and sugar as a young Maleficent, with her devil-horns and eagle-wings, flies around the faerie kingdom of The Moors, being good and kind, and such. Naturally she meets a young human boy, whom she falls madly in love with. Who then, years later, betrays her by cutting of her wings so that he'll be king. Heartbroken, she devotes herself to revenge, and we can see glimpses of the Maleficent we know, as she then later turns up at the castle to curse Aurora, in a similar scene to the one we witnessed in the animated film.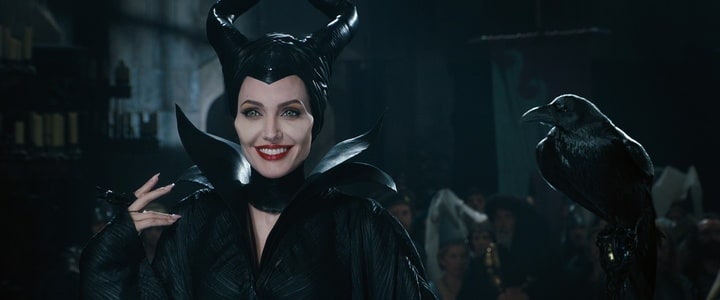 And now, the problems start pouring down one by one. The opening of the film might have been a bit too cutesy for my personal taste, but it did at least offer a perfectly reasonable motivation for Maleficent's fall from grace. So with that out of the way, and Maleficent menacingly curing Aurora, one will be forgiven for thinking that we're going to get the film we expected and waited for. That didn't happen, which caused quite a lot of confusion for me. The film seems fixed on the idea that Maleficent is not an evil witch, but essentially good. Setting her up as some sort of anti-hero as she's constantly saving Aurora from danger, being her "fairy godmother" as Aurora herself calls her. This is confusing because it makes Maleficent's motivations very unclear, which causes me to set up to primary questions. Why is she doing the things she's doing, and what is the point of it all? What's the point of telling a parallel story from the viewpoint of a great villain, if you're going to end up in a completely different place?
However, that itself might not necessarily be so bad if the alternative is good. Unfortunately, the alternative we're served here is not very good. Tone issues are a main problem throughout the entire film as it constantly changes from cute, sugary, light-hearted moments to darker, more serious moments. The three fairies are mostly guilty for causing that, as they're a bunch of bumbling idiots, causing more annoyance than laughter. While Aurora struts around with loads of naivety and a huge grin on her face for the most of the time. The prince is even introduced, but serves no other purpose than to bring in more sugar. There's even scenes of Maleficent fooling around, playing tricks on the three fairies for cheap laughs. During these scenes, the tone of the film is so far away from what we get when Maleficent curses Aurora that it feels like two completely different films. Which is also the case whenever it cuts to the king, as he slips more and more into paranoia as he tries to find ways to stop Maleficent. There are many films that struggle in combining light and dark, and
Maleficent
is yet another example of that. These constant shifts pulls me out of the film. It doesn't help that the film, despite being quite short, feels way too long. The middle drags on way too long, and could very easily have been trimmed. That would also have reduced the tone issue from being giant, too only minor.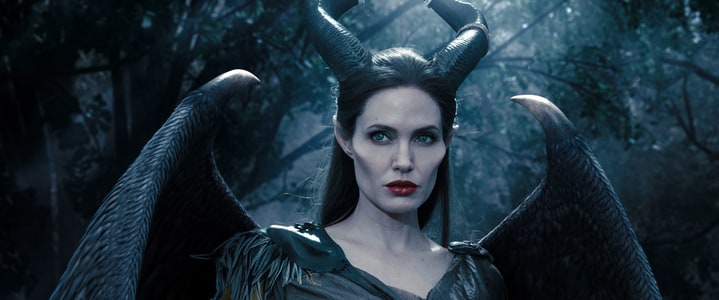 Angelina Jolie is perhaps the most suiting person in this world to play Maleficent, with her cheekbones and laughter being perfect attributes to her. And she delivers a damn good performance, particularly the few times she gets to be menacing. Sadly, those moments can be counted on one hand, and Jolie's performance is far more deserving of a better film. It's particularly deserving of a far better written Maleficent. Robber of her villainy, she's just not as interesting, despite their best attempts at turning her into a protagonist. The rest of the cast struggles from poor characterization and none of them comes of as being particularly memorable.
Maleficent
is Robert Stromberg first attempt at directing. The man has a background in production design for films like
Alice in Wonderland
and
Oz the Great and Powerful
, as well as visual effects, but with
Maleficent
he takes the director's chair. As the paragraphs above has mentioned, there's clearly some improvements to be made when it comes to directing. He's got a far way to go when it comes to handling characters and tone, as well as structural build up. But when it comes to visuals, the work of him and his team is flawless. Everything looks really good, and it's a wonderful fantasy world he has reimagined. But seeing as there are many films being created today that looks good, it's getting even more important to fill that frame with something beautiful as well.
Maleficent
does only have a beautiful frame.
It was interesting when Disney announced that they we're going to explore one of their villains, but unfortunately it didn't turn out that well. The visual effects and Angelina Jolie's performance may be enough to satisfy some viewers, but if you're afraid of poor character development, uneven pacing, tonal issues and inconsistency, you're better off leaving
Maleficent
asleep. Because turning Maleficent good, didn't turn out to be quite good.
4/10