"Don't get eaten."

Over the years, the Sci-Fi Channel has built up a rather solid reputation for consistently delivering bad made-for-TV movies (see Boa vs. Python and Pterodactyl). Another film can now rest in this compost heap: Lake Placid 2, a name-only sequel to the awful 1999 creature feature Lake Placid. Apparently the original Lake Placid developed into a minor cult classic and has a number of fans, though I've yet to meet any. However, it's doubtful even the mysterious fans of the original would appreciate Lake Placid 2, which was helmed by David Flores (Boa vs. Python), scripted by a couple of reality-TV writers, and was first aired on the Sci-Fi Channel. This killer crocodile action-adventure is a croc of shit, and it's unable to even replicate the few charms that the original possessed.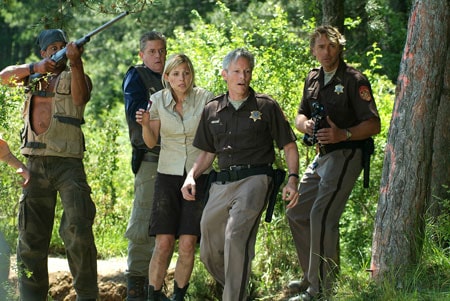 Essentially a remake of its predecessor produced on a budget that would barely cover the cost of a DVD, Lake Placid 2 takes place in Maine a full eight years after the events of the original film. In these eight years, the giant crocodile incident has apparently been forgotten and dismissed as a myth. (Not like a prehistoric crocodile attack would've been well-documented...) Added to this, a few more giant man-eating crocs have appeared since the first film, and have started feasting on the local population. The plot of Lake Placid 2 is set in motion when (much like in the original) a crocodile attack leaves a man dead, and the local sheriff (Schneider) is alerted to potential danger. He heads to the lake accompanied by a Fish and Wildlife Services representative (Lafleur) and a big-headed hunter (McMurray), along with a few other unimportant supporting characters. Meanwhile, Cloris Leachman stars as the sister of Betty White's character from the first movie. Cloris, too, is feeding the crocodiles, and is woefully underused in a film desperate for comic flourish (indeed, some of Leachman's lines are the funniest in the whole picture).


You might have noticed I used the plural term "crocodiles", as there is more than one croc residing in the lake. How many is there in total? Fucked if I know. An additional croc seems to be added every few scenes.


At every turn, Lake Placid 2 is banal, generic, tedious and unbelievably cheesy. The screenplay is comprised of a merciless torrent of bland exchanges, limp quips, and stunningly terrible banter. Seriously, the dialogue is brimming with lines such as "After a while, crocodile". As punishment for penning this tosh, the scripters deserve to be rectally impaled with a painful writing implement. Furthermore, the film panders to its target audience by providing senseless female nudity and forced gore, while the characters are one-dimensional stick figures not worthy of any emotional investment. Added to this, the acting is not even solid enough for it to be called merely flawed - the performances are flawed in their entirety. Betty White's character from the original has even been replaced with a full-on lunatic and murderer. Worse, the film is meant to take place in the same location as its predecessor, yet the locations in this sequel look completely different. Series continuity does not exist.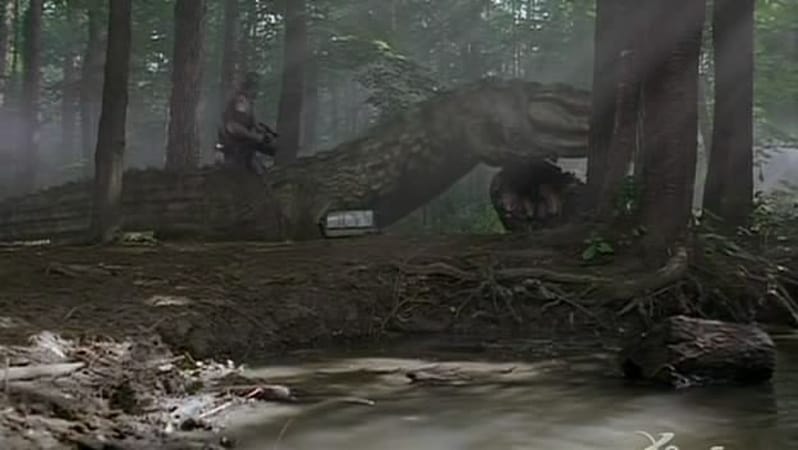 I wonder how many minutes on Microsoft Paint it took to draw this thing...

The majority of the movie's runtime is dedicated to a repetitive series of set-ups and kills, with the absurdly unconvincing CGI crocs constantly popping up. It honestly seems as if the filmmakers were not even trying for most of the film. At times, completely futile ancillary characters show up briefly for the sake of watching them get offed in semi-gruesome ways. For instance, two topless models and their photographer get eaten five minutes after their introduction. The randomness and the laziness of this scene is mind-boggling, and those watching the film may wonder if they changed the channel to watch another bad movie for a few minutes. To make matters worse, the editing is appalling - the cuts do not match with the special effects, and continuity is often an issue (most amusing is that the underwater shots of the lake were obviously filmed in a chlorinated pool). Meanwhile, the croc action scenes are absurd and rely on contrived character stupidity. In one scene, a croc chases a couple of characters up to a house. It even bangs on the door before giving up once the door is shut.


The CGI crocodiles in the original Lake Placid were terrible, yet the eight years separating that film and its sequel have only brought about a decline in the special effects department. In Lake Placid 2, the shoddy special effects are a constant source of amusement - in comparison, the CGI of its predecessor looks positively Oscar-worthy. To be fair, Lake Placid 2 is at times so terrible it's funny, and star John Schneider appears to be enjoying himself. But for every fun spot, there's twenty minutes of terrible filmmaking to endure. As a result, the unintentionally funny patches are scarce, and as a whole this movie is just bland and stale. It earns the most problematic of horror movie adjectives: it's boring.

2.1/10