"If you want something bad, you have to fight for it. Step up your game, Scott."

Based on the six-part graphic novel series by Bryan Lee O'Malley, Scott Pilgrim vs. the World is a hard movie to explain. In essence, it's a cheesy young adult novel mixed with a kung fu movie that's been spiced up like an MTV music video, and the entire narrative proceeds with the visual logic of a Nintendo video game. For daring audiences, this audacious, refreshing, hilarious late-summer blockbuster provides plenty of eye candy to enjoy, yet more cynical or traditional movie-goers may feel that the film is akin to experiencing an acid trip. Similar to 2010's Kick-Ass, Edgar Wright's Scott Pilgrim vs. the World is bold enough to be original in this cinematic age governed by brainless big-budget blockbusters, but its meta disposition made it a tough sell at the box office.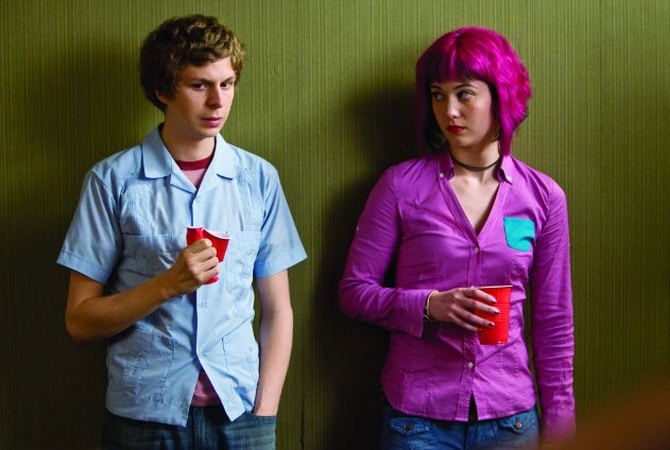 The titular Scott Pilgrim (Cera) is an unemployed 22-year-old Toronto native whose biggest accomplishment is playing bass in a punk rock band called Sex Bomb-Omb. While he's dating cheerful 17-year-old high schooler Knives Chau (Wong), Scott meets and instantly falls head over heels for the elusive, sarcastic, beautiful, seemingly unattainable New York transplant Ramona Flowers (Winstead). Though at first highly stand-offish towards Scott, Ramona fast grows weak to Scott's understated charms. However, when Scott finally convinces Ramona to go on a date with him, he discovers that he's in way over his head. A happy romance with Ramona will come at a price: he must battle each of Ramona's seven evil exes, all of whom have joined together in a league and are out to get Scott.


This plot synopsis barely scratches the surface of Scott Pilgrim vs. the World and does no justice to the film's outlandish narrative detours, yet that's a good thing because the movie should be experienced firsthand rather than spoiled. Your response to the film will either be giddy enthrallment or baffled exasperation, depending on your taste and tolerance for this form of postmodern abandon. If, for instance, you perpetually wonder how the socially awkward Scott is able to defy physics like Superman and fight as gracefully as Bruce Lee, you're in the wrong place for entertainment. Simply going with the flow is required; otherwise you'll be ridiculing the movie for the wrong reasons. However, it's a tad disappointing to report that the film is more of a frenetic overview of O'Malley's graphic novels rather than a fully-fledged adaptation. Perhaps the graphic novels should have been adapted into a couple of movies, as opposed to all six books being compressed into a single two-hour motion picture. As it is, there's not enough depth to the characters - most of them are just ushered in and out of the film far too rapidly to make an impact. Fortunately, though, the main players are allotted a commendable amount of effective character development, and consequently end up feeling like fully-fledged humans rather than caricatures.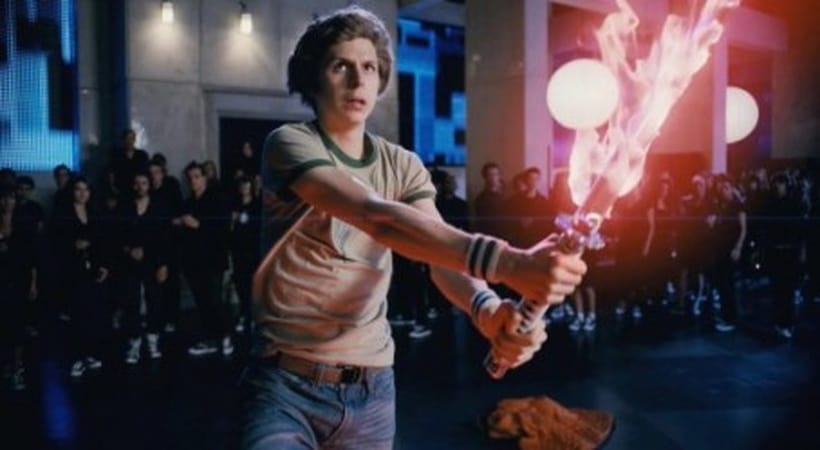 In all likelihood, the more familiarity one has with video games (particularly those from the '80s & '90s) and comic books, the more one will appreciate everything that Scott Pilgrim vs. the World has to offer. After all, the story does concern a geeky young adult living out his life in a world governed not by the laws of physics but by the laws of Marvel/DC and Nintendo. All of the battles disregard gravity and logic, with characters confronting each other using blazing swords and unexpected superpowers before the opponent bursts into a shower of coins. The always-reliable Edgar Wright (director of Shaun of the Dead and Hot Fuzz) was an ideal choice to translate O'Malley's graphic novels to the screen. Wright's brilliant, highly creative mise en scène is bursting with all the tropes from the last twenty years of pop culture - there's 8-bit music, video-game logic, funny-book captions and wacky sound effects. In fact, the all-but-the-kitchen-sink approach feels more authentically 3-D than all of the actual 3-D failures Hollywood has recently inundated us with. Furthermore, Wright even had fun with the film's profanity. In order to deliver a PG-13 product, amusing ways were concocted to censor the word "fuck" without eliminating it.


After attempting to display a certain degree of range in Youth in Revolt, Michael Cera has returned to his comfort zone: the typecast part of the geeky, awkward dweeb. The persona fits the actor comfortably, though, and it works in this particular instance. Cera's detractors will no doubt complain that he's merely playing himself again, but Scott Pilgrim could be the definitive Michael Cera role. In fact, Cera's wide-eyed innocence and dry line deliveries have never been more appropriate. And in the role of Ramona, Mary Elizabeth Winstead is fabulous. The beautiful actress is a perfect fit for the role, and it's easy to believe Scott falling in love with her at first sight. In the supporting cast, Kieran Culkin is endlessly watchable as Scott's roommate Wallace, whose straight-shooting personality is the only straight thing about him. Meanwhile, Ramona's evil exes are portrayed by a range of colourful, famous actors, including Brandon Routh and Chris Evans. Jason Schwartzman is a particular standout as Gideon, while Mae Whitman is authoritative and funny as Ramona's lesbian fling. Honestly, the name-drops and compliments could go on and on for one of the strongest ensemble casts of 2010.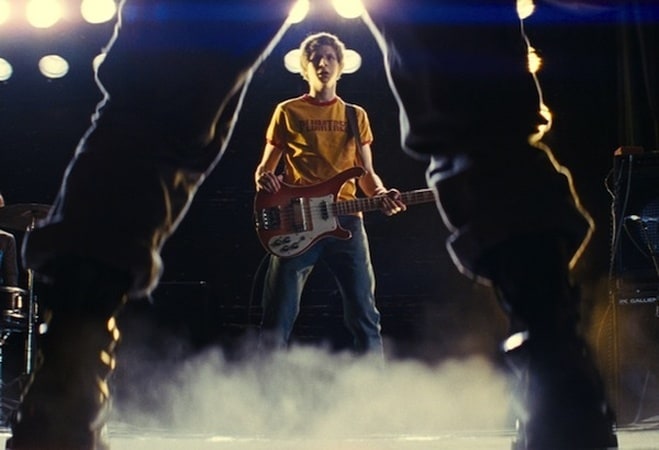 With all of the stylistic choices in mind, Scott Pilgrim vs. the World could have been a garish, tonally confused, tedious mess, but it's not. With the boundlessly talented Edgar Wright at the helm, the picture is infectiously energetic and well-balanced between the earthbound reality of the story and the anything-goes flights of fancy that Scott undertakes to win Ramona. Sure, it would have been better if the graphic novels were adapted into a couple of movies, but complaining about the nature of the adaptation seems like too much of a critic-ey thing to do - taken as a standalone piece of summer entertainment, Scott Pilgrim vs. the World is more than satisfying; it's very enjoyable and very, very funny.

8.5/10