"The prophecy is made up, but it's also true. It's about all of us. Right now, it's about you. And you... still... can change everything."
The Lego Movie
is a blast of pure awesomeness, an infinitely enjoyable animated feature which lives up to and surpasses its hype. Masterminded by Phil Lord and Christopher Miller (
21 Jump Street
,
Cloudy with a Chance of Meatballs
), it's a strikingly
original
piece of cinema, on top of being perhaps the boldest motion picture of 2014 so far. Here is a computer-animated movie with deliberately rocky animation to emulate the look of a YouTube stop-motion effort, and it's so infectiously funny and creative that it frequently feels like a devilishly goofy fan film. With an immense sense of energy and plenty of imagination,
The Lego Movie
is snappy and amusing, and it's difficult to wipe the smile off your face as you watch it.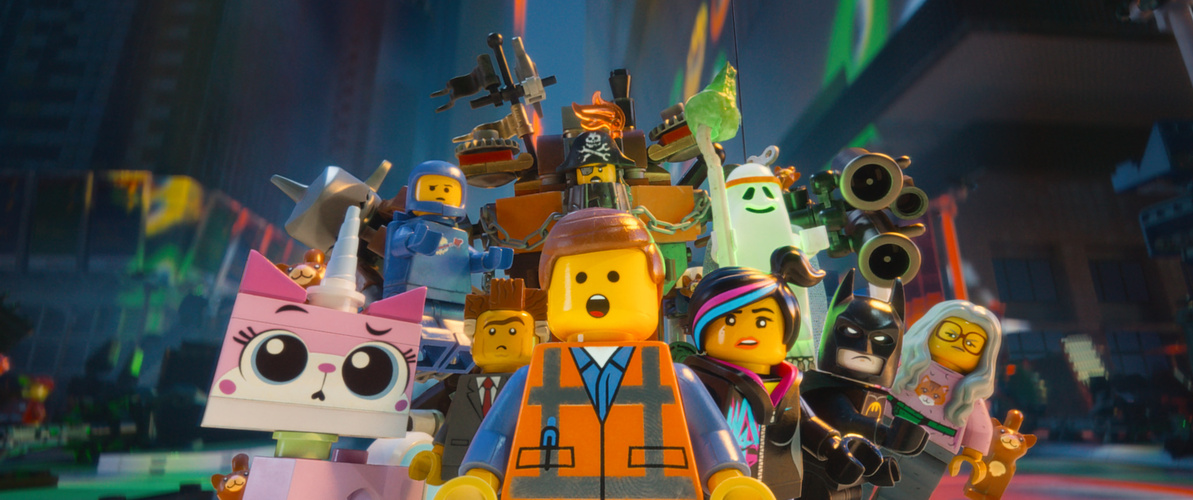 In the land of Bricksburg, Emmet (Chris Pratt) is a completely nondescript construction worker, with no distinguishing characteristics to make him stand out to his colleagues. Running the city is President Business (Will Ferrell), who brainwashes the public into a carefree life of routine, encouraging them to watch cell-deadening TV shows like Where Are My Pants? and buy overpriced coffee. When Emmet stumbles upon a centuries-old red brick known as the "Piece of Resistance," he's identified by the mysterious Wyldstyle (Elizabeth Banks) as the "Special" - the chosen one expected to fulfil a prophecy maintained by blind wizard Vitruvius (Morgan Freeman). With President Business and his minion, Good Cop/Bad Cop (Liam Neeson), determined to reclaim the Piece of Resistance, Emmet sets out with Wyldstyle and Batman (Will Arnett), seeking to evade capture and prevent Business' nefarious plans.

The Lego Movie's opening moments are utter perfection, establishing the world inhabited by Emmet while effectively displaying the movie's snowballing tone. The tour of Bricksburg is a joy, with sly visual touches and even a sequence of Emmet's colleagues motivating themselves throughout the workday by perpetually singing Everything is Awesome, a song so insanely catchy that it's destined to become a pop culture staple.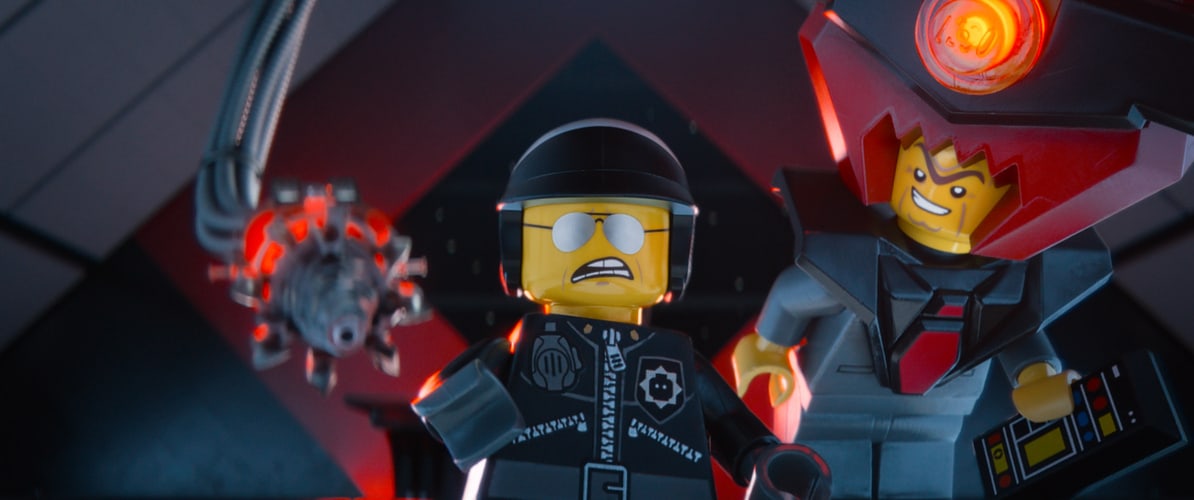 For the majority of its runtime, The Lego Movie is an absolute hoot, providing nonstop laughs and quirkiness as it lurches from one uproarious, creative set-piece to the next at a breathless pace. It feels like the type of narrative that many of us would concoct as kids while playing with toys, before we were restrained by annoying notions of reality. Although an entire feature consisting of such sequences would be fun enough, Lord and Miller go above and beyond the call of duty, dabbling in Pixar levels of maturity for the final act. The story takes an unexpected left turn, leading to a jaw-dropping reveal about the true nature of the existence of this universe. From there, the movie provides a poignant rumination on the wonders of childhood and the importance of playtime which may move some to tears. The Lego Movie not only features Lego prominently, but it's also an affectionate love letter to the toy brand, and it ponders Lego's place in the modern pop culture canon. Who on Earth expected that?

Practically everything in The Lego Movie is made of Lego. The people, the buildings, the fires, the landscapes, the explosions, the water - there is not a single frame of animation that's not comprised of Lego pieces. The movie never tries to hide this fact, constantly calling attention to its artifice in a playful fashion, wanting us to buy this as some homemade stop-motion film. There are plenty of wonderfully quirky touches for the nerds in the audience, from the various uproarious piss-takes and movie references, to the variety of Lego-built kingdoms that the characters tour through. Also impressive are the various cameos, giving the flick an enchanting sense of spontaneity and surprise. Suffice it to say, it would be borderline criminal to spoil any of the pleasures to unearth here, but rest assured it maintains attention almost effortlessly.



The Lego Movie could almost be watched without sound due to the lush visual presentation, but to do so would be to miss out on all the wonderful jokes that are sold with top-flight comedic timing. The goofy dialogue rarely lets up, and the script is peppered with side-splitting wordplay. Not to mention, the vocal performances all-round are spectacular, particularly Liam Neeson who has a ball as Good Cop/Bad Cop. It's also wonderful to hear Morgan Freeman's distinctive voice amid the chaos, while the likes of Pratt and Banks hit their marks beautifully. But surprisingly, one of the movie's biggest assets is Arnett as Batman. The portrayal of the Caped Crusader here is magnificent, with Lord and Miller gleefully skewering the dark, brooding, gravelly-voiced portrayal of Bats that we've been subjected to over the past decade.

If The Lego Movie wasn't masterminded by Lord or Miller, it would have been exactly the type of bland, safe, paint-by-numbers distraction that the project sounded like in the first place. Even though the movie is basically a 100-minute commercial for the world-famous building bricks, it's marketing pulled off in an inspired and satisfying manner. From start to finish, the picture is a through-and-through hoot, a genuine masterpiece which will likely wind up in the year's top 10. And even better is that it has arrived so early in 2014 after a disappointing year of animated movies, setting the bar extremely high. Kids will be in heaven, while adults will appreciate it on various levels. You will also be left wondering just how Lord and Miller were able to smuggle this borderline perfect gem into cinemas.

9.5/10