"Captain, in order to build a better world, sometimes means turning the old one down... And that makes enemies."
Marvel doesn't have the best track record with second instalments, with
Iron Man 2
and 2013's
Thor: The Dark World
both paling in comparison to their respective predecessors. But whatever curse once existed has now faded with the release of 2014's
Captain America: The Winter Soldier
, a sequel which not only improves upon its satisfying predecessor but also emerges as perhaps the best Marvel feature to date. Whereas 2011's
Captain America: The First Avenger
was an old-fashioned WWII thriller, this follow-up is a modern spy potboiler with a fresh identity, taking the franchise in new and exciting directions. Helmed by Anthony and Joe Russo,
The Winter Soldier
is intricate in its plotting, character development and political satire, yet also boasts some of the best action sequences in the Marvel canon to date, making this a hugely enjoyable sit which doesn't require a temporary lobotomy prior to viewing.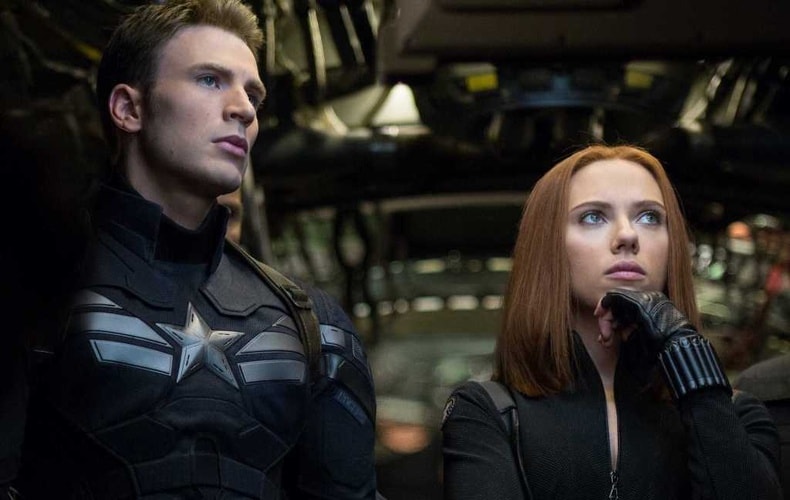 While on a dangerous assignment to foil the pirate takeover of a mysterious ship, Steve Rogers, a.k.a. Captain America (Chris Evans), develops suspicions that S.H.I.E.L.D. director Nick Fury (Samuel L. Jackson) and colleague Natasha Romanoff/Black Widow (Scarlett Johansson) are keeping him uninformed on potentially important matters. He's disillusioned by the possibility, but he's forced back into duty with the arrival of the fearless, powerful assassin known as The Winter Soldier. When one of Rogers' friends is gunned down by the formidable foe, it becomes clear that S.H.I.E.L.D. has been compromised and nobody can be trusted. With high-ranking S.H.I.E.L.D. official Alexander Pierce (Robert Redford) wanting Rogers captured, the Captain goes on the run with Romanoff seeking to get to the bottom of the conspiracy. Also lending a hand is war veteran Sam Wilson (Anthony Mackie), who's experienced in using a special wing-controlled jetpack.

Written by Christopher Markus and Stephen McFeely, The Winter Soldier benefits from a crackling story which allows room for action, pathos, and the opportunity to comment on America's current political affairs. Added to this, the screenplay further develops Rogers as a character - The Avengers barely scratched the surface of Cap's assimilation into modern society, but The Winter Soldier shows the WWII veteran endeavouring to get a handle on the 21st Century and catch up on what he's missed. But it doesn't take long for the rug to be pulled out from underneath him, leaving Rogers to come to grips with the bleak reality of contemporary warfare full of high-tech surveillance and complex tactics, rather than good old-fashioned derring-do. Added to this, there are hefty twists at play throughout the story with huge repercussions, reintroducing unexpected characters and making a huge impact on the Marvel Cinematic Universe at large. Indeed, the ramifications of the proceedings here will reverberate throughout Marvel's other properties forever. The Winter Soldier is a bold movie, and it feels like the work of an auteur with a vision (or, in this case, two auteurs with a shared vision) rather than a committee of soulless studio executives.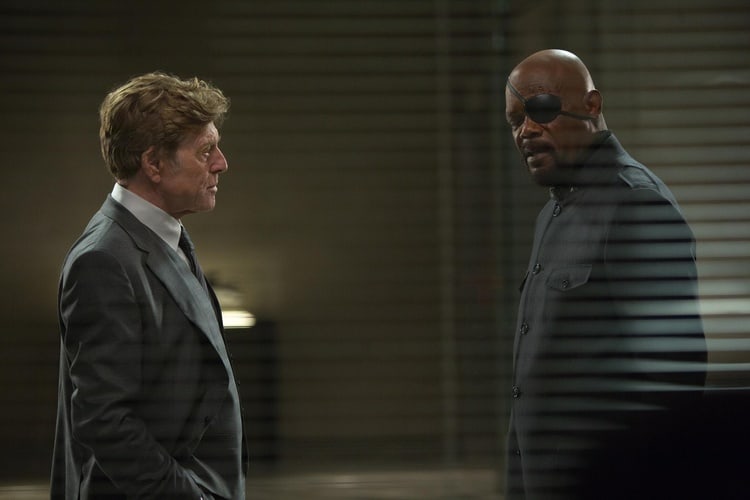 The Russos were perhaps not the most logical pair for a Marvel blockbuster - their last film was the lackadaisical Owen Wilson comedy You, Me and Dupree, and they have a long track record in television. Yet, they prove their worth from the first very frame, forging a distinct cinematic aesthetic that's gritty without being dour. Similar to Shane Black's Iron Man 3, the Russos infuse The Winter Soldier with a unique identity, approaching the material not as a standard comic book affair but as a twisty, intense, character-centric espionage thriller. The directors endeavoured to achieve as much of the movie as possible with practical effects, and it shows, with grounded action sequences and suspenseful gun battles which are far more involving than the overly digital set-pieces that have become the norm in comic book flicks. The tone is more restrained, as well, harkening back to '70s thrillers as opposed to its superhero brethren. There are also some amusing little touches here and there, including Cap's list of cultural touchstones he wants to investigate, and a sly Easter Egg on a tombstone towards the film's end.

The action sequences of Marvel productions are mostly built around ray guns, monster punches and magic hammers, but the set-pieces in The Winter Soldier almost exclusively involve blades, bullets, fists and bombs. This is easily Marvel's most violent screen outing, with a gargantuan body count and plenty of shootouts. It retains its coveted PG-13 certificate by keeping blood and viscera out of frame, but it's nevertheless brutal. The Russos also foreground hand-to-hand combat, staging hugely impressive fight scenes boasting superb choreography. Most pulse-pounding is a sequence featuring Rogers battling an entire security team in a crowded elevator, taking them out with astonishing speed and skill. It's all photographed gorgeously by cinematographer Trent Opaloch, while Henry Jackman's accompanying soundtrack is perfection. As with all Marvel movies, The Winter Soldier eventually climaxes with a large action sequence ladled in CGI, but it feels almost obligatory and clashes with the movie's tone. Still, it's not enough to ruin the effort, as the Russos make the battle hugely exciting and even find time for emotion amid the pyrotechnics.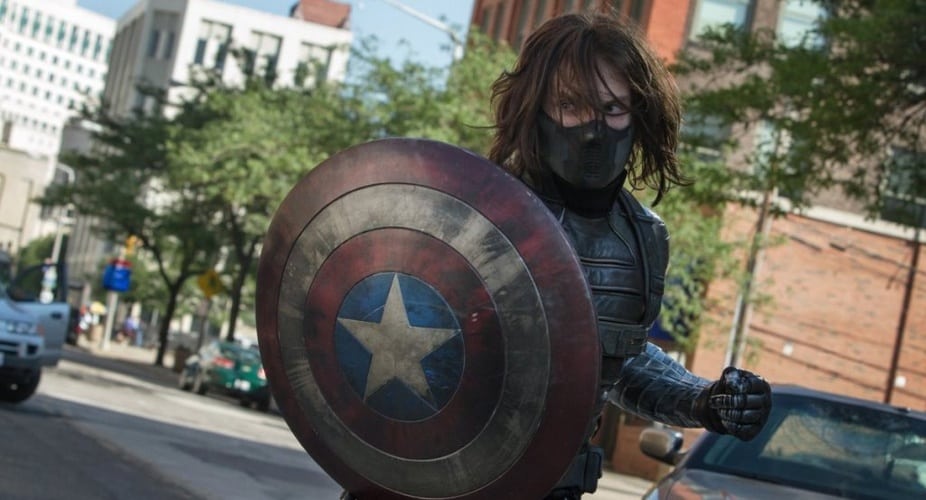 This is Evans' third screen outing as the noble, kind-hearted, muscular Captain America, and he remains absolutely spot-on, infusing his performance with a lived-in quality and coming across as a believable boy-scout type. This particular story asks for Evans to display more pathos than usual, and he confidently rises to the task - he conveys his guilt over the loss of his best friend Bucky Barnes (Sebastian Stan), effectively emotes over the difficulty of seeing his beloved Peggy (Hayley Atwell) as an old woman, and even looks uncomfortable about the Captain America legacy when he visits his very own exhibition at the Smithsonian museum. And on top of being a confident hero, Evans charmingly interacts with Johansson and Jackson, with the former being allotted a larger role in the proceedings. Suffice it to say, Johansson is an utter delight, dispersing an array of snappy one-liners and handling the athletic action scenes like a champion.

As Alexander Pearce, Redford is a magnificent addition, providing weight and gravitas to help sell the movie as the '70s political thriller that it is. Redford absolutely kills it, and also makes us believe his power and authority from the very first scene in which he appears. Another welcome newcomer is Mackie, who plays a Rocketeer-type with plenty of charm and appeal. And it almost goes without saying that Jackson remains an effortless badass as Nick Fury. Furthermore, the Winter Soldier himself is a remarkable villain - he's strong, fast and physically intimidating, not to mention the story behind him (which will likely extend into the next movie) is one of the most interesting things in the Marvel franchise so far.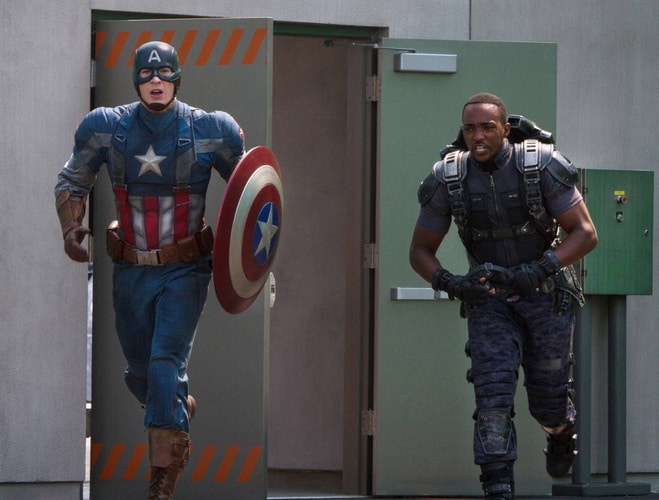 Captain America: The Winter Soldier is a genuine game changer, both in the Marvel Cinematic Universe and the superhero genre in general. It may clock in at over two hours, yet not a single scene feels unnecessary. It will almost undoubtedly stand as the finest constituent of Phase Two of Marvel's cinematic world-building effort, and it manages to build anticipation for both the next Avengers and the third instalment in the standalone Captain America series. As always, be sure to hang around until the end of the credits for two additional scenes; one in the middle of the credits, and one after the credits. Let's just say that fans are destined to leave the cinema salivating.

8.7/10