Rambling, incoherent mess approaching!
Upon checking out various reviews or some people's opinion on Jaume Collet-Serra's latest Liam Neeson driven action thriller,
Non-Stop
, it appears that many people consider the lack of plausibility a major flaw. After now seeing
Non-Stop
, I feel inclined to ask; why is that? Why do some people crave realism from a film like this?
Non-Stop
is an action thriller that's only intention is to keep you glued to your seat for 100 minutes. It's a film. It's not supposed to be realistic. It's not supposed to be
United 93
or anything like that. So when I see people complaining about the final act of
Non-Stop
not being entirely believable, I think that that's more of a flaw at those people rather than a flaw at the film. There's a very big difference between what you want, and what the filmmakers intended. And seeing as they never intended
Non-Stop
to be a realistic portrayal of an air marshal's response to an unknown threat, I think it's wrong to fault it for not being that. If that, on the other hand, was their intention, you would be right to complain about that. But
Non-Stop
is supposed to be a simple action thriller. And it does that job bloody well.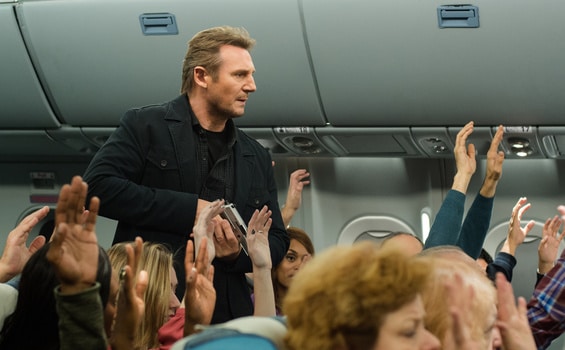 Non-Stop
's greatest asset is naturally Liam Neeson. The 61 year old Oscar-nominated Irishman has previously turned in some great dramatic work in the past, but has now lately turned in to some sort of unlikely action star. And what a terrific action star he is. People who only devote themselves to serious cinema, are likely to to be turned off by his change of career direction, but for those of us who appreciate an entertaining time at the cinema, this is a blessing. Neeson is not only a great actor, but he's a real bad-ass as well. And the fact that he manages to bring the dramatic side of him into his ass-kicking, makes it just even more awesome. He gives these roles a sense of gravitas and melancholy that's rarely seen in these films. Meaning that he's just as capable of handling emotional scenes, as he is at handling action.
But
Non-Stop
is certainly not only good because of Liam Neeson. It's good because director Jaume Collet-Serra does a lot of things right. Like two of his previous films,
Unknown
and
Orphan
, Collet-Serra shows that he's extremely talented when it comes to building up a mystery and therefore tension. The mystery that he build up in
Non-Stop
is very exciting, and he keeps the mystery going by having some neat twists and turn placed throughout the entire film. Which also means that the pace is handled well. There's not one single moment in this film that I would say was boring. The mystery in this film lies a lot in who's responsible for everything that's going on. Thankfully, it's not really easy to figure it out. Collet-Serra has placed many suspicious characters in this film, which causes you to go back and forth between who you think is the villain.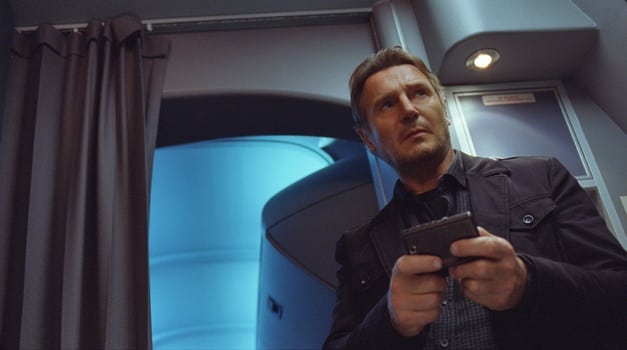 It's also very well-shot and the action choreography is nicely done, and it's possible to follow every punch and hit, without being confused or dizzy. This is a very solid feat to accomplish, when you consider the limitations given by just having one small location for almost the entire film. But the setting is used purposefully and the plot is driven to the only climax it could have. When creating a film in this genre, a solution and conclusion like this feels natural. Believable? No, not exactly. But like I've said, I don't need this final act to be believable. As it is, it's a pretty entertaining and satisfying conclusion to a film that managed to be tense and keep me engaged into its mystery, while offering small character moments that hit on a nice emotional level. As an action thriller that's supposed to entertain,
Non-Stop
works exceptionally well.
If there's one flaw that I feel need to be addressed, it has to be the motivation of the villain. Which I'm naturally not going to spoil here. It's sufficient to say that when the mystery and tension surrounding this person is built this much up, it's rather disappointing to see that his/her motivation feels very out-of-place and forced.
I honestly can't see why anyone at least isn't going to be entertained by
Non-Stop
. It's certainly not a cinematic masterpiece, but as a genre film, it does what it set out to do very well. It's fast-paced, tense and entertaining. There are plenty of other action thrillers out there that doesn't even reach this one to the knees.
8/10