''Stop seeing them the way they weren't.''

A look at Germany's revolutionary group, The Red Army Faction (RAF), which organized bombings, robberies, kidnappings and assassinations in the late 1960s and '70s.
Martina Gedeck
: Ulrike Meinhof
Moritz Bleibtreu
: Andreas Baader
Der Baader Meinhof Komplex
(English title:
The Baader Meinhof Complex
) is a 2008 German film by Uli Edel; written and produced by Bernd Eichinger. It stars Moritz Bleibtreu, Martina Gedeck and Johanna Wokalek. The film is based on the 1985 German best selling non-fiction book of the same name by Stefan Aust. It retells the story of the early years of the West German militant group the Rote Armee Fraktion (Red Army Faction, or RAF).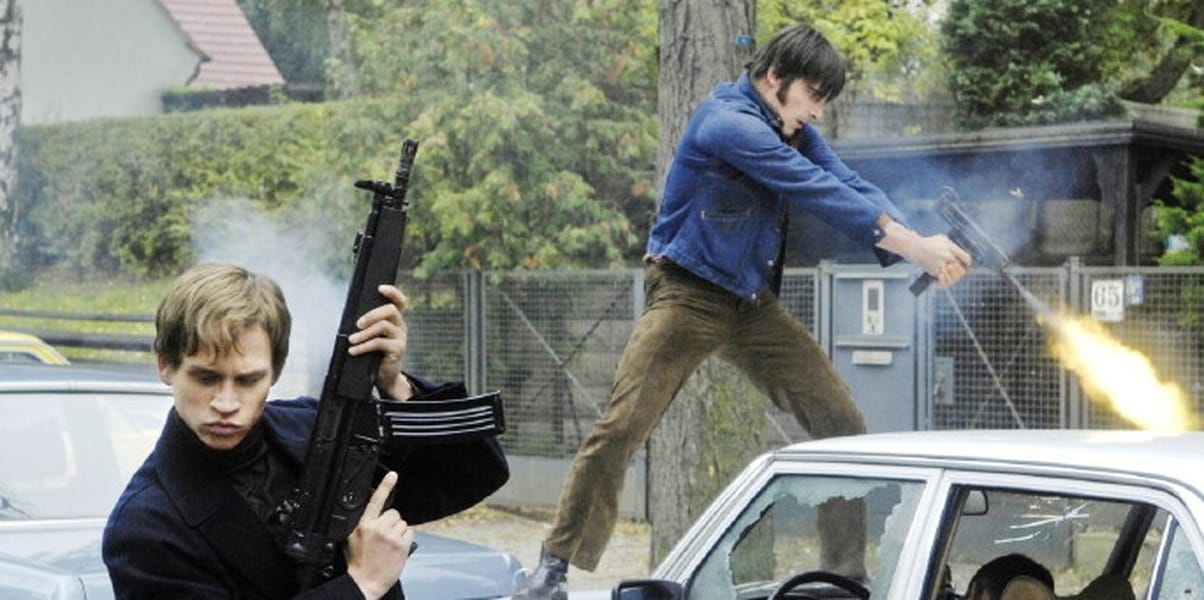 The contemporary media like to paint a picture of terrorists as
'other'
, a picture designed to make us feel safer in our middle class suburban homes. These others somehow differentiate from us. In the comfort of middle-class Germany via the late 1960s, an organisation sprang up from the suburbs, an army consisting of the educated children from the middle classes. Uli Edel's uncompromising film examines how this was possible. Beginning with newsreel and television clips that place us in the era; Grim footage being fed back from Vietnam, the assassinations of Robert Kennedy and Malcolm X, Edel evokes the spirit of the age. Working from Stefan Aust's book, his screenplay opens on the Shah of Iran's 1967 visit to Berlin where well-fed and fashionably dressed students, smug in their political correctness, are protesting over the Shah's treatment of his population.
Suddenly, those sympathetic to the Shah turn on the protesters, turning their placards into clubs and brutally beating them. Rather than helping the students, the police assist in beating, and in one instance killing, the students.
As a viewer you are enticed, even to a point provoked, you want justice, and in this is the success of Edel's terrific film.
The Baader-Meinhof Complex
plays with your emotions carefully, meticulously painting a wide and elaborate canvas with an array of perspectives, whereupon you understand from an emotional level how these people might be provoked into action. From this incident springs a movement. We meet Gudrun Ensslin (Johanna Wokalek) and boyfriend Andreas Baader (Moritz Bleibtreu) who begin a series of retaliations against the state, thus surrounding themselves with other young idealists. Only when respected journalist Ulrike Meinhof (Martina Gedek) begins collaborating with them do they become a serious movement who will reign terror on the German state for a decade, and whose army will continue to fight even after the leaders are imprisoned and martyred.
The cast is impressive, featuring a fair few actors and actresses from
Der Untergang
, Bruno Ganz prominently features as the Police Forces Chief in charge of defeating the RAF. Echoes of
Der Untergang
anyone?
Alexandra Maria Lara and Heino Ferch also feature in supporting roles.
Martina Gedeck from
The Lives of Others
also shines as Ulrike Meinhof, while Moritz Bleibtreu as Andreas Baader provides another electric performance. His performance is one where you either love him or hate him. In fact the RAF as a whole, mirrors certain freedom fighting organisations, one where extremism and propaganda fuel a constant volley of violence towards the oppressive might of the Government.
The violence in Edel's film serves a purpose, building in us the understanding that these people have a radical grip and determination regarding their idealism through action, determination and resolution; They are morally empowered.
I think this film would be a great place for parents to start a conversation with their children about necessity and doing what is necessary. Establishing specific strengths, values and roots while nudging the next generation towards a certain, clear path and destiny.
Edel uses a variety of film stocks to match the patchiness of the vintage footage he weaves into his narrative, adding to the authenticity. If he meanders off track at times, it is because there is alot of storytelling and facts to display for audiences. This could easily have been a long and riveting mini-series. The performances he draws from his entire cast are terrific, but especially from his three leads, who are just mesmerising, and the cast are sumptuously costumed – a telling indicator that these urban warriors might be more intrigued by the romance blossoming from various antics regarding their lifestyle and ideology.
Jörg Schleyer, the son of the assassinated manager and then president of the Confederation of German Employers' Associations, Hanns Martin Schleyer, states and I will mention it while commenting myself to close my review, that the film was great in the sense this piece finally portrays the RAF as what it actually was,
"a merciless, ruthless gang of murderers"
. Commenting on the blatant depiction of violence he said,
"Only a film like this can show young people how brutal and bloodthirsty the RAF's actions were at that time."
Perhaps for some a necessary response and reaction from a group such as the RAF, a group and younger generation, shaped by the past which created and allowed oppression and corruption possible in the present. A frustration from a youth attempting to re-establish a voice thus a place in the world. A world constantly changing and heading towards decadence, decay and the unknown. 
8/10