I liked 2012's
The Hunger Games
. It was an entertaining and well-made film, but it also managed to be thought-provoking with some spot-on social commentary. The sequel,
The Hunger Games: Catching Fire
, is everything the last film was, but improved even more. Which is a significant achievement, considering how good
The Hunger Games
was and seeing as
Catching Fire
is an improvement, it makes this film one of the best films from 2013 so far. It's an extremely entertaining, thrilling and thought-provoking blockbuster!
Catching Fire
does in many ways follow the same structure as the previous film. There's the lead up to the games and then the games themselves. But thankfully there's been enough change in the story, to avoid the film being a rehash of the last film. Yes, the film has the lead characters sent into yet another deadly game, which can only end with one survivor, but luckily, director Francis Lawrence manages to steer the focus away from creating a simple bloodbath. Because even if the "main attraction" of the series are the actual games and the deaths that occur from those games, Lawrence manages to tone down the violence a bit. It's certainly violent for a film with the audience it has, but not anywhere near as being as violent as the last film. The reason for that is quite simple, but equally genius. Because this film is about the after match of the previous game and how it gave everyone hope. It's definitely darker and more grim, but behind all that, this is a film about the rise of hope. About giving a repressed people one thing to hold on, one thing to fight for. The previous film was about introducing us to everywhere, and showing us of cruel this world is.
Catching Fire
is still cruel, but it does also show us that shed of light. It's actually quite intriguing, and the actual themes of these films are certainly interesting to discuss.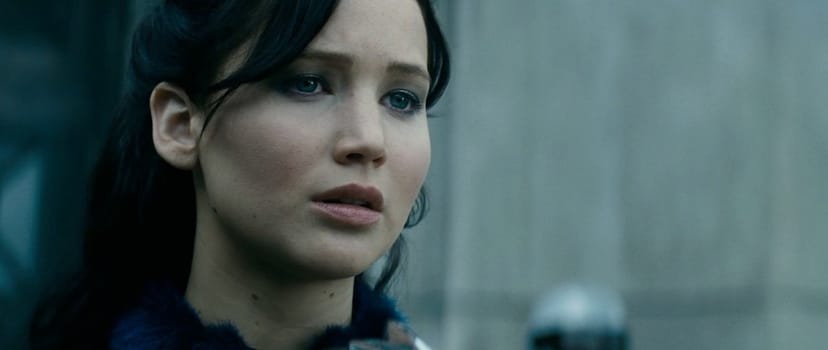 As I said, the structure is similar to the last film, but there are some minor changes here. The actual games are shortened down and not as graphic as they were in the last film. This time they're actually fighting more against the Capitol rather than the other "contestants". Causing this version of the Hunger Games to be more about the districts vs. the Capitol, rather than district vs. district. It's a much welcome change, and it also fits in nicely with the underlying theme of hope. Some of them are naturally killing each other, but there's not too much of that. But the biggest change lies in what happens before the games start. There are certainly some scenes where they have to train, and do interviews and such. Which is sort of obligatory, but thankfully, there's not a lot of that. They could've easily just done the same thing as they did in the last film and put together a much longer training montage. But seeing as they didn't do that, the film does really tell that it's not about the Hunger Games. It's about its effect on the world. So instead of seeing training sequences, overlong fashion shows and individual interviews for a second time, we get to see things that are actually important. We get to see people standing up against how they're being mistreated. And we get to see the Capitol trying to prevent a rebellion. This makes for a much better viewing experience.
One thing that also makes for a much better viewing experience is the change of visual style. One of my major issues with the last film was the shaking camera. In
Catching Fire
it's completely gone. Which is a huge relief, because you actually get to see the action that's happening on screen. I do acknowledge that shaky camera may create some intensity, but there shouldn't be any need for that as long as the action is well-directed. Which is the case here. The steady camera manages to produce even more thrilling and suspenseful moments, than what the previous film did. I was on the edge of my seat throughout the entire film.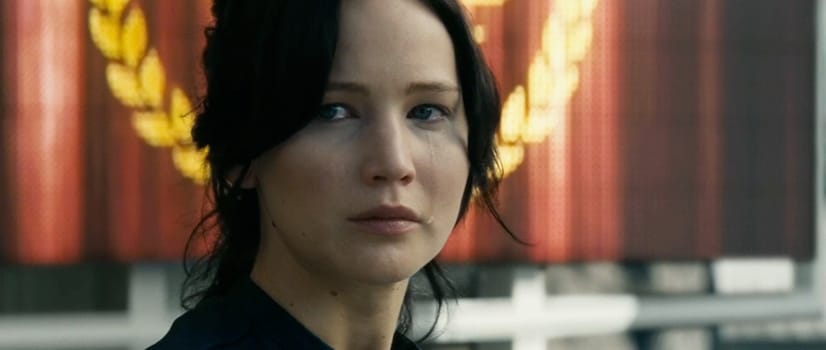 Francis Lawrence deserves every bit of credit he gets for directing this film, but the true star of this film is Jennifer Lawrence. Despite of everything else in this film being as excellent as it is, it wouldn't be half as compelling or engaging as it is without her. She's quite simply an extraordinary actress, who's capable of pulling me straight into this film with her emotions. I get emotionally engaged in her character and the film because of her acting. I care for her and I do believe every line she delivers. I believe every emotion she send out. The rest of the actors in the film are naturally good as well. Philip Seymour Hoffman being particularly excellent. But this is Jennifer Lawrence's show. I'm actually quite into the tiny love triangle that's going on her. And I'm rooting for Katniss/Peeta. I think they're quite cute together, and Lawrence is just delightful when she's playing cute and warm. She might be my new celebrity crush, if I'm being completely honest.
The Hunger Games: Catching Fire
is an excellent film that surpasses it's predecessor in terms of quality. It's cleverly written, beautifully shot, well-directed, wonderfully acted and tightly edited. It's interesting, thought-provoking, emotionally engaging and very thrilling. It's always refreshing to see a blockbuster that manages to be as entertaining, as it is thoughtful.
Catching Fire
succeeds in doing so, and is therefore one of the best films of the year. The ending is bound to leave you thrilled for the next chapter in this franchise. Count me there on opening day.
9/10