''If you're part of a crew, nobody ever tells you that they're going to kill you, doesn't happen that way. There weren't any arguments or curses like in the movies. See, your murderers come with smiles, they come as your friends, the people who've cared for you all of your life. And they always seem to come at a time that you're at your weakest and most in need of their help.''

Henry Hill and his friends work their way up through the mob hierarchy.
Ray Liotta
: Henry Hill
Martin Scorsese has always been one of cinema's greatest and most important directors. For more than three decades he has entertained, enlightened, inspired, influenced, surprised and shocked audiences, critics and aspiring film-makers alike with his
unique
array of films.
GoodFellas
: The rags-to-riches-to-rags-again story of young Italian-Irish-American Henry Hill, a street-smart kid who starts off helping mobsters around the taxi rank and progresses to hijacking lorries, airport robberies, drug-dealings and finally, ironically informing to the FBI. Although admittedly it is perhaps overrated, it's still easily enjoyable, addictive and a brilliant Scorsese picture which deserves it's cult status.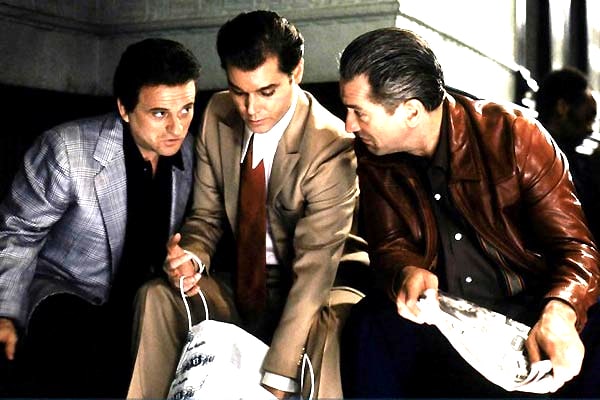 The film opens with a segment from the middle of the film, unlike his other gangster epic
Casino
, which opens with a scene from the concluding climax of the story. I deny anyone whom isn't instantly gripped by this classic sequence to be missing the point completely, as well as fulfilling originality it captures. In fact, I don't believe the person who wasn't excited by this has been born yet.
We head inside a black car to take a look at passengers Henry Hill (Ray Liotta), Jimmy Burke (Bob De Niro) and Tommy DeVito (Joe Pesci). Suddenly, a thumping noise in the boot of the car wakes up Jimmy, who has been sleeping in the seat beside Henry.
"The f*ck was that?!"
asks Liotta's character rather crudely. Soon, the guys realise their
precious
cargo doesn't want to be conveyed quietly. Bringing the car to a halt on a dark side road, our trio of wise-guys clamber out of the car to quietly walk round to the rear where Henry sharply lifts the boot open. Angry that the mysterious body isn't quite dead enough, Tommy madly draws a blade and proceeds to repeatedly thrust it into the badly beaten man's chest. This is followed by three quick blasts from Jimmy's gun before Henry closes the boot, narrating with the now immensely-quotable line,
"As far back as I can remember, I always wanted to be a gangster"
. Better than all twenty-one James Bond preludes combined, Martin Scorsese succeeds in grabbing you by the balls and doesn't let you go for anything.
By the time he's done squeezing, you're at the end of the film and story, and completely blown away.
''You know, we always called each other good fellas. Like you said to, uh, somebody, :You're gonna like this guy. He's all right. He's a good fella. He's one of us.: You understand? We were good fellas. Wiseguys. But Jimmy and I could never be made because we had Irish blood. It didn't even matter that my mother was Sicilian. To become a member of a crew you've got to be one hundred per cent Italian so they can trace all your relatives back to the old country. See, it's the highest honor they can give you. It means you belong to a family and crew. It means that nobody can fuck around with you.''

Literally crammed full with Oscar-quality performances, blissfully random violence, astonishingly executed tracking shots, great dialogue, rich characters, classic scenes and so many director trademarks;
GoodFellas
is entertainment and ground breaking cinema combined! Some of the picture's finest elements are Pesci's staggeringly profanities and simultaneously insane acting as the mentally unstable psychopath Tommy DeVito. Whereas some people just take short trips to the dark side of their psyche –he emigrates and flourishes there!
Ray Liotta also shines in this, with the best performance of his career. Robert De Niro isn't at the height of his powers here, but good for him is exceptional by any other actor's standards. The tremendous script by Scorsese and the author of the novel the film is based on, Nicholas Pileggi(Whom also worked on the screenplay), is just overwhelming with its brilliance. The way in which the film begins with power, success and happiness (albeit through peculiar means) then slopes down into degradation, failure and loss is done with such flamboyance that you just have to applaud the film-makers for the achievement. Some say they felt the later parts of the film derided from the storyline. I beg to differ. The film is based on Henry Hill's life as a mobster, as documented in Nicholas Pileggi's book,
Wiseguys
. Scorsese and his team didn't just want to make the later stages up so they could fit in a little bit more entertainment value. The smash cuts and picturesque jump cuts stop for a reason. They wanted to tell a true story, so in order to tell the truth about Hill's life, the third act had to be more gritty, depressing and indeed disturbing than the first two acts.
Recently, the small man with big ambition picked up his first Academy Award for Best Director with his flashy remake of the Asian hit
Infernal Affairs
, renamed
The Departed
. Although, I think we all know he should have received it sixteen years earlier. Anyone else suspect that the committee is just not paying attention? Or was Scorsese just ahead of his time in terms of film making and storytelling?
''As far back as I can remember, I've always wanted to be a gangster.''

10/10