"I don't get it. Why would she ask me out?"

Let's be honest, how often are standard-order romantic comedies anything but appalling? A useful method for evaluating the effectiveness of rom-coms is to ask yourself a few questions: are the protagonists likeable, does the central coupling share convincing chemistry, are you rooting for the leads to get together, and are there quality laughs to be had? If the answer is "yes" across the board, the flick is a success. But alas, the countless rom-coms flooding the cinematic climate these days are too often unable to fulfil even these basic requirements, which is why She's Out of My League is so refreshing - it's not perfect, but one can answer "yes" to all the aforementioned questions, and it achieves precisely what it set out to do. Sure, this may sound like faint praise, but so few rom-coms are able to accomplish even this moderate level of competency that, believe me, this should be considered an endorsement.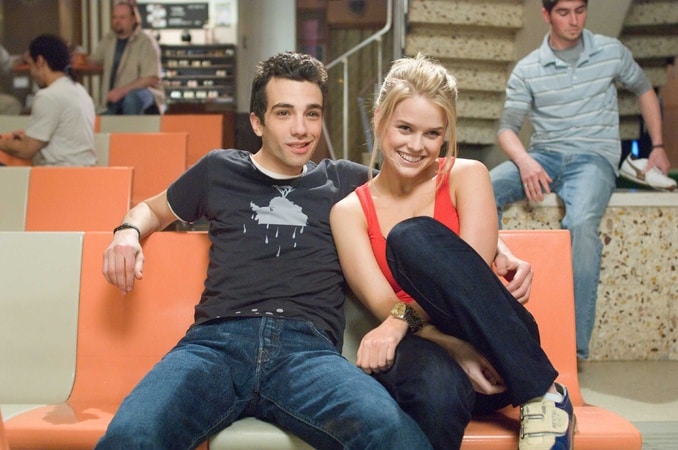 The male lead of She's Out of My League, Kirk (Baruchel), is merely an average, geeky guy who works security at a Pittsburgh airport with his best buddies, Stainer (Miller), Jack (Vogel) and Devon (Torrence). During an average day at work, an attractive woman named Molly (Eve) enters Kirk's life. After encountering her while on duty, Kirk inadvertently charms the gorgeous, successful young event planner, and a follow-up meet when Kirk returns Molly's lost iPhone kicks off an unexpected relationship. Problem is, both Stainer and Molly's best friend (Ritter) dismiss the relationship on account of the math, since Kirk is a "5" on the scale of attractiveness while Molly is a "hard 10".


Unfortunately, the entire narrative for She's Out of My League is generic tripe, and seems manufactured for the sake of the demographic of schlubs who'd love to find themselves in Kirk's tantalising situation. In essence, the plot is merely a flimsy excuse to showcase ill-mannered yet amusing best friends, and opportunities for comedy. Once the script by Sean Anders and John Morris (Sex Drive) establishes the routine journey for Kirk, there aren't a lot of surprises to be had, so the film's success was entirely dependent upon the characters and the laughs. Thankfully, the film is frequently hilarious, the characters are fun to be in the company of, and there's plenty of heart. In fact, once the end credits begin to roll, you could be forgiven for wanting to spend more time with these characters. While the film isn't as funny as it could've been, the best set-pieces are absolutely hysterical and there are enough laugh lines to ensure the film is worth seeing. That said, comedy is pretty subjective, so it's bold to proclaim the quality of humour in a motion picture. Therefore, it's better to simply say that if you enjoyed American Pie or Knocked Up or any other films of that ilk, the humour here should satisfy you.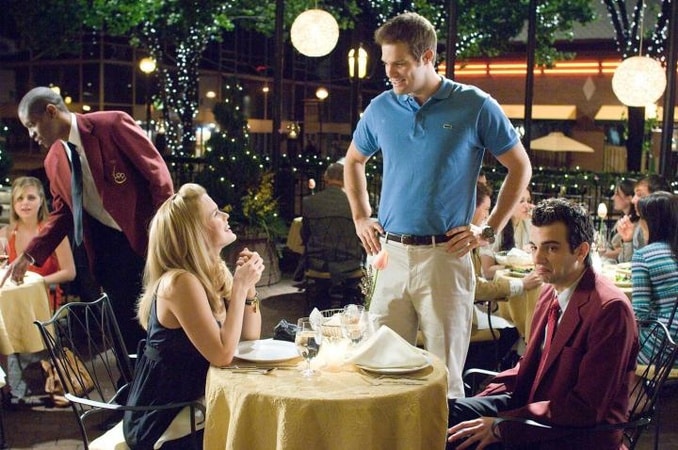 One thing She's Out of My League pulls off surprisingly well is depicting Kirk and Molly's relationship in a credible, convincing fashion. In the past, romanticised Woody Allen movies have provided the typical wish fulfilment scenario of the loser getting a tremendously gorgeous girl for no apparent reason, but the filmmakers behind She's Out of My League attempt to understand the reasoning. The movie works because Molly - amazingly beautiful as she may be - does not come across as a snobby Megan Fox-style female lead. Instead, she's the type of girl who quietly admires a guy for selflessly chasing down a woman who forgot her jacket. It's easy to see why Molly might become interested in the sweet and funny Kirk, especially after it's revealed that she has been hurt in prior relationships with guys at her hotness level. The film also posits problems that arise between the two (as a result of their disparate self-images) which seem perfectly natural and believable. The only major area where the film fails is in the final act which involves a break-up-to-make-up scenario that kills the pacing and culminates at an airport, for crying out loud. In fairness, though, filmmakers can only fend off formula for so long before the producers begin to notice. It's best to appreciate what this film does right, rather than dwelling on its weaker patches.


Over recent years, Jay Baruchel has been relegated to supporting roles in such movies as Fanboys, Knocked Up and Tropic Thunder. She's Out of My League is an evident attempt to launch Baruchel's career as a leading man. He's typically saddled with the character of a nerd/loser, but he's good at it, and he blossoms in this particular role. The charismatic Baruchel does a fine job of expressing Kirk's twitchy awkwardness, and shares tremendous chemistry with Alice Eve, who is sprightly, attractive, and distinctly not bitchy (a breakthrough for the typical attractive female rom-com lead). These wonderful protagonists are luckily surrounded by an effective supporting cast who provide a number of amusing, scene-stealing diversions. T.J. Miller is the standout as Stainer, while Mike Vogel also provides a few hearty giggles (many may recognise these two from 2007's Cloverfield). Meanwhile, Nate Torrence is frequently hysterical as the token "fat friend". And, unlike the agonisingly unfunny Jonah Hill, Torrence is a fat friend who isn't annoying - he's actually funny. Rounding out the cast is Krysten Ritter as Molly's best friend, and she's perfect in the role.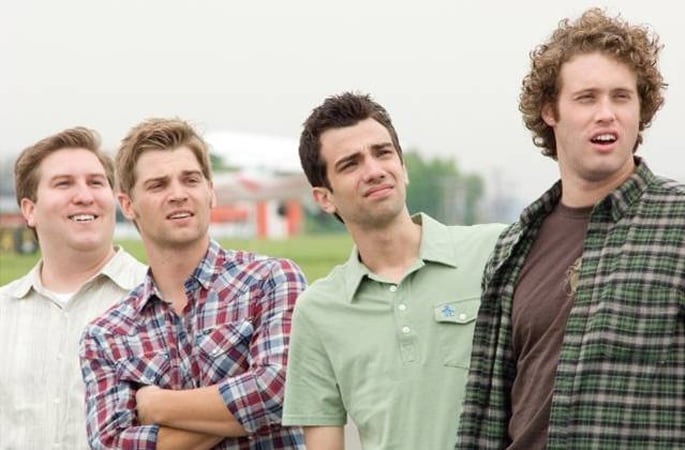 An easy charmer from the school of Judd Apatow, She's Out of My League is generously funny and sporadically heartfelt. Without reinventing the wheel, it manages to provide amiable entertainment for its 100-minute duration. For sure, the film is not as funny as it had the potential to be, but it works as a breezy, fun, unforced story of two mismatched lovers, and the clichéd narrative is at least enjoyable. In the realm of rom-coms, these are the qualities that count the most, so give this film a shot if you're sick and tired of Hollywood's usual output.

7.3/10