''You'll never leave this island.''

Drama is set in 1954, U.S. Marshal Teddy Daniels is investigating the disappearance of a murderess who escaped from a hospital for the criminally insane and is presumed to be hiding on the remote Shutter Island.
Leonardo DiCaprio
: Teddy Daniels
What can I say?
Shutter Island
is one great gigantic mind
fuck
. That's not meant as an insult but as a compliment, and proof that Martin Scorsese is a living directing legend. It's also perhaps one of the most psychological, most warped films he's ever had the pleasure to create and adapt.
He takes Dennis Lehane's novel and turns it upside down with a killer screenplay by Laeta Kalogridis and fucks with our mind literally from start to finish.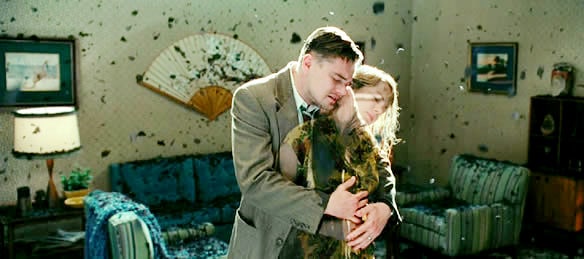 When you go to see
Shutter Island
, let me say this, go in and expect absolutely anything to happen. The first time you see it will undoubtedly be the best experience of psychological horror you have ever witnessed.
Never mind the dumb parents whom bring their children to see this, or the fat bloke complaining behind you complaining because he has absolutely no idea what is going on.
Shutter Island
will go over most peoples heads in the essence some will
not
want to understand. Scorsese tackles a sensitive and complex subject and delivers with a film that will cause debate and discussion for years to come.
As soon as it opens it captures your attention, and your mind. Leonardo DiCaprio as Teddy Daniels and Mark Ruffalo as Chuck Aule on a boat; Then the feeling of isolation and tension settles in with the blaring Hitchcock-esque music blaring behind the visuals. Then what does scorsese do? He brings us closer and closer until like his characters he
captures
us within this mental facility, this mysterious island of the criminally insane.
''Why are you all wet, baby?''

The acting and performances are alive and electric. Leonardo DiCaprio, Mark Ruffalo, Ben Kingsley, Max von Sydow, Michelle Williams, Emily Mortimer, Patricia Clarkson, Jackie Earle Haley and Ted Levine all bring to life the film with their multi-dimensional characters whom they breathe life into.
As for Leonardo DiCaprio, What can I say? He gives one of his best performances of his career. He is an utter phenomenon as we see this man he portrays experience and suffer so much; We see him trapped by his past and the hopelessness of repeating the past. Leo, I salute you.
If the Academy Awards don't notice horrors before they will now with this psychological chaotic masterpiece of suspense and nerve shredding revelations. In fact the less I say about the plot the better. You will enjoy this if you have a dark side, you will guaranteed enjoy this if you love and adore Scorsese's guts for showing death camps, for showing dark twisted scapes, for showing children dying and buildings burning. Eventually
Shutter Island
drowns your senses as if trying to make it's audience crazy like the proceedings they are witnessing.
What is
real
? What is fantasy? Who is right and who is wrong? The beauty of
Shutter Island
is that it leaves the answers open as it does with the questions. Are the doctors carrying out a secret experiment? Is our hero really going crazy? The overall experience of this film is that it's alot to grasp upon first viewing. To go over what you have just witnessed and simply be in awe of it is purely wonderful. An ending that is left open that will spark debates and controversy for many years to come is my idea of heavenly bliss in the filmic world.
This is Scorsese's psychological golden goose masterpiece. A standing ovation of fucked up, scandalous applause is necessary my friends...And then some. Your mind will undoubtedly never be the same after watching this for those sane people and if you have had children best not watch this. So what you waiting for? Do think you have what it takes to watch? I dare you not to miss this.
''Which would be worse, to live as a monster or to die as a good man?''
10/10