"There are too many ideas and things and people. Too many directions to go. I was starting to believe the reason it matters to care passionately about something, is that it whittles the world down to a more manageable size."
Although 2002's
Adaptation
is based on Susan Orlean's nonfiction book
The Orchid Thief
, it's far more than that label implies. While the screenplay by Charlie Kaufman does incorporate elements of Orlean's work, this is a brilliantly meta motion picture which is actually about Kaufman (played by Nicolas Cage) struggling to adapt the aforementioned novel for the screen. Kaufman suffered writer's block during the real-life screenwriting process, and wound up writing a sensationalised account of his painstaking endeavour to adapt the book. The finished product is nothing short of a masterpiece, an absurdist black comedy as well as a postmodern satire of today's entertainment industry. Kaufman's script is extraordinary, yet it's director Spike Jonze's cinematic treatment of the material which ultimately catapults it to brilliance. In both conception and execution, this is a home run.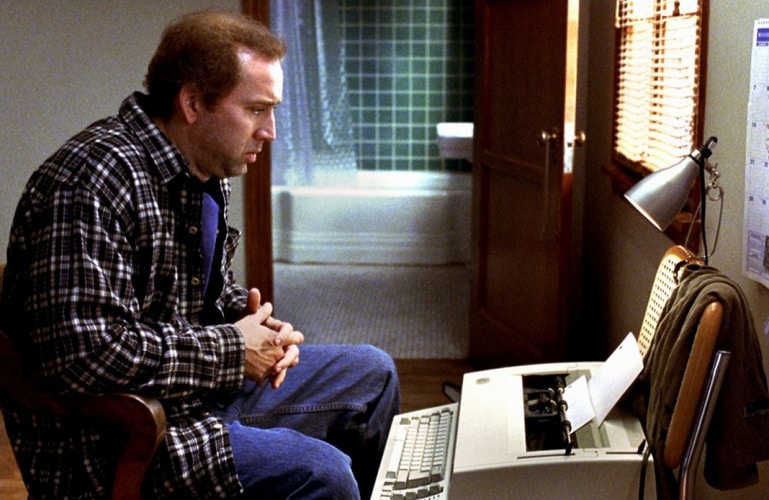 Orlean's novel was expanded from an article she wrote for The New Yorker, and is ultimately a free-floating rumination on flowers and her own desires. It's not a solid foundation for a feature film, leaving screenwriter Charlie Kaufman struggling to adapt the work without turning it into a Hollywood movie. Also in Charlie's life is twin brother Donald, who's the antithesis of Charlie; whereas Donald is relaxed and outgoing, Charlie is inhibited, neurotic and analytical. (Adaptation further blurs the line between reality and fantasy by crediting the screenplay to both Charlie and Donald, even though the latter is actually pure fiction, a figment of Charlie's imagination.) Donald aspires to write scripts as well, attending screenwriting seminars as he pens a thriller while Charlie works to adapt The Orchid Thief. Meanwhile, the narrative also dips back in time to watch Orlean (played by Meryl Streep) working on her book. She gets to know orchid thief John Laroche (Chris Cooper), who initially looks like a toothless hick but turns out to be intelligent and ambitious.

Adaptation is steeped in multi-textural thematic layers, with most every scene and action part of a perfectly-judged tapestry to tell this remarkable tale. Even the title of the film is hard to nail, since it's literally about Kaufman struggling with an adaptation of a book while also having trouble adapting to life, and he's writing about Orlean who's struggling to adapt as well. Fortunately, Kaufman at no point grows too enamoured with his own genius, hence Adaptation never comes across as too self-conscious; instead, it's well-judged by Kaufman and Jonze. More than that, Kaufman has achieved something remarkable by presenting one of the most candid and searing portrayals of what it's like to write and make motion pictures. What's also interesting is the way that reality and fantasy mesh and intermingle to such an extent that it's hard to distinguish between one and the other. In fact, a number of the real people of the story are turned into fictional characters. We also get a glimpse of the set of Being John Malkovich (which was being filmed at the time the story is set), and several players from that movie get cameos here, including Jonze.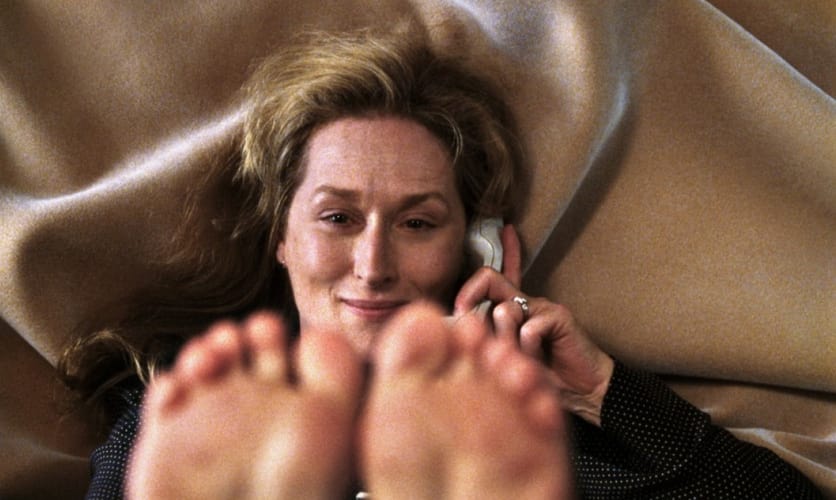 Adaptation's ending has proven to be polarising with both critics and audiences, but it's a perfect way to close the door for many reasons. When Charlie speaks to screenwriting expert Robert McKee (Brian Cox) about his script at one stage, McKee tells him to make sure the final act is good, going on to say that he cannot cheat or bring in a deus ex machina. But that's precisely what Adaptation does, which subverts the rules while also working on several other levels. See, Charlie explains in the first scene that he doesn't want to turn The Orchid Thief into an action movie, but his own experiences while writing go down that route anyway, representing brilliant irony. Furthermore, it feels organic to the story against all odds, and we have to remember that the script for Adaptation is also credited to the fictional Donald Kaufman. Donald is the one who gets Charlie involved in the violence that closes the story, and the climax feels like something Donald has written. After all, Charlie is all about patient drama while Donald writes thrillers, and Charlie actually ends up recruiting Donald to help him develop an ending.

Jonze is Kaufman's cinematic soul mate, pure and simple. As shown in Being John Malkovich, the writer has a gift for cooking up peculiar scripts, and Jonze is perfectly in tune with his concepts, translating them to the screen with visual ingenuity and energy. Such qualities are present in Adaptation. Voiceovers are used a lot throughout the narrative, giving us intimate insight into Kaufman's buzzing mind as well as the contents of Orlean's book. In one scene Robert McKee actually chastises voiceover narration, which makes the use of voiceover here both a sly subversion of the rules and a chance to let us into Kaufman's mind during the creative process. What's also miraculous about Adaptation is the way it remains eminently entertaining without stooping to unnecessary visual flourishes, which is a credit to the well-judged mise-en-scène. The picture is topped off with an enjoyably offbeat score by Carter Burwell.



Cage pulls off an astonishing double act here playing the Kaufman twins, demonstrating his terrific acting chops that are not often glimpsed. Charlie and Donald look the exact same, yet Cage's performances for each of the characters are so complete and nuanced that you'll never have trouble figuring out who's who. It helps that you occasionally see Charlie and Donald sharing the same frame, executed with effects so seamless that you may initially wonder if Cage has a real-life twin. Cage was nominated for a well-deserved Oscar for his efforts, though he lost to Adrian Brody. Outside of Cage, there are a few other seasoned veterans putting their best feet forward. Streep is wonderful, capturing the emotional core of Orlean with seemingly little effort, and ably handling the darker aspects of her role later into the story. Likewise, Cooper disappears into the role of Laroche, becoming unrecognisable with missing teeth and a seamless Southern accent. It earned Cooper an Oscar, and it's not hard to see why. Also in the cast is Tilda Swinton as the executive who hires Charlie, while Cox makes a great impression as McKee.

It's difficult to resist the boundless charms of Adaptation, which became one of the most critically acclaimed films of 2002 for good reason. This film is a miracle, a mind-blowing experience that's daring, unpredictable, original and thoroughly involving. It's amazing that it got made in the first place. Perhaps the best thing about Adaptation is that, if The Orchid Thief was adapted by anyone else, it would've become a dumb Hollywood heist movie, the type that Adaptation actually satirises.

9.3/10