"Alice! You're terribly late, you know. Naughty."

It was a match made in film heaven: visionary writer-director Tim Burton (who's responsible for some of the most aesthetically innovative films of recent decades) taking charge of an adaptation of Lewis Carroll's classic fairytale Alice in Wonderland. Those concerned about the project due to Burton's handling of another much-loved children's classic (lookin' at you, Charlie and the Chocolate Factory) can safely allow their fears to be alleviated. Thankfully, Alice in Wonderland is a lovingly crafted "re-imagining" of Carroll's original tale that once again sees Burton at the top of his game. Through updating the source material for what could be considered a sequel of sorts, Burton and screenwriter Linda Woolverton have created a breathtaking fantasy adventure bursting with surprises and endearing characters.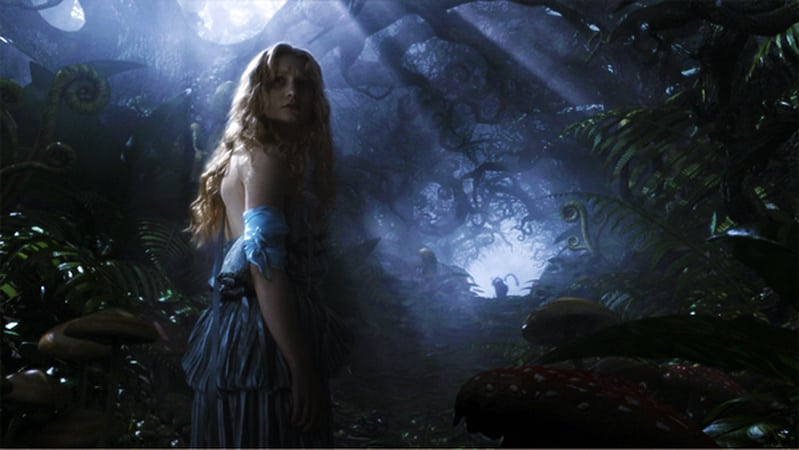 The movie kicks off with a 6-year-old Alice (Challen) suffering from a series of what she believes to be bad dreams which take place in a wondrous land full of strange talking creatures. From there, the story flashes forward 13 years to find Alice (now played by Wasikowska) as a mature-age girl attempting to navigate through Victorian society. After chasing a rabbit at her own (unwanted) engagement party, she falls down the proverbial rabbit hole and is once again whisked to the magical kingdom of Underland. Here she encounters the motley crew of past friends she no longer remembers, including the Mad Hatter (Depp), Tweedledum and Tweedledee (Matt Lucas in dual roles), the White Rabbit (Sheen) and the irresistible Cheshire Cat (Fry). But Underland, which was mispronounced as "Wonderland" by Alice when she was young, is now being ruled by the Red Queen (Carter). With the lives of her friends at stake, Alice embarks on a fantastical journey to find her true destiny and end the Red Queen's reign of terror.


Burton's Alice in Wonderland is more action-driven than previous incarnations of the story, and "Alice the action heroine" may not be what Lewis Carroll had in mind, but it nevertheless works. The approach will likely irk the purists (what won't?), but this version of the story is more film-friendly. After all, it solves the problem that marred previous adaptations: the story, as Burton said himself, just came across as a girl wandering around from one crazy character to another. "I never felt any real emotional involvement," the director said of prior Alice in Wonderland films, "so I wanted to really to give it some framework and emotional grounding that I felt had never been seen in any previous versions. I want to make a movie of Alice that's more of a story than just a series of weird events." Thus, this adaptation provides the story with direction, purpose and momentum. That said, the story is pretty conventional - it feels like a Narnia adventure. All the narrative needed was a few of the amusing vignettes that Carroll's novel was filled with. Without them it loses a bit of the spirit, and feels a bit too by-the-numbers - the conventional story even gives way to a final battle sequence.


Alice in Wonderland is unmistakably a Tim Burton production. The entire adventure borrows heavily from Carroll's dark, often bleak illustrations and character designs, and it's rich soil for Burton, whose aesthetical eye often matches with the spectacular vistas of Underland. The magical kingdom that has been concocted here is up there with James Cameron's Avatar in terms of immediate visual impact. The key difference between the two, however, rests with Burton's careful integration of real-world sets and props with the vibrant CGI animation.
While the film's trailers implicated a heavy-handed approach to the host of computer-generated characters, they are in fact brought to vivid life using phenomenal, state-of-the-art effects of such a high standard that it's at times difficult to discern where live-action ends and the CGI begins. Also effective is composer Danny Elfman's dark, dramatic score that compounds the perpetual sense of wonderment.


While Burton did manage to dodge the pratfalls he could've easily succumbed to, there are a few thorns which still stick out. Most notable of the film's flaws is the fact that the enterprise has been unmistakably commercialised, with plotting that feels rushed in order to keep the runtime at a taut, family-friendly length. It's probably too much of a snobby critic-ey aspect to point out as it doesn't affect one's enjoyment of the movie at all, but it would have been great to spend an extra 10 or 20 minutes in Burton's playground. Another unforgivable foible is the choice of an Avril Lavigne pop tune for the opening track of the end credits. It's a poor way to cross the finish the line of an otherwise superb home run of a flick.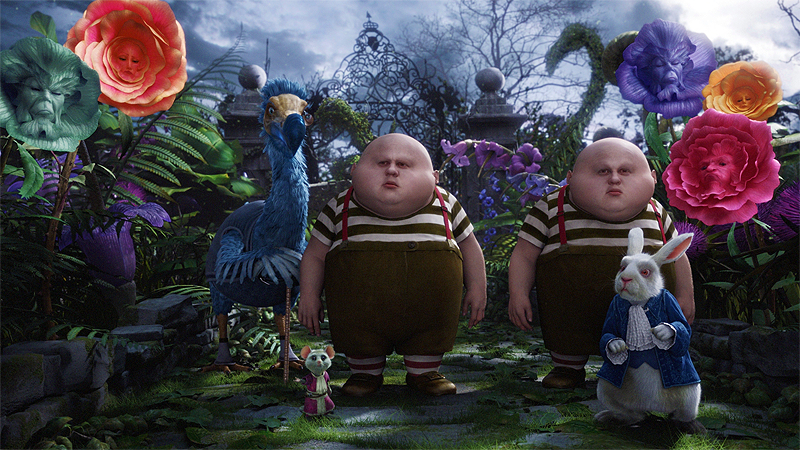 Youthful Australian actress Mia Wasikowska is delightful as the headstrong Alice; embodying the character brilliantly and boasting an effortless on-screen charisma. Prior to Alice in Wonderland, Wasikowska's only notable movies were 2007's Rogue and 2008's Defiance, but this will almost definitely prove to be her breakout performance - there's "Hollywood starlet" written all over her. It's only a bonus that the naturally talented actress is also beautiful.
Alongside Wasikowska, the endlessly versatile Johnny Depp is wonderful as the Mad Hatter. An eccentric and enthralling portrayal, Depp manages to prevent himself from overplaying the role that could've easily toppled into lazy exaggeration. Depp's expressive eyes and manic, often accent-shifting delivery (at times using a roaring Scottish accent) consistently hits the right notes. Interestingly, Alice in Wonderland marks the seventh collaboration of Burton and Depp.


The supporting characters are all extremely appealing as well. The standout is without a doubt Stephen Fry as the Cheshire Cat. Not only are the digital effects excellent, but Fry's vocal work is spot on. It's a pitch-perfect depiction of the character in every respect. Helena Bonham Carter, meanwhile, shines bright as the Red Queen. From her very first moments on screen, chances are you'll be enthralled by Helena's lively performance and the digital effects bringing the Red Queen to life. In amongst the all-star cast, there's also Alan Rickman as the Caterpillar, Crispin Glover as the Knave of Hearts, Matt Lucas in the dual role of Tweedledum and Tweedledee, Anne Hathaway as the White Queen, and Michael Sheen as the White Rabbit - all of whom are superb.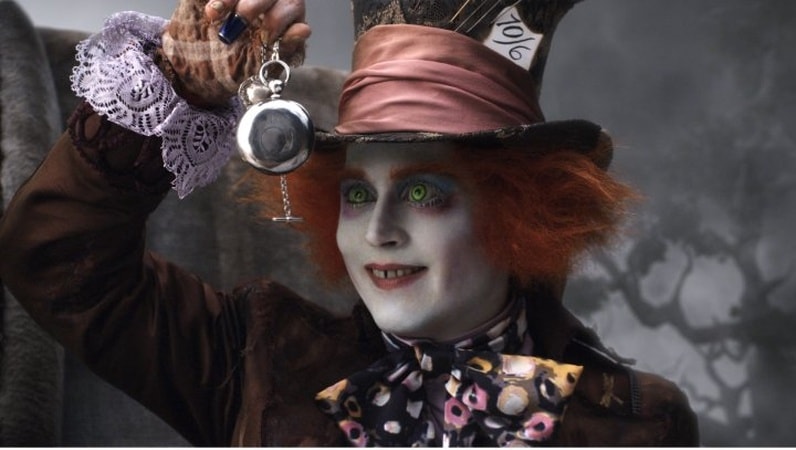 Reinventing Alice in Wonderland for the digital age must've proved a daunting task for Tim Burton, but the final product is invigorating and confidently-handled. The kids will no doubt delight in the colours and images, while Burton aficionados will devour the sumptuous visual feast on offer. In short, it's an immensely enjoyable ride, and it's easy to get swept up in the magic of Burton's creation.

7.9/10