I will admit that I enjoy the tiny bits of life. I appreciate the feeling of the wind's breeze, the unpredictable shapes and sizes of the clouds, the tiny random things that happens everyday, and the variety of any hobby you're into. It really keeps everything from being boring and dull. That's what this game is. It is a joy filled game with a well made story, and most of all, gameplay with content among with tiny details that is fun to play that gets you into completing it as possible. This is Level 5 and Studio Ghibli's "Ni no Kuni: Wrath of the White Witch". Also, I'm going to do some comparisons on this and the Japan only DS version that came out in 2010.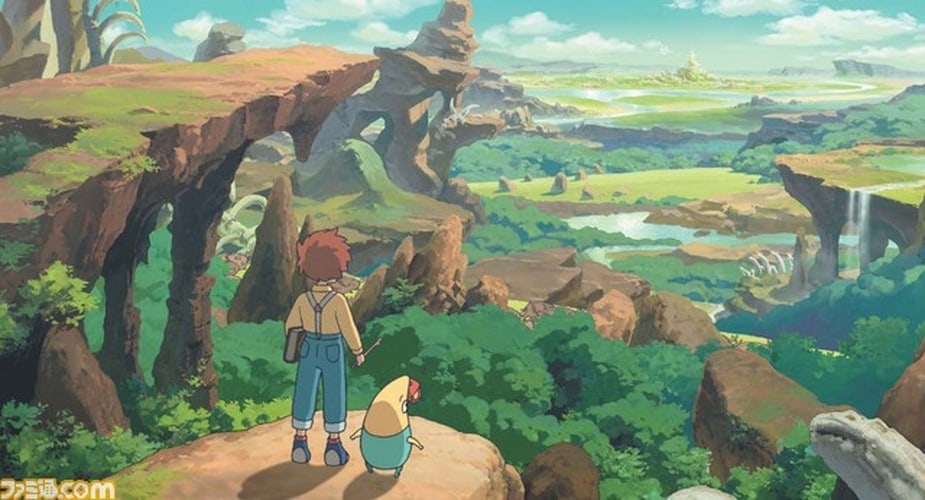 The story still has the same core as the DS version does. In the fictional town of Motorville, Oliver with his friend Phil try out a car that Phil made himself. However things go horribly wrong as the car goes out of control crashing into the water with Oliver inside. Fortunately his mother made it there before it's too late to rescue Oliver. Then she dies from a heart attack the next day devastating Oliver. For the next three days, Oliver mourns on his lost remembering the times between him and his mother. His tears fell on a doll that was given to him by his mother which transforms naturally freaking Oliver out. This doll reveals himself to be a fairy named Drippy who was forced on being a doll by a spell. He offers Oliver to go into Another World to save the land from the executor Shadar who steals emotions from people's hearts, and bans magic so no one can stand against him. Oliver at first refuses until he finds out that there's a way to save his mom. In both worlds, each person has two sides that are connected like soulmates. Oliver's mom happens to be the great sage Alicia in Another World who try to stand up against Shadar. However she got trapped so if Oliver frees Alicia from Shadar, his mother in the real world might come back to life. Oliver accepts this chance so after finding a book called the Wizard's Companion, and a stick with at least some magic within. He cast the gateway spell to head into Another World.
Here's there the differences are noticeable story-wise in both versions. In the PS3 version a new antagonist is introduced called the White Witch who tampers with the car to kill Oliver so he doesn't live as he's the chosen one who will save Another World, while the DS version never had that character. Another character that appears only to Oliver named Pea who helps him out at certain moments never appeared in the DS version. Even the locations are new for this version like some were taken away from the DS version. For example, one place I won't name due to spoiler reasons you get to explore in the DS version, while Shadar destroys it in the PS3 version.
Thankfully the story in both versions are well made to the point that you swear that Studio Ghibli wrote this. But the writers at Level 5 actually wrote this surprising. It very feels like a game version of Studio Ghibli's work. It has all the imagination on the locations, the Familiars, themes, and the overall feel. Yes the saving the world plot has been done in so many games, but here its done rather well here, believable, and it never insults your intelligence. Granted the ending could have been better since they have everything all set, but it missed a chance for abit more closure at the end. But at least it felt like something Studio Ghibli would do in their films. Heck even the things about the game's logic makes the player question things like in the movies where it won't apply in real life or people acting unrealistically in a situation. For instance, no one in Motorville has any problem with a kid wearing out of place clothes, while talking to himself since people can't see magic. No one questions his long absence especially the school Oliver apparently goes to that was mentioned earlier. There's even one point where he uses magic to break into a house to see one character, than that character's parents came in apparently having no problem with this kid that just broke into their house.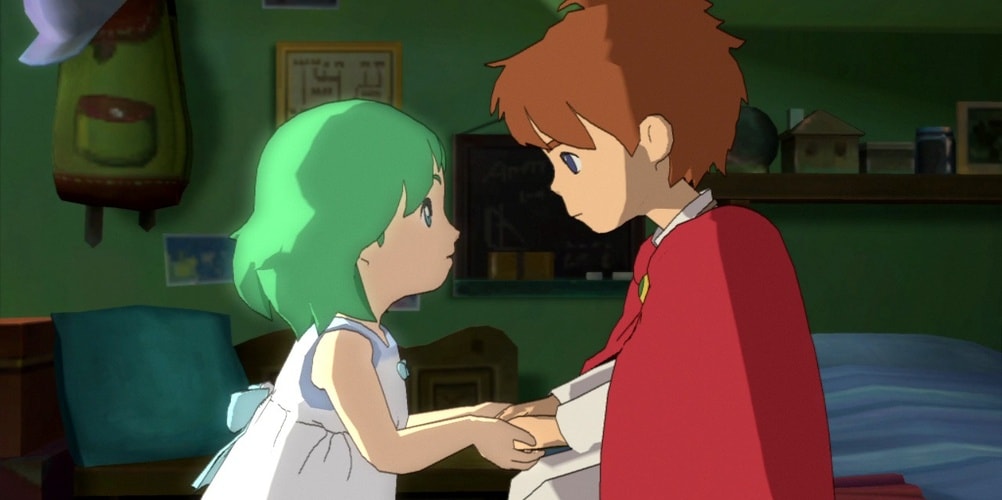 Speaking of characters, they are likable here with each one has their own personality and voice that fits in the environment of Ni no Kuni. In Oliver's case, he is a kind, respectful, and caring kid who wants to see his mom again willing to go to a new world to take down Shadar. While the whole "Chosen One" thing has been done before in many games, it's done well here as we see him grow in both gameplay and story wise. At first, he was nervous when facing an enemy. Then after getting used to everything, he's more determined through his dialogue during and after the battle. Thankfully the dubbing is done well. Each voice adds a sense of believably to their world. Drippy's voice is one where his welsh accent is very convincing that he's a fairy. Each one never falls into that so bad it's good type like some localizations end up. The villains did a really good job especially Shadar's voice actor who nailed the sinister side of the character.
Before I get into the gameplay on Familiars, the towns and fields, I will talk about the battle system and the Familiars. In the DS Version, its plays as a turn based system with the usual commands. You could move down a section of the gird for more defense, the top for attack power, or to avoid an attack. Anytime if your allies died or want to switch, you can switch back with another anytime you want. In the PS3 version, you still have the commands, but you can move around freely with your AI controlled friends. When sending your Familiars out, you have to watch the timer or else they become weak due to not being charged back to its usual self. Any time in battle, you could switch to another member to use any specific Familiars or switched because one died on you. Than you have the option to change the tactics of each AI members which is quite needed. One problem with the AIs is that they tend to waste up their MP as fast as they can which is inconvenience when you want to save up for a boss fight. Another issue is that they never use any defend option at all which makes thing a bit annoying in the ⅓ of the game until getting a option. Thankfully these are minor and it never gets in the way of the engaging battles that honestly never gets old and adds in the fun factor.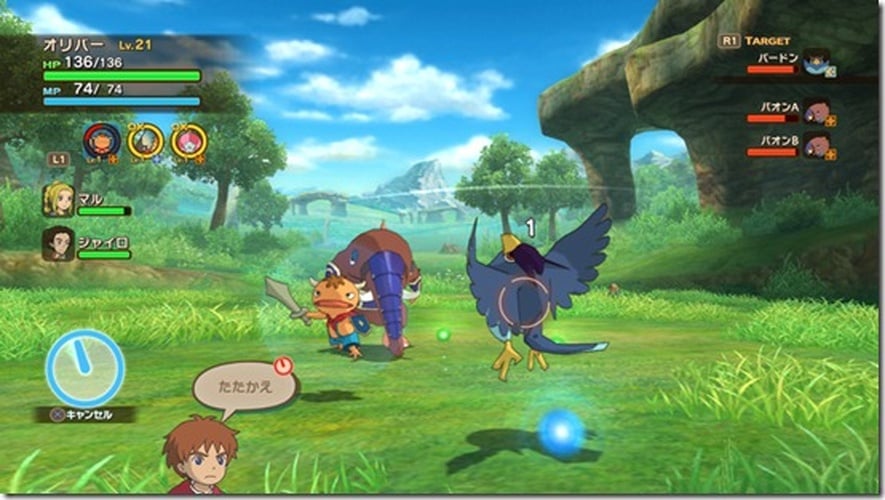 On the Familiars, the Pokemon like creatures in the game are what you get to help you out. To capture them, you have to keep battling them until randomly, you have a chance to play a song that gets them to join you. While the DS version, each Familiar had its own stats, HP and MP. The PS3 version took out the HP/MP stat and had it pretty much share the HP/MP of the main characters. Each Familiar is able to equip weapons, items, tricks/special attacks set to improve their combats skills, and possibly cover any weaknesses a specific Familiar has. If this sounded simple at first, there's more to it. Each Familiar has a different style like Milites tend to be warriors for instance. Another thing on Familiars is that each one has a different sign that plays a part on their performance in battle. Familiars with the Sun sign are strong against the Moon, Moon strong against the Stars, Stars strong over the Sun. These signs also have twin versions with effects like their sole version and play out the same way. However the rare Planet sign is strong against the other signs with Twin Planet as its king ruling above all others.
Lastly Familiars also evolve from battling and feeding it specific treats to improve its stats, they evolve by using a gem that there's sign. However after evolving they go back to level 1 so you have to be careful during battles until it's ready for any part. Here's where the feeding part loss some potential. In the DS version, You not only feed them, but you can play with them, pet them, and brush them. But the PS3 version just went with the feeding part instead which is a shame since the aspects of petting, and playing with them made the Familiars stood out from anything similar to them, and add a sense of immersion to them. Thankfully, the Familiars never come off of being a Pokemon ripoff at any point and its fun to experiment with many different types.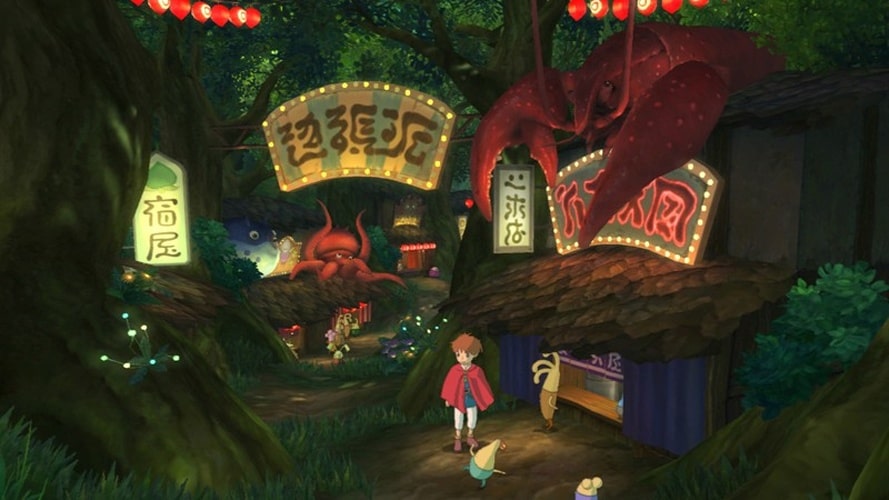 Another thing "Ni no Kuni" does well is on the content side. Not only you have the Familiars to try out, you have a numbers of areas in the world map to explore. In each town, you have side quests where its the usual "kill this, collect this item, etc". Than you have this type of quest where you heal the brokenhearted by taking out a emotion from other healthy people. Each quest rewards you with money, items, and stamps to use to get a really useful award from doing quests. If you don't want to do quests, there are other things to do. Each part of the world map has hidden treasure chests you can collect. There's a casino you could play when you're feeling the mood to do so. Want to mix items up for the heck of it? You can when you get a Cauldron where you use formulas or just experiment to get that one great item. After beating the game, you get to compete in a Colosseum like place facing against others.
If that's still not enough, you get to read through the Wizard's Companion in game which contains every spell, item, Familiar, background information on areas, short stories connected to the game's events, and even has a made up alphabet called Nazcaan which you use in certain times. This book really adds to the depth of their world, and useful for a number of things. You actually use it when casting spells, looking up Nazcaan, looking at any Familiars you're interested in, or solving anything that's connected to the book. It really connects you into their world overall.
On the final aspects, I have to say that visually, its beautiful to look at. Each area looks different with many details in mind. It even had me just moving the camera around just to see the details before exploring more. The style really suits the game and really has that feeling of being in a world created by the minds of Studio Ghibli. Lastly the soundtrack by Joe Hisaishi is really good. Each track suits the areas, and it really captures the emotions during moments and the exploring feel to it during the world map. The score combined with the hand-drawn scenes really makes moments really powerful.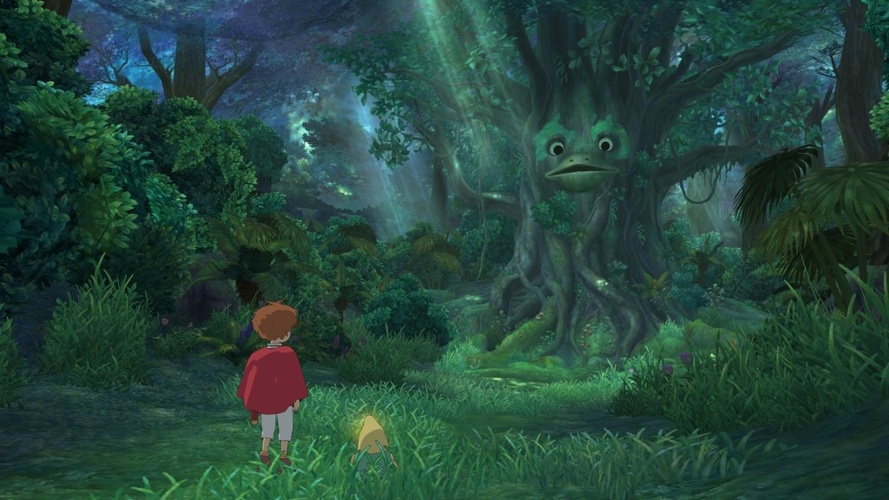 Overall "Ni no Kuni" is really a game worth checking out. A lot of its aspects while parts of it flawed are still made it a fun RPG to play . While the PS3 version extended from what the DS version came up with, both are worthwhile to get if you ask me. People who enjoy Studio Ghibli's films, and those who enjoy RPGs will like this. People not fans of RPGs or the childlike feel to this may not like it. Nevertheless I highly recommend this.
9/10