"It's like a little kid gets a puppy for the first time, just hugs it so much, and snaps it's neck. It's puppy cradle death syndrome. All that love is gonna snap that puppy."

Couples Retreat is a through and through snooze-fest. It's a concatenation of stale jokes, big-name stars and predictable plot obstacles, sloppily assembled with an Allen Key for quick sale. In fact, the film bears the appearance of a mere excuse for some Hollywood actors to take an extended vacation in an exotic location at the studio's dime. After all, long-time buddies Jon Favreau and Vince Vaughn wrote the script (with help from Dana Fox, who was responsible for What Happens in Vegas), so it's not hard to imagine the two concocting any excuse they could to take a vacation together in Bora Bora with Malin Akerman, Kristen Bell and Kristin Davis.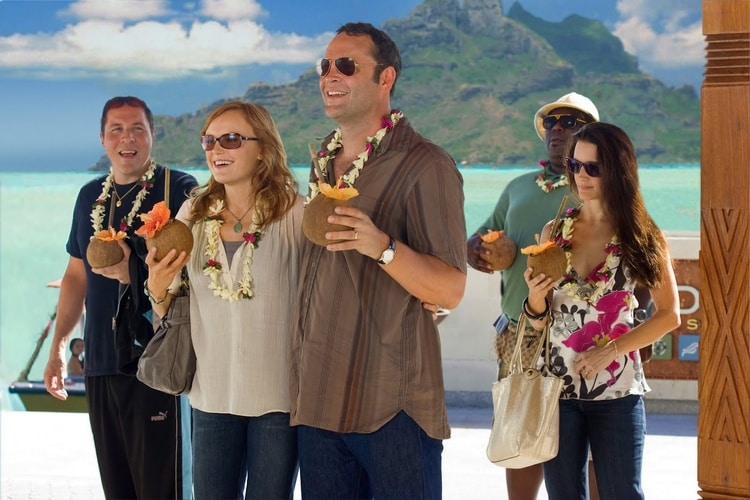 The plot concerns four couples, each with a standard sitcom relationship issue. There's the happily married yet overworked couple unable to make sufficient time for one another (Vaughn and Akerman), the high school sweethearts who are waiting for their daughter to go to college so they can file for divorce (Favreau and Davis), the couple whose marriage is falling apart due to their inability to have a child (Bateman and Bell), and the divorced guy who's now dating a 20-year-old (Love and Hawk). One of the couples hopes to attend a week-long getaway at a therapeutic island to engage in a marriage workshop. However, they can't afford it unless they get the group rate, so they persuade their friends to accompany them.


Considering the amount of tremendously talented individuals involved here, this movie should be far, far funnier. The cast boasts the likes of Vince Vaughn, Jason Bateman, Jon Favreau, Malin Akerman, Kristen Bell, and Jean Reno, and the film was directed by Peter Billingsley (best known for playing Ralphie in A Christmas Story), but it failed. It's truly shocking how unfunny this picture is - the "comedic" set-pieces drag on and on until no longer watchable, with Vaughn's non-stop complaining about sharks and scenes of couples' therapy that grow awkward and uncomfortable. Furthermore, a Guitar Hero duel is thrown in when the screenwriters were clearly out of ideas, and the sequence can only be explained as a product placement at its most blatant. The level of raunchiness is also severely limited by the studio's desire to release to the film to the widest audience possible, hence a teen-friendly PG-13 rating. Didn't the wild success of 2009's The Hangover prove R-rated comedies can still be profitable and popular?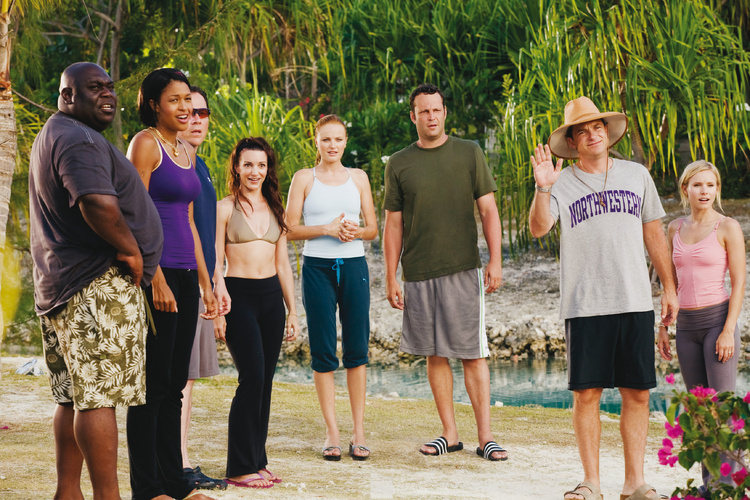 It takes 25% of the movie's screen-time for Couples Retreat to finally get underway, and the set-up is long, sloppy and tedious. Once the proceedings shift to the tropical island, it's one bland scene after another, played at a poor pace with a distinct lack of genuine comic energy. It's easy to nail Billingsley to the wall for this mirthless misfire, as his slapdash direction reveals his amateur status all too easily with a workmanlike routine of sitcom effects and uncomfortable close-ups. He appears to have adopted a make-it-up-as-we-go-along approach for his efforts, with predictably inconsistent results. Some parts of Couples Retreat are more watchable than others, but the whole thing is far too forgettable.


In the acting department, only Faizon Love and Jon Favreau appear in synch with the material, and though they never achieve belly-laughs, they're the only members of the cast to get close to them. Vince Vaughn plays yet another version of his usual screen persona, with the wise-cracks, the overacting, and absolutely nothing to stretch his range. In fact, Vaughn is on autopilot from start to finish. On top of this, it should come as no surprise that Jason Bateman is also in familiar territory. The women are largely forgettable, unsurprisingly, while the supporting players are given largely thankless roles. This was strictly a paycheck effort for both Jean Reno and Temuera Morrison, the latter of which stays in the background and bangs a gong. There are a lot of talented actors here, so it's a shame the script can't serve them.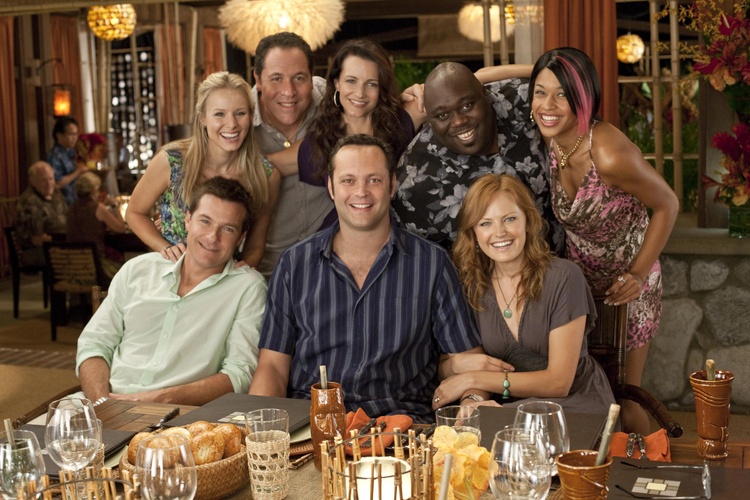 Billingsley deserved better. The cast deserved better. The pristine, beautiful beaches of Bora Bora even deserved a better cinematic treatment than Couples Retreat. This is a humourless mess, and one of 2009's most egregious missed opportunities. Depending on your expectations, there are a few giggles here and there, but nothing as substantial as a memorable sequence or an interesting idea. One of the film's final shots is of a toddler taking a dump in a display toilet at a home improvement store. The image perfectly sums up the filmmaking on offer.

2.7/10