"Life is like a cigarette; smoke it to the butt."

In this day and age, the thought of claymation will likely evoke images of Chicken Run or Wallace & Gromit, but, like any other medium, any type of story - from humour to drama; from the strange to the ordinary - can be conveyed utilising this particular filmic technique. Adam Elliot's Oscar-winning short film Harvie Krumpet is lodged firmly on the "peculiar" end of the spectrum, and is a delightfully humorous, yet drama-heavy little gem. Over the course of its 22-minute runtime, Harvie Krumpet tells the sad, strange life story of its titular character. Harvie (voiced by Flous) is born into an impoverished Polish family, but after a childhood tragedy he immigrates to Australia. From there, his life consists of losing loved ones, being struck with not only illness but also a bolt of lightning, having a testicle removed, and descending into Alzheimer's Disease. Although Harvie's life appears to be a never-ending battle of misfortunate, he continually manages to seize the day and enjoy everything that both the world and fate throws in his direction.


This deceptively simple story is communicated by Geoffrey Rush, who adopts a suitably gentle, naïve tone while delivering lines of narration. Rush's placid voiceovers allow an audience to feel more knowing than both the protagonist and the narrator, and it's this austere device (allowing an audience to observe the earnest absurdity of human existence as "gods") that affords the film a great deal of power. Hollywood has begat several biopics over recent years - The Aviator, for instance - but not many of them have managed to cram as much incident or pathos into several hours as Harvie Krumpet achieves in 22 minutes of dialogue-free narrative.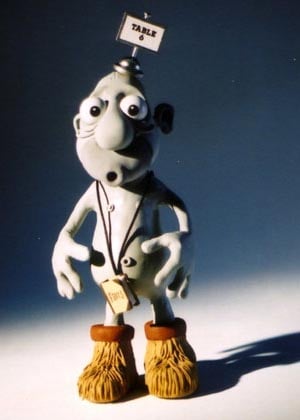 Without a doubt, the majority of animated shorts these days are created using computers. While computer animation is still a long process, claymation pictures are usually more time-consuming and expensive. A good day of intensive shooting using said technique results in only about 4 seconds of completed footage, thus a short film can take up to a year to complete. As a result, claymation shorts remain one of the purest examples of film as an art form; crafted using a mix of vision and dedication. Any normal claymation short is laudable enough, but writer/director Adam Elliot was the sole animator for Harvie Krumpet, which in itself is an Oscar-worthy feat. The animation here certainly looks rough around the edges, and more vibrancy would've certainly been beneficial, but Elliot has nevertheless done a laudable job here; it looks like these little clay people are alive and moving naturally.


The message delivered by Harvie Krumpet seems to be "life is what you make it". The film opens with the old saying "Some are born great. Some achieve greatness. Some have greatness thrust upon them", but writer/director Elliot is clearly more concerned with the people who never achieve much throughout their life. Harvie gets married, adopts a child, contracts testicular cancer and ends up in a nursing home, but it's the little things he has done to make himself content that satisfies him in the end. All in all, Harvie Krumpet is a delicate, warm-hearted film loaded with pathos, and it's great to behold talent like this within the Australian film industry.

8.2/10