"How much does your life weigh?"

While a great deal of "topical" motion pictures invariably arrive too late, 2009's Up in the Air is a flawlessly timed evocation of this modern age of corporate instability, a shaky global economy, and a general aura of uncertainty and discomfort. Of course, a film is not catapulted to greatness on account of its timeliness alone. Jason Reitman visibly understands this principal - he has created not just a relevant film with Up in the Air, but a tour de force on several additional levels. Reitman's prior directorial outings, Thank You for Smoking and Juno, were both assured comedies, but the 32-year-old director has taken an enormous leap forward with Up in the Air, toggling between comedy and drama, romance and social observation, and satire and sorrow with absolute confidence. Up in the Air is a reminder of a reality that movies prefer to gloss over - it's an achingly poignant film that manages to do a commendable job of both entertaining you and reminding you of how problematical and painful life can be.



George Clooney plays corporate downsizing expert Ryan Bingham. When the CEO of a company doesn't have the cajones to fire an employee themselves, they hire a professional like Ryan to fly in and deliver the news instead. In these bad economic times, Ryan's business is booming; he's perpetually flying all around the country, leaving people unemployed wherever he goes. Ryan lives his life in hotels, airplanes and airports, but it's a life he prefers - it allows him to ignore the responsibilities and attachments often associated with growing up. This is threatened when Ryan's boss hires an arrogant young hotshot named Natalie (Kendrick), who suggests the use of teleconference technology to allow remote layoffs. Objecting to the impersonal nature of virtual dismissal, but more concerned his cherished way of life will end, Ryan takes the naïve Natalie on one of his cross-country firing expeditions.


Thus, part of the film's dynamic is the experienced veteran who shows a determined newbie the ropes, which in this case involves the proper etiquette of dealing with distraught employees, the benefits of four-wheeled suitcases, and the preferred people to get in line behind at the airport. More comprehensively than any movie this reviewer has ever seen, Up in the Air masterfully evokes the essence of the airport experience as well.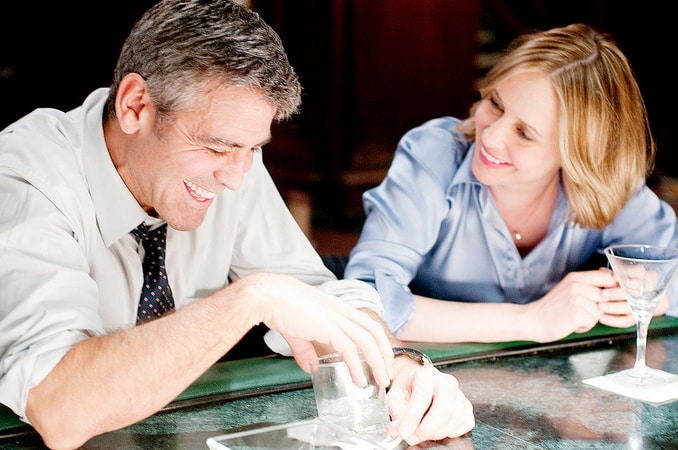 Based on Walter Kirn's novel that was adapted for the screen by Reitman and Sheldon Turner, Up in the Air is a rare cinematic animal: an unclassifiable story with a prime focus on people. It contains equal parts comedy and tragedy, romance and heartbreak. From time to time, it possesses the look and feel of a romantic comedy, but this is misleading. Ryan does develop a relationship with a woman he meets at the airport named Alex (Farmiga), but this is a secondary plot - a way to illustrate further facets of Ryan's life, and to provide tightly-scripted dialogue. Added to this, Reitman's picture is one of the best movies to tackle the inhumanity of the way corporations fire employees. The lampooning is razor-sharp and resolute; each target is singularly nailed before each point is driven home with unyielding force.


Up in the Air can be a tough film to stomach. As the proceedings continue to unfold and a viewer eases into the comfortable aura of escapism, Reitman continues to hit us with harsh reminders that life is unexpectedly cruel. The filmmakers masterfully used real recently-unemployed people (save for a few notable famous faces) for the scenes of dismissal; their genuine pain and heartache affords the film with an unsettling realism. The movie only truly missteps in the third act, at the point where the focus shifts away from hotels and airports to instead concentrate on Ryan's personal life to allow for Capra-esque redemption. Despite said redemption being inevitable for the character, this particular portion feels the most forced and the least natural. Additionally, the film's constant stream of sophisticated humour aside, there are a few easy jokes here that don't always gel with the recurrent scenes of workers having their lives shattered.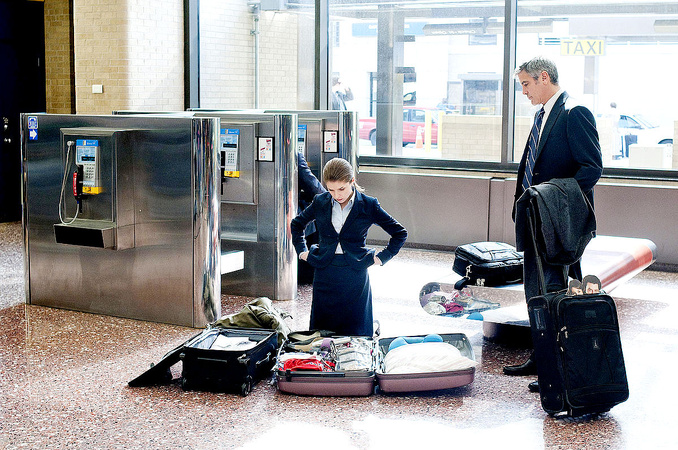 Ryan Bingham represents a fascinating specimen - a member of the modern world whose goal is the exact opposite of the American Dream: he doesn't want the house, the wife or the children, and his relationships consist of one-night stands in airport hotels. Eschewing human baggage, Ryan has developed a philosophy of personal disconnect and stark individuality which is shared with others throughout professional seminars. The title of Ryan's talk, "What's in your Backpack?", acts as a metaphor for how materialistic possessions and human relationships weigh us down. With a perpetually empty backpack, Bingham adores his solitary existence and cherishes the experience of avoiding the concerns of reality as he soars through the clouds from one rental car depot and airport hotel to the next. George Clooney is perfect for this role. More than virtually any other of this generation's actors, Clooney capably combines the old-world style and charm of classic Hollywood stars with the skilful malleability of the world's best character actors. Even though the character of Ryan Bingham thrives on the misery of others, Clooney's performance allows a viewer to sympathise with him. Thanks to Clooney's top-notch work, Ryan's lifestyle also seems bizarrely desirable until the curtain is finally peeled back to reveal the chilly loneliness residing within Ryan's cupboard.


Clooney was exceptionally paired with Vera Farmiga. The two stars generate white-hot sparks and irresistible romantic chemistry playing the anonymous lovers bonding over a mutual awareness of travel tips and hotel room seclusion. No less impressive is Anna Kendrick, whose perfectly assured and nuanced performance as Natalie may allow us to forgive her for tarnishing her résumé with the Twilight series. In those films she's generic and easily dismissed, but here she displays ownership of terrific acting chops, and that, given a proper outlet, she knows how to use them. Several other actors of note (J.K. Simmons, Sam Elliot, Danny McBride) were used sparingly but effectively. Zack Galifianakis, who shot to immediate stardom thanks to 2009's surprise hit The Hangover, is particularly note-worthy; his screen-time is hysterical.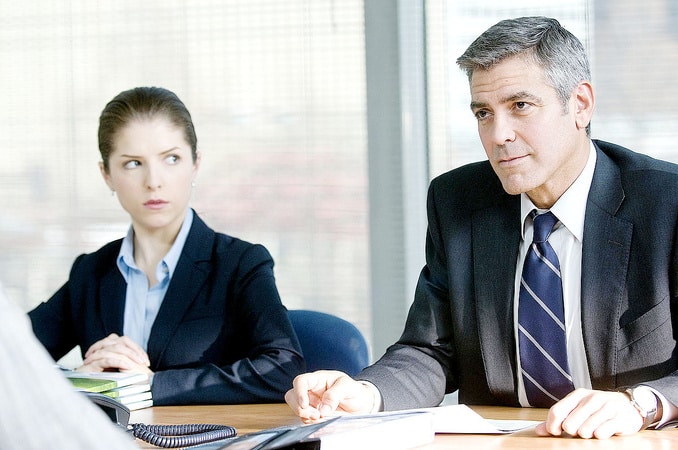 Up in the Air is ultimately about realisation, breaking free from the corporate system, celebrating the freedom to act spontaneously, and daring to reach out to others. The naturalistic flow of the dialogue which unfolds in real-world rhythms, as well as the sharp comedy and heartfelt drama establishes Reitman as one of the finest filmmaking talents of his generation. It's a movie made for grown-ups by grown-ups, and let's hope for all our sakes there's still an audience for that kind of thing.

9.2/10