''It's the magic of risking everything for a dream that nobody sees but you.''

A hardened trainer/manager works with a determined woman in her attempt to establish herself as a boxer.
Clint Eastwood
: Frankie Dunn
Clint Eastwood is an accomplished artist and veteran of the film world whom is confident and experienced.
Transporting the audience via his films through their imaginations and curiosities; that they never want any aspect of the story to be 'dumbed-down' for ready consumption. In fact, his trust in the audience to use their own minds to fill in gaps is like a gift of part ownership in the film.
Million Dollar Baby
is incredible storytelling and a powerful display, a masterpiece of
human emotion and hope
.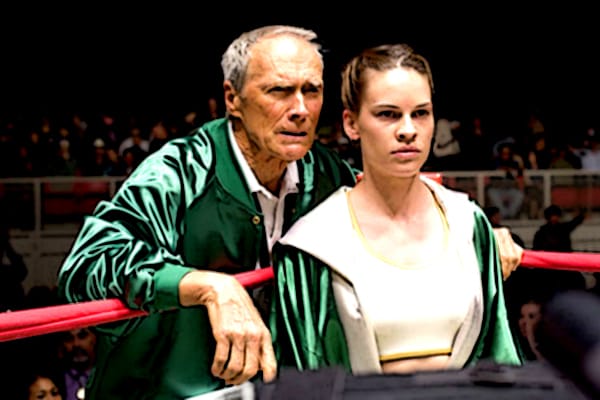 Eastwood plays Frankie Dunn, an elder boxing coach, manager, and expert cut man whom runs a gym and is learning Gaelic on the side. He's a pleasant chap, but he can't seem to shake the guilt from ghosts of bygone days. His guilt/shame is a constant just beneath the surface and gives him something of a cold exterior, sometimes frozen. Yet, as played by Eastwood, you know Dunn's aware of his own plight, but just doesn't know how to correct his situation.
Enter Maggie Fitzgerald (Hilary Swank). She's a thirty-something trailer living woman from southwest Missouri. An unlikely hero on all counts. But for my money, Maggie is this generation's
Rocky
albeit a female equivalent. That may seem an easy, simplistic, and over-reaching comparison, but the parallels root deep, obvious and myriad adjacent to the former. Like many people, Maggie's dream of being a pro-boxer is always just out of reach, yet she cannot paradoxically give it up. She works as a waitress to survive, but spends all her spare time training. Like Dunn, Maggie has her own ghosts haunting her, and through these ghosts they bond tighter than super glue. The heart and work (incalculably huge amounts) that Swank put into becoming Maggie are unnoticeable. It's a silly phrase but it's as if she was born to play this part. The role
fits like a glove
which also serves as a summary for the film itself as well as the role she plays. The real life parallel of her relationship to Eastwood no doubt played a part in her ability to connect with the character's relationship to Dunn. Yet this in no way diminishes her accomplishment. She is
radiant
.
Morgan Freeman plays Dunn's right-hand man (Scrape) at the gym, and reprises a role similar to Red in
The Shawshank Redemption
. He also voices the omniscient narration to the story, similar to Red. Similarly to Dunn and Maggie, he's similarly bruised, but somehow less deeply. He's there when both of them need support and helps to bring them together. I can think of nobody acting in film today who can embody kindness and wisdom through friendship and support better than Freeman. He also serves to bring in another Eastwood trademark;
Banter
. Even when themes are heavy, Eastwood's sense of humour is never entirely absent and he and Freeman have a good time with each other, as did Bacon and Fishburne in
Mystic River
. These three characters together weave a beautiful and true family unit Eastwood's lifelong themes and 'blurring of lines' are on full display: good vs. evil, right vs. wrong, the role of violence, redemption, guilt/shame over previous acts, even god and death. Never one for easy answers, his version of the truth lies in the shadows, quite literally. Cinematographer Tom Stern crafts characters in shadow, shifting in and out of light. There is a grey area between the light and the dark where something approaching truth lies waiting, and this is where Eastwood takes us, then leaves us there to ponder.
Million Dollar Baby
is a shadow play of necessity.
As accomplished as
Unforgiven
and
Mystic River
, yet even more personal perhaps, this film is a triumph of
human storytelling
.
10/10