''I see you.''

The world of Pandora and it's people(The Na'vi) are threatened by humans searching for an expensive resource.
Sam Worthington
: Jake Sully
James Cameron has always been a man of unsurpassed imagination, a man with vision and a fun loving disposition for using technology to achieve his dreams. The fact is Cameron isn't just a director; he is an artist.
I have grown up with James; having been born in the 80s when he was churning out his projects which still remain dear to me to this day. Who can forget
The Terminator
(1984)? A time travel spin with machines ruling the future. Or his fun, quirky screenplay for
Rambo 2
(1985); showing wit, charm and adrenaline. Then we have the sequel to Ridley Scott's
Alien
; one of the best sequels of all time: Cameron's
Aliens
(1986). The deep imaginative piece
The Abyss
(1989) would follow a few years later; showing us Cameron's other glimpse into good natured extraterrestrial life and his love of the ocean and romance; a new world in itself.
As for the 90s; it seemed as if the 80s were in essence merely a warm up for the maestro directors talents. Having received attention and Awards for his illustrious effects and wizardry usage of technology, he steps up his game; Aces up his sleeve in the guise of another untouchable sequel
Terminator 2: Judgment Day
(1991), then later
True Lies
(1994), and the immortalized romance with historical preference
Titanic
(1997).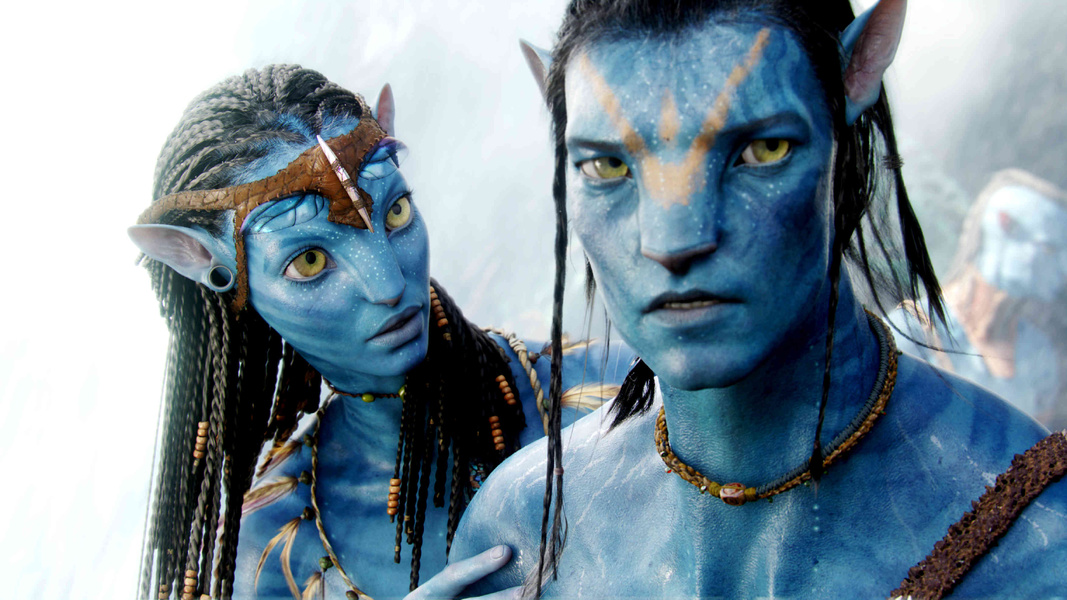 Years later we reach 2009 and James Cameron seems to have resurfaced from his exploration under the ocean, from his dabbling with 3D technology and has unveiled his latest epic fantasy sci-fi;
Avatar
.
Cameron had to wait ten years for the technology necessary to realize his baby.
Upon seeing the character of Gollum in
The Two Towers
(2002) James Cameron knew CGI effects were at last ready to unleash his new world Pandora.
The film results in being 40% live action and 60% photo-realistic CGI. Large quantities of motion capture technology were used for the CGI scenes.
This however does not sum up the beauty and magnificence
Avatar
truly is; My early claim of Cameron being not just a director but an artist is certainly a gross under-statement.
So what is the story of
Avatar
? The brief synopsis doesn't particularly sum it up. Yes, it is about humans exploiting a new world for their own pockets; it is about Jake Sully whom has lost the use of his legs being transported into a 10ft Avatar body...
BUT
it is also a love story between the hero and heroine whom are from different worlds. This is a
Ferngully
outsider meets natives, a
Last of the Mohicans
integration romance wherein the evolution of the hero is saved by love.
Neytiri(Zoe Saldana) teaches Jake Sully(Sam Worthington) the Na'vi's way of life after becoming lost in the Jungles of Pandora. Slowly he begins to learn how every living creature, being and plant is entwined in harmonic proportions; energy and cosmic balance without industrial destruction to nature.
Titanic
showed us the epiphany of romance from Cameron;
Avatar
shows a union of two
soulmates
destined to be together always. When Jake and Neytiri kiss for the first time, under tendrils of memories, you can feel the connection deep within; Your heart skips a beat.
The creatures, plants, machines, locations, vehicles are all breathtakingly beautiful. In fact as we see this New World and these gigantic humanoids, one begins to feel as part of proceedings, as if we are on this world with them. Every blade of grass and plant can be felt when witnessed in 3D, every sound and noise ambient with unsurpassed depth.
The casting assemble
Avatar
has to offer is of course pure indulgent cream. Sam Worthington and Zoe Saldana excel as the romantically destined Jake and Neytiri; their chemistry as real and believable as the 3D world we are sucked into. Sigourney Weaver as Dr. Grace Augustine makes for another great Cameron character whom hasn't lost her edge since her
Alien
days; Grace is scientific, interesting and harbours all the teaching instincts towards the Na'vi one would expect a scientist to maintain. A Doctor smoking in the future was perhaps not so believable yet perhaps portrays the level of stress her character endures.
Special credit must go to Stephen Lang as the military titan Colonel Miles Quaritch; whom is a villain you love to hate. This is a man not only doing his job but enjoying it; the typical fire first Army Colonel whom loves quite literally blowing the living daylights out of anything that moves.
Michelle Rodriguez playing Trudy Chacon was definitely a fun character with some memorable lines;
''You're not the only one with a gun bitch!''
gained a belly laugh of humour.
Giovanni Ribisi, Joel Moore and Laz Alonso also helped flesh out the assemble with memorable characters.
It must also be said that the characters whom inhabit Avatar bodies actually look like their human counterparts. Every facial move, gesture and movement effortlessly captured in a splendid array.
Avatar
also has an epic score; original haunting Music by James Horner. Perfected Cinematography by Mauro Fiore(director of photography) and a fabulous team for the Artful work and costumes accumulated within the making.
The battle sequences will literally have you on the edge of your seat, while fast paced chases are elevated to majestic grandeur; flying creatures attacking huge orca-type aircraft, alien horse-riders battling against mech-warriors with marines and Jake's encounters with the many types of creatures all induce awe.
Overall, this is an emotional turbulent journey that never loses momentum in the whole of its 2 hours and 40 minutes.
Avatar
will pull at your heart strings and make you care for a people from another World. Cleverly it doesn't give us a title for the film at the beginning but waits until the glorified magical ending of rebirth. By then I was moved to tears on a fair number of levels; many scenes invoking emotion, passion and inspirational bursts of imagination.
Who could of thought that the song
I see you
by Leona Lewis could be such a sweet soothing reminder to this beautiful realization we have just witnessed. James Cameron's
Avatar
will undoubtedly win numerous Awards in the future, even if not, this is pure escapism and a colourful escape to another breathtaking world which cannot be ignored. This is
art
at it's highest pinnacle. This is
love
in its truest form. This is perhaps the swan song masterpiece ever to be conceived from Cameron;
Avatar
is the baby we waited 10 years for Cameron to make...and it was certainly worth the wait! Visionary.
''Out there is the true world and in here is the dream.''
10/10