"'Twas a long time ago, longer now than it seems in a place perhaps you've seen in your dreams. For the story you're about to be told began with the holiday worlds of auld. Now you've probably wondered where holidays come from. If you haven't I'd say it's time you begun."

A 75-minute charmer of a motion picture that transcends age, Tim Burton's The Nightmare Before Christmas should be part of every household's annual Christmas traditions. Everything a movie-goer has come to expect from the imagination of Tim Burton is presented here in stop-motion form: it's bursting with visual majesty, populated with lovably morbid creations and filled with ornate Danny Elfman compositions. It's an instant classic which bears the esteemed title of being the first feature-length stop-motion animation picture. Certainly paving the way for other greats like Chicken Run and James and the Giant Peach, The Nightmare Before Christmas manages to capture the undeniable Christmas flavour which is blended perfectly with the maudlin imagination of childhood.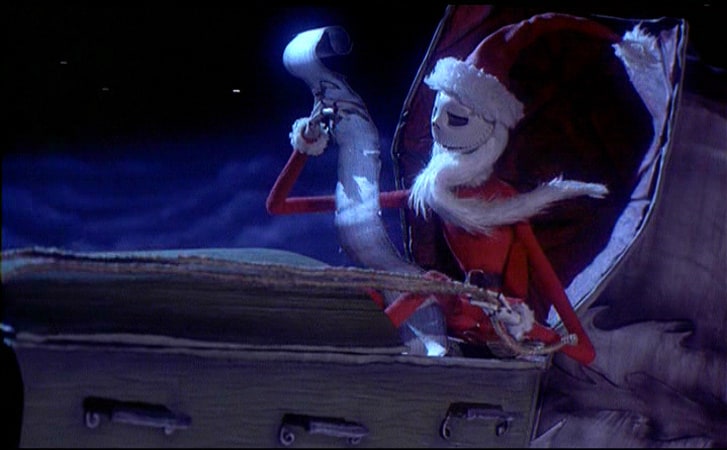 The story revolves around a straightforward premise: each season has a town (there's Easter Town, Christmas Time, Halloween Town, etc), and none of these towns knows of each other or their respective festivities. Jack Skellington (voiced by Danny Elfman and Chris Sarandon) resides in Halloween Town, but upon completion of the same old annual routine he grows bored, and loses faith in his own holiday. After Halloween night, Jack saunters off into the woods and stumbles upon a door leading to Christmas Town. He is so taken by the concept of Christmas that he takes it upon himself to take over Santa's duties for the year.


Jack Skellington is a uniquely-designed bunch of bones who inhabits a fantastic world brought vividly to life with the first big musical number; This is Halloween - an energetic, sumptuous feast for the senses. The Nightmare Before Christmas contains some of the most ornately detailed and expertly captured shots in the history of stop-motion, and animation altogether. There's so much eloquence in the visual "voice" the film exhibits, and each shot is so rich with an almost immeasurable amount of creativity that there's always something eye-catching to focus on. Tim Burton's shooting schedule for Batman Returns conflicted with the long, arduous three-year shoot for The Nightmare Before Christmas, so he hired stop-motion veteran Henry Selick to tackle the directorial duties. Burton may have receded to producer status, but every frame resonates with that distinctive Burton sensibility. As one watches the film and marvels at the visual splendour, one can't help but admire the fantastic, painstaking job Selick and his team did of bringing Burton's vision to life.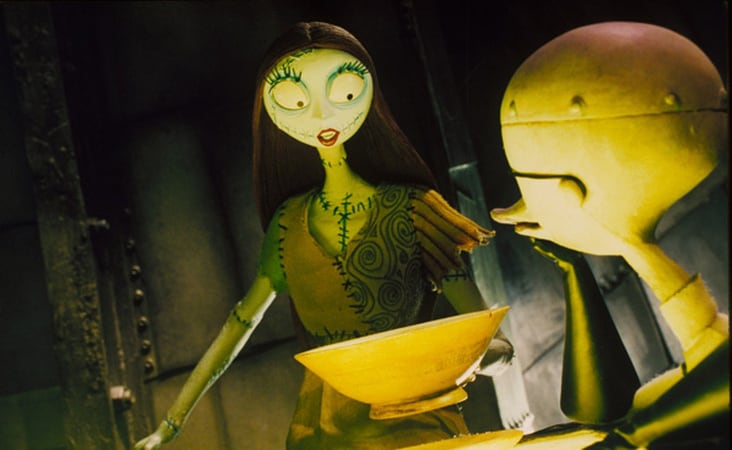 As it turns out, holiday commercialism is to thank for this film's existence. Burton reportedly got the inspiration for his poem on which the film is based when he witnessed a store taking down a Halloween display and replacing it with Christmas merchandise. The jarring exposition of Halloween and Christmas was all it took to inspire Burton to write a tale of Halloween Town and Christmas Town; two phantasmagorical cities. The Nightmare Before Christmas also showcases one of Burton's key influences: German expressionism. The dark, foreboding sets, high-contract lighting and stark angles (also seen in Burton's Batman movies) harken back to German films of the silent era, such as Nosferatu, Metropolis and The Cabinet of Dr. Caligari. If there's a flaw, it's that the story is a bit too simplistic and drawn-out, with occasionally sluggish pacing.


The Nightmare Before Christmas follows the tradition of employing music and songs as a means to progress the narrative. As this is a Tim Burton movie, the songs are provided by his frequent collaborator Danny Elfman (who used to be the lead singer for Oingo Boingo, but found a far more successful career as a film & TV composer). The music and visuals of The Nightmare Before Christmas are inseparable. Elfman's first-rate compositions support the visuals in grand style; whether it's a tender moment, a celebratory scene, or a frightening sequence. Fortunately, the songs are both memorable and catchy (don't be surprised if you feel the urge to sing while the music assuages your ears). Elfman also provided the vocalisation of Jack Skellington's singing voice, while Chris Sarandon voiced Jack during the dialogue sequences. Another well-achieved role comes in the form of Catherine O'Hara's honest and eclectically sweet Sally. This handmade character, stitched together by a half-hearted creator, shows the most human of emotion in Halloween Town.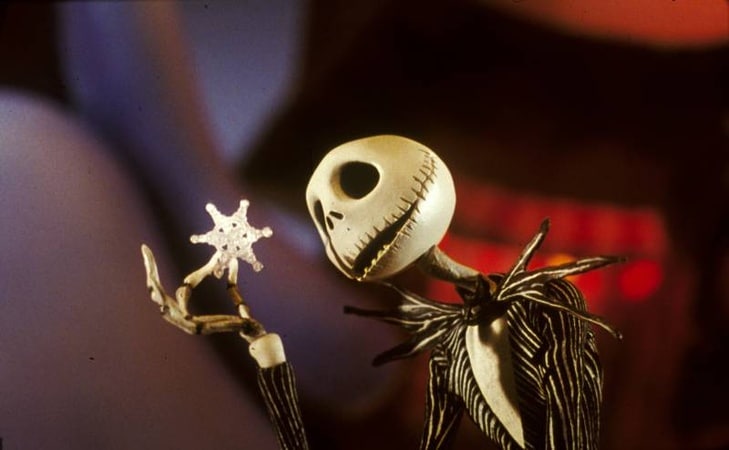 Parents wondering if The Nightmare Before Christmas is suitable for their children should know that the frightening aspects of the picture are nicely blunted by humour and Elfman's music. Jack Skellington isn't the frightful creature one would assume him to be...he's just a misunderstood hero. There are so many enchanting sights and sounds to behold within this cinematic tour de force that there's not enough room for anxiety and fright. In short, The Nightmare Before Christmas is a fun holiday romp with something to offer everyone. For the children, it's a fantasy celebrating two holidays. For the adolescents and adults, it's an opportunity to experience some good, hearty entertainment while marvelling at how adept the animators have become at these techniques.

9.3/10