''There can be no understanding between the hand and the brain unless the heart acts as mediator.''

In a futuristic city sharply divided between the working class and the city planners, the son of the city's mastermind falls in love with a working class prophet who predicts the coming of a savior to mediate their differences.
Gustav Fröhlich
: Freder
Brigitte Helm
: Maria / The Robot
A handful of stories and films will always be known for proving themselves against the proverbial test of time; making their mark in the pantheon of the most influential, memorable and near flawless crafted films in existence. Upon viewing in a contemporary context; even over 80 years after its initial release in 1927, the recognition of
Metropolis
; director Fritz Lang's masterpiece; among such timeless examples
Metropolis
is without a doubt included. The catalyst for all ensuing science fiction films and tremendously influential; even outside of the genre it essentially pioneered, the sheer imagination and vision behind
Metropolis
prove its indisputable quality decades after its time.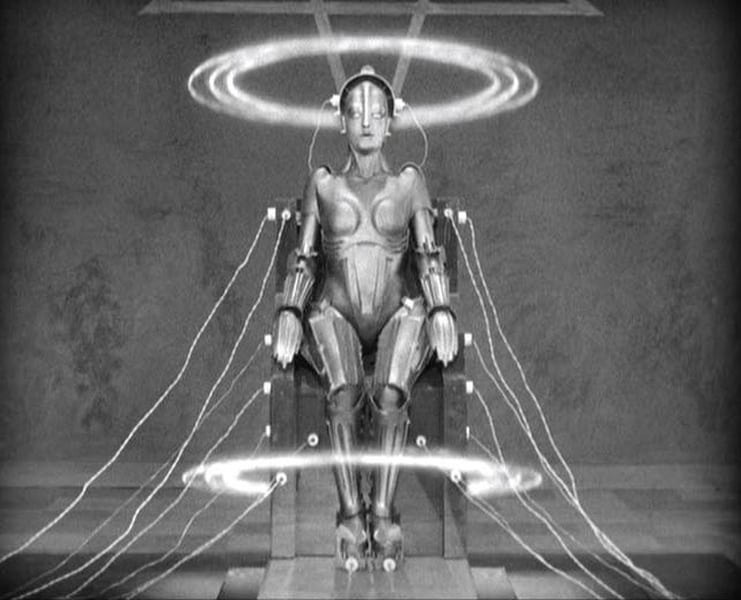 A tremendously ambitious and controversial feat when first released, the political and thematic content riddling the film's impressively complex storyline are astounding; proving an early testament for the potential of big budget projects to resonate with strong thematic content as opposed to being simply entertaining. Taking notes and inspirations from Karl Marx (creator of Communist ideology; for those whom don't know), among other prominent schools of thought, politics, ideologies and philosophies. The revolutionary dystopian vision of a colony of workers rebelling against the alienated upper classes proves a daring and fiercely compelling
vision
relevant even to this day, without even pausing to realize this
is a film made in Germany in the 1920s
. Similarly, the film makes a particularly effective, futuristic science-fiction piece by proving frighteningly prophetic from grander themes of commodity culture to smaller touches; with ideas which would have seemed outlandish at the time such as video phones and
machine men
starting to become disconcerting realities. While parts of the original film are sadly lost or missing, as they are summed up by title cards in the same way dialogue was conveyed, the occasional lapse in pacing hardly distracts from the gripping and astonishingly powerful narrative.
Similarly, the film's dynamic visual style is equally comendable, and the entire film captivates with a
hypnotic, entrancing beauty
. The expressionist art influenced futuristic sets and buildings and surprisingly advanced visual effects never fail to captivate, and the frequent moody lighting is an aesthetic delight. Sequences such as the opening scene of columns of repressed workers trudging desolately to work to Freder's cinematically innovative hallucination of death striking the city, the mad inventor Rotwang's construction of the iconic
Machine Man
to the allegorical tale of the tower of Babel prove utterly unforgettable, with Lang conjuring up a dramatic intensity essentially unparalleled in its time. Such seamless quality both technically and thematically has scarcely been glimpsed to such a degree since, and the film's incredible influence becomes increasingly clear in other works after viewing it.
While the film is seldom praised for its acting, considering the expressionist conventions of over-exaggerated facial expressions and movement to express inner sentiments, the film comes as across as far less melodramatic than one might expect, though the distinctly different performance styles may prove unsettling or unintentionally comical to a contemporary audience. Gustav Fröhlich is a suitably engaging and charismatic lead as the young son of the city's founder who becomes increasingly disgusted with the harsh mistreatment of the working class denizens. As his distant father, Alfred Abel turns in a poignant performance as Frederson, founder of
Metropolis
, consumed by his own ambition to the point of losing touch with the world around him. Rudolf Klein-Rogge is unforgettable and enormously entertaining as twisted inventor Rotwang, setting the standard for countless
mad scientist
icons to follow. Similarly, Brigitte Helm is both luminous and horrifying in turn; portraying both the earnest figurehead for a working class resistance movement who attracts the attention of the impressionable Freder, and a demonic incarnation of herself portrayed by Rotwang's devious Machine Man.
Visionary, innovative and desperately socially relevant, Lang's disturbing and captivating labour of love holds its own against the ages, proving nearly as staggeringly impressive an achievement in a current day context as its initial release over 80 years ago. Lavish and blindingly spectacular, dazzling set pieces and high production values,
Metropolis
rises above and stands testament to Fritz Lang's ambitious artistic visionary perceptions of how
cinema
could be used. Among classics such as
2001: A Space Oddysey
,
Blade Runner
which came many years later; Fritz Lang's
Metropolis
is the true science fiction classic original. It also is another great insight into workings of our systems, society and why some
work
and some do not; in a classing system of extreme rich and poor. Fritz Lang's
M
; which followed in 1932, also dealt with some of the same issues concerning
Metropolis
. Stabs at the structure of society and the evils of the mob prove
Unity
is always above chaotic
Hysteria
.
10/10