''I mean, you can't say they don't look like that, that's what they look like, right? They look like prawns.''

An extraterrestrial race forced to live in slum-like conditions on Earth suddenly finds a kindred spirit in a government agent that is exposed to their biotechnology.
Sharlto Copley
: Wikus Van De Merwe
It's safe to say
District 9
is a breath of fresh air in terms of originality mixed with familiarity. New ideas of sci-fi, documentary filming, and action-packed scenes are all merged together here in seamlessly sewn entertainment.
District 9
offers us a new world of vision and clarity. We have a UFO hovering over Johannesburg in South Africa, not a typical Hollywood location set in the obvious US, because lets face it, this is not a typical Hollywood blockbuster. This is a totally new ball game which emphasizes other familiar sci-fi names like
Halo
, the Marvel
Iron Man
, and the fun
Independence Day
, then turns them all on their head.
District 9
draws its many strengths from it's inspirations, from its script and above all from it's likable although flawed hero, and a father and son Alien whom actually help us ''relate'' to the Alien race, known as 'Prawns'.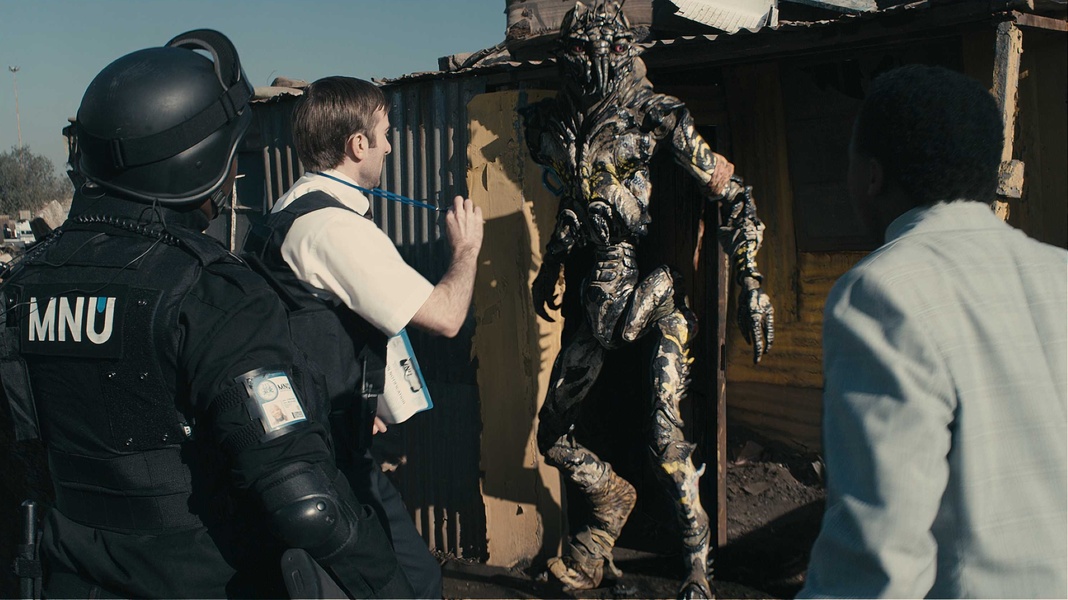 ''When dealing with aliens, try to be polite, but firm. And always remember that a smile is cheaper than a bullet.''

The action scenes and effects obviously stand out here in awe inspiring proportions. These scenes in which people are zapped by alien ray guns is truly like watching a computer game in motion, needless to say it's very real, very in your face, and will have all action/sci-fi junkies glued to the screen drooling for more.
What is nice is that the main Hero, Wikus Van De Merwe played by Sharlto Copley, starts off as an MNU Officer in charge of evicting the prawns from District 9. Thankfully a twist of fate in which he is sprayed with alien substance causes him to start to change into one of them, hence him becoming sympathetic to the aliens cause.
I find
District 9
also hits the nail on the head over various issues, such as racial prejudices, Concentration camps and humanities total disregard for anyone or anything that is different. The deeper message here, is this really our planet at all? Are we under the illusion that it is our property? Our self proclaimed intelligence as supposedly the most advanced life-form on this Earth premature perhaps? The aliens are different physically, sure, but they suffer from the same weakness we do. In that sense we have become so reliant on Technology, that the day we lose it, is the day we fall back into our primitive squalor of unwilling practicality.
Thus
District 9
succeeds on so many levels, it isn't only considered a blockbuster, a documentary, or even a Sci-fi actioner,
District 9
is an exploration of the human psyche and spirit, a journey of hope and rekindled enlightenment.
''I want to go home!''

9/10